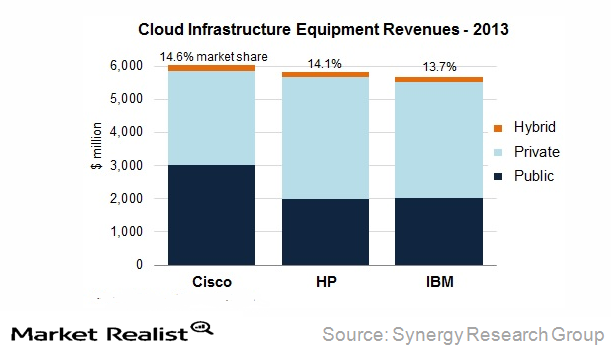 Why Public Cloud is being adopted more by enterprises
What is public cloud?
"Public cloud" as the name implies, are the cloud services provided by the likes of Google (GOOG) to the general mass over the internet. Most of the services available in public cloud, like applications and storage, are either free or available through a pay-per-use model. According to IDC, total public cloud services industry revenue ranging from basic storage to SaaS stood at $ 45.7 billion in 2013. That's about 2% of an estimated $2 trillion in annual IT spending. According to Gartner, the public cloud services market has the potential to become $210 billion in 2016. Public cloud holds a prominent share in the total cloud services market. According to Allied Market Research, it's expected to grow at a compound growth rate of 16.4% with a potential to become $555 billion market by 2020. According to Rightscale survey in 2014, 87% of the organizations are using public cloud services because it empowers them to implement world class solutions usually out of their reach due to high costs involved or knowledge scope of their IT professionals. Public cloud services provides flexible, cost effective solutions that enable access to newer technologies.
The previous chart shows the market share of leading players in cloud space. It's clearly evident that Cisco leads the public cloud market.
The previous chart shows the growth in spending as a percentage of overall IT spending on public cloud services. According to Gartner, enterprises are expected to spend $921 billion on public cloud services in the next five years from 2013 to 2017.
High competition
Article continues below advertisement
It's a highly competitive and dynamic market because players spent a lot of money in research and development to launch new and differentiated products at competitive prices. Due to liberal government regulations, the market easily attracts new players. Amazon web services (AMZN) is the largest public cloud in the market. In May, 2014, Google (GOOG) launched Google compute engine and Rackspace (RAX) relaunched its public cloud services in the market. VMware (VMW) vCloud Hybrid Service and Microsoft (MSFT) Azure services platform are other leading players in the market.
One of the important factors driving public cloud adoption is an organization's preference and need to reduce overall expenditure on IT infrastructure. Since public cloud is a standard cloud computing model, it offers less scope for customization of security and performance. It's preferred by companies that have few regulatory hurdles to overcome and are looking to outsource their IT requirements either partially or fully. By employing cloud services, they're as good to launch themselves in the market with immediate online storage and services.