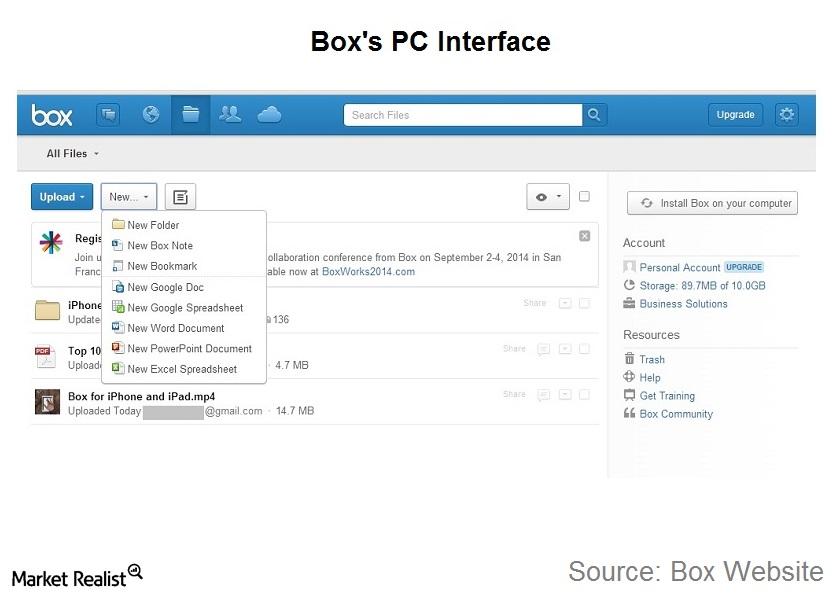 Must-know: A brief overview of Box Inc.
By Ingrid Pan

Oct. 29 2019, Updated 11:53 p.m. ET
Box Inc.
Box Inc. (BOX) is a software that allows multiple users to store, edit, and share files on a cloud-based platform. The software has been developed to work across many different devices, including traditional personal computers (or PCs), tablets, and mobile devices. The company was developed as a file management solution for multiple users. Box's founders intended it to be an improvement to existing methods for file sharing and collaboration such as e-mails, file transfer protocol (or FTP), and interfaces such as Microsoft's SharePoint.
Article continues below advertisement
Box has built-in functionality across programs such as Microsoft (or MS) Word, MS PowerPoint, MS Excel, Google Spreadsheets, and Google Docs. Box's technology also works with applications like Salesforce.com (CRM), which is a cloud-based service on customer relationship management software, NetSuite (N) which is a cloud-based service focused on business management (such as accounting and inventory management), and others. Third-party developers can also create new applications on top of Box's open-source platform.
The company offers small-scale storage on a free basis to personal users. Also, Box offers paid services for users needing larger scale storage and file collaboration solutions, particularly on the enterprise level. As of January 31, 2014, the company had over 25 million registered users and over 225,000 organizations on its platform, including 34,000 paying organizations.
For the twelve months ended January 31, 2014, Box's revenues totaled $124.2 million (111% year-over-year (or YoY) growth), and net losses of $168.6 million. The company notes that losses have been incurred as it continues to invest heavily in the business. The company is relatively new, as it was founded in 2005, and the three years of financials reported in the S-1 show that it has been cash flow and earnings negative over this period as it puts large amounts of capital to work to grow the business. The company has been funding itself through capital injections, mostly through equity.
In its S-1 filing, Box states that other players in the enterprise content collaboration and file sync/sharing space include IBM (IBM), Google (GOOG), Citrix (CTXS), and Microsoft (MSFT), which will be discussed later in this series. These companies are part of the S&P500 Index, which is investable through exchange-traded funds (or ETFs) such as the SPDR S&P500 Trust (SPY).