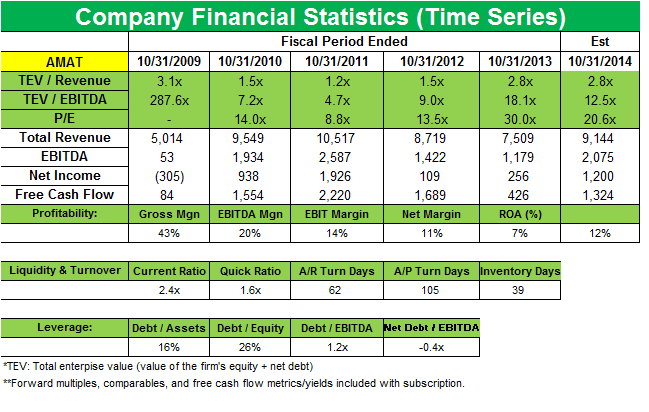 Why Glenview Capital adds new stake in Applied Materials
By Samantha Nielson

Nov. 20 2020, Updated 3:36 p.m. ET
Glenview Capital adds stake in Applied Materials
Larry Robbins' Glenview Capital added new positions in WellPoint Inc. (WLP), Hertz Global Holdings Inc. (HTZ), eBay Inc. (EBAY), and Applied Materials Inc. (AMAT). The largest position sold was Xerox (XRX).
Glenview Capital started a new position in Applied Materials Inc. (AMAT) that accounts for 1.48% of the fund's portfolio last quarter.
Applied Materials Inc. provides manufacturing equipment, services, and software to the global semiconductor, flat panel display, solar photovoltaic (or PV), and related industries. Applied's customers include manufacturers of semiconductor wafers and chips, flat panel liquid crystal and other displays, solar PV cells and modules, and other electronic devices. It operates in four reportable segments: Silicon Systems Group, Applied Global Services, Display, and Energy and Environmental Solutions. In September last year, Applied Materials agreed to buy its third largest rival Tokyo Electron in an all-stock deal. The new combined company is valued at approximately $29 billion. Applied Materials expects the transaction to close in the second half of 2014. Samsung, Intel, and Taiwan Semiconductor accounted for 10% of the company's net sales in 2013.
Semiconductor equipment to be a growth driver
Article continues below advertisement
Applied Materials, the largest producer of chip-making equipment, said in its 10-K filing that "its strategic priorities for fiscal 2014 include growing its presence in wafer fab equipment and display, reducing its losses in the solar business, and expanding its overall available market. As part of this strategy, the company has implemented initiatives to decrease overhead spending and further reduce solar operating expense to fund research and development in semiconductor and other key product areas. In semiconductor equipment, Applied intends to continue investment in 300mm, 450mm and other semiconductor technologies to strengthen the product pipeline and investment in the enhancement of technical relationships with customers."
In January, Applied said it has completed strategic investments in two advanced imaging detection companies—Oncoscope Inc., a medical optical imaging technology company, and Passport Systems Inc., a provider of advanced cargo scanning systems to identify dangerous and contraband materials. The release said the investment will provide Applied "with exposure to cutting-edge and potentially disruptive technologies and related new market applications in the advanced imaging space." The chip-making equipment company said it has invested more than $18 million, including six new investments in early stage technology companies.
Applied Materials benefits from evolving trends in mobility and connectivity
Article continues below advertisement
Applied's fiscal 2Q14 results were in line with estimates. The company recorded Generally Applied Accounting Principles (or GAAP) gross margin of 42.5%, and net income of $262 million or $0.21 per diluted share. It generated orders of $2.63 billion—up 15% from the prior quarter led by increases in Display and Silicon Systems. Net sales of $2.35 billion were up 7% sequentially led by growth in Silicon Systems. Silicon Systems Group (SSG) orders were $1.66 billion, up 6%, with increases in DRAM and logic and other more than offsetting declines in foundry and flash. Net sales increased 7% to $1.58 billion.
Applied's management said on the earnings call that mobility has influenced semiconductor industry spending as "evolving trends in mobility and connectivity are driving industry growth and accelerating innovation in mobile chips, solid state storage and interactive displays." The company said in its 10-Q that "The first half of fiscal 2014 saw continued demand for semiconductor equipment by foundry customers driven by demand for advanced mobile chips. In addition, demand for semiconductor equipment from memory customers improved during the first half of fiscal 2014 as manufacturers balance supply with demand in their markets. Mobility also represents a significant driver of display industry spending, which has resulted in continued capacity expansion for mobile applications."
Sees slower adoption of 3D NAND
Article continues below advertisement
Applied's management added that foundries are ramping their 20 nanometer capacity and accelerating their pilot lines for 16 nanometer and 14 nanometer FinFET technology. Moreover, mobility and cloud computing are driving demand for NAND memory. It forecasts that total NAND spending could reach $7 billion for this year. However, Applied noted that "Adoption of 3D NAND is progressing at a slower pace than previously anticipated, but we still see increasing investment as customers work to solve technical challenges in a transition from planer to 3D devices." On DRAM, it expects "2014 spending to be 10% to 15% higher than last year" as more customers are upgrading capacities to meet demand for mobile DRAM.
Display segment orders of $340 million increased from $79 million in the prior quarter, primarily reflecting orders for TV production capacity. Net sales declined 8% to $147 million. The company noted that demand for TV manufacturing equipment continues to be driven by the market for larger LCD TVs, but the sector is prone to highly cyclical conditions.
Energy and Environmental Solutions (EES) orders grew to $88 million and net sales increased to $88 million. Investment in solar equipment remained low during the first half of fiscal 2014, despite continued end-market growth, due to ongoing excess manufacturing capacity in the industry.
Applied Materials leads semiconductor manufacturing equipment market
According to Gartner, Applied Materials held onto the number one spot based on its relative strength in deposition and etch in the worldwide semiconductor manufacturing equipment market. ASML and Lam Research held the second and third positions, respectively. Tokyo Electron, just like other companies headquartered in Japan, was impacted by the significant decline in the yen-to-U.S.-dollar exchange rate, as well as an unfavorable customer buying pattern, Gartner said. The release further noted "Wafer-level manufacturing equipment demand performed above the market with strength in lithography and associated processes, while back-end manufacturing segments fared significantly worse than average." Gartner predicted last year that 2014 semiconductor capital spending will increase 14.1%, followed by 13.8% growth in 2015.