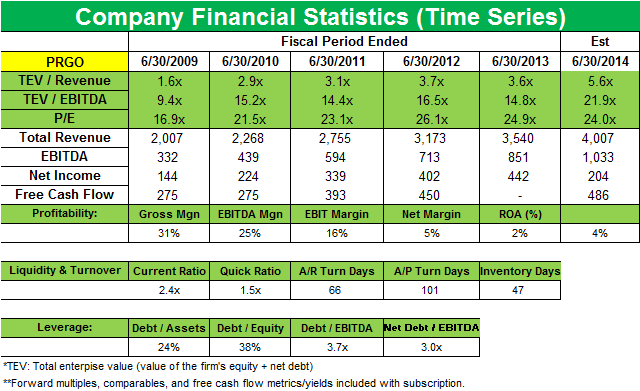 Must-know: Davidson Kempner exits position in Perrigo
By Samantha Nielson

Nov. 20 2020, Updated 2:31 p.m. ET
Davidson Kempner and Perrigo
Davidson Kempner added new positions in Omnicom Group Inc. (OMC), Alpha Natural Resources Inc. (ANR), JPMorgan Chase (JPM), Brunswick Corporation (BC), and Vitamin Shoppe Inc. (VSI). It exited positions in Perrigo Co. Plc. (PRGO) and Apple Inc. (AAPL).
Davidson Kempner exited a position in Perrigo Co. Plc. (PRGO) that accounted for 4.99% of the fund's 4Q portfolio. The position was initiated in the fourth quarter itself.
Article continues below advertisement
Perrigo is a global provider of over-the-counter (OTC) and generic prescription (Rx) pharmaceuticals, nutritional products, and active pharmaceutical ingredients (API). It has five reportable segments, aligned primarily by type of product—Consumer Healthcare, Nutritionals, Rx Pharmaceuticals, API, and Specialty Sciences.
Perrigo seeks tax advantages with Elan acquisition
Perrigo acquired Irish biotech company Elan last year for $8.6 billion. Elan, combined under Perrigo Co. Plc., is a new company incorporated in Ireland to benefit from the lower Irish corporate tax rate of 12.5%. As a result of the Elan acquisition, the company expanded its operating segments to include the Specialty Sciences segment, which comprises assets focused on the treatment of Multiple Sclerosis (Tysabri) and Alzheimer's. The company noted, "The Elan acquisition provides Perrigo with a platform to execute our strategic growth plan into the future."
In February, Perrigo entered into a series of agreements with existing collaboration partner, Transition Therapeutics Inc. (TTHI), to progress the clinical development of ELND005 (Scyllo-inositol) in a number of important indications including Alzheimer's disease, Bipolar Disorder, and Down Syndrome. Perrigo said it believes "this transaction enhances the opportunity for success of the ELND005 program given Transition's long history with the molecule and focus on innovative science."
API revenue likely to decline
Article continues below advertisement
The company said in its 10Q filing that it "is in the process of transitioning its long-term strategy for its API business from primarily third party to a dual focus on third-party business, including products to be manufactured in India, and vertical integration of high value and more difficult-to-manufacture inputs to the Consumer Healthcare and Rx businesses in an effort to gain efficiencies and lower costs, thus increasing margins. With a limited pipeline of products in development for future third-party customer new product introductions, the Active Pharmaceutical Ingredients (API) segment revenues will likely decrease in the future, while intercompany vertical integration revenues (which will be eliminated in consolidation) will potentially increase."
Perrigo's results come below expectations
Perrigo missed on revenue estimates in its fiscal 2Q14 results announced in February and its latest 3Q14 results, which were announced last month, came below consensus. Perrigo's net sales in fiscal 2Q14 were $979 million, an increase of 11% over the 2Q13. The increase was driven primarily by $53 million in new product sales and $39 million attributable to the acquisitions of Rosemont Pharmaceuticals, Fera Pharmaceuticals, Elan Corporation, and Velcera, along with continued growth in the overall base business. However, it reported a net loss of $86 million, or $0.87 per diluted share due to $269 million of acquisition-related charges.
Article continues below advertisement
Net sales for the latest fiscal 3Q14 were $1,004 million, an increase of 9% over the 3Q13, driven primarily by $77 million in sales attributable to the previously mentioned acquisitions. Reported net income was $48 million, or $0.36 per diluted share, a 57% decline from net earnings of $111.9 million for the same period a year ago. Perrigo said, "Despite a weak retail environment with slow foot traffic and a relatively weak cough, cold and flu season, we crossed the billion dollar revenue mark for the first time in any quarter in our history."
Consumer Healthcare segment net sales were up due to the acquisitions of Velcera and OTC products acquired from Aspen Global Inc. It saw a decline of $36 million in sales of existing products (cough and cold, contract manufacturing, and analgesics categories) due primarily to a weak retail environment, a relatively weak cough and cold and flu season and increased competition from certain national brands re-entering the retail marketplace. While nutritionals and Rx segment saw increase in sales, API segment's third quarter net sales declined to $32 million due primarily to a decrease in sales of existing products of $17 million as a result of increased competition on certain products. Under Specialty, it recognized $53 million of revenue related to global sales of Multiple Sclerosis drug Tysabri, which is manufactured and distributed by Biogen Idec Inc.
Trims fiscal year 2014 outlook
Perrigo said "Given the weak retail season and the relatively weak cough, cold and flu season, management now expects full-year fiscal 2014 adjusted earnings range of $6.15–$6.30 per diluted share and reported earnings of between $1.76–$1.91 per diluted share." It added, "Despite the challenges of this quarter, we remain upbeat as the megatrends in our durable business model remain unchanged, highlighted by the increasing number of products switching from prescription to OTC status. For that reason, we remain confident in our ability to make healthcare more affordable for consumers around the globe."