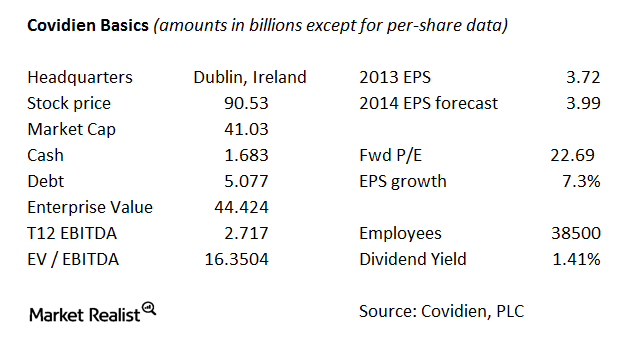 The Covidien-Medtronic merger: Key background on Covidien
By Brent Nyitray, CFA, MBA

Jun. 25 2014, Updated 5:47 p.m. ET
Background on Covidien
Covidien PLC (COV) describes itself as "a global leader in the development, manufacture and sale of healthcare products for use in clinical and home settings." The company explains, "Our products are found in almost every hospital in the United States, and we have a significant and growing presence in non-U.S. markets. Our mission is to create and deliver innovative healthcare solutions, developed in ethical collaboration with medical professionals, which enhance the quality of life for patients and improve outcomes for our customers and our shareholders."
Reportable segments
Article continues below advertisement
Medical Devices: This segment includes endomechanical instruments, energy devices, soft tissue repair products, vascular products, oximetry and monitoring products, airway and ventilation products, and other medical products.
Medical Supplies: This segment includes nursing care products, medical surgical products, SharpSafety products, and original equipment manufacture products.
Customers
Covidien serves hospitals, surgi-centers, and alternative care facilities worldwide. It often negotiates directly with distributors who serve individual facilities. Last year, it had one customer (a distributor) that represented 12% of its sales.
Financials
Covidien is a $44 billion market cap company that had $10.2 billion in sales in 2013. EBITDA (earnings before interest, taxes, and depreciation and amortization) were $2.7 billion. EBITDA margins were 26.2%. Covidien's growth has been lackluster for the past few years, as revenue has flatlined and net income margins have deteriorated. That said, Covidien throws off a lot of cash, generating $1.6 billion in free cash flow in 2013, or a whopping 15.8% free cash flow yield.
The company is somewhat parsimonious with the dividend, paying a 32 cent dividend per quarter (or $1.28 a year) out of earnings per share of $3.72, or about a 34% payout ratio.
Domicile
Covidien spun out of Tyco (TYC) in 2007. It was initially incorporated in Bermuda, but it subsequently changed its domicile to Ireland. The transfer completed in 2009. The stock trades on the New York Stock Exchange.
You can find Market Realist's primer on merger arbitrage analysis here.
Other important merger spreads include Time Warner (TWC) and Comcast (CMCSA) as well as DIRECTV (DTV) and AT&T (T).