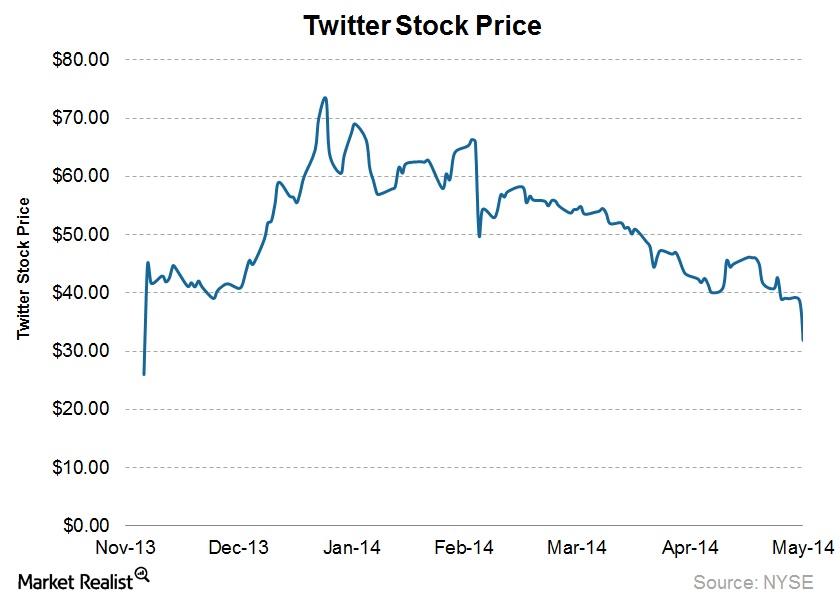 Must-know update: Why did the Twitter stock drop 18%?
By Ingrid Pan

May. 7 2014, Published 9:28 a.m. ET
Twitter stock drops
Twitter (TWTR) stock closed at $31.85 per share on May 6, which means it's down over 50% since it topped $70 in late December. Earnings releases from 4Q13 and 1Q14 underwhelmed the market because of reported user growth rates that didn't support the company's sky-high valuation. So, what's the latest factor that's caused prices to tumble? It was the expiration of the company's lockup period, which allowed a large group of insiders (including employees) to sell TWTR holdings that they were formerly prohibited from unloading.
Near the end of Tuesday's trading session, Twitter stock was hovering around $32 per share, down over 17% from the prior day's close of $38.75 per share. Year-to-date, Twitter has declined by over 50%, and the stock is at its lowest level since its IPO in early November at $26 per share.
Article continues below advertisement
Other tech stocks were also down on the day, possibly pulled down by the negative price action in Twitter. Facebook (FB) declined to $58.53 per share from a close of $61.22 on the prior day. Weibo (WB), a Chinese micro-blogging service similar to Twitter closed at $18.57 per share, down from the prior day's close of $19.75. LinkedIn (LNKD) closed at $142.33 per share, down from a close of $150.91 on the prior day. Twitter is a minor component of certain tech and Internet ETFs, such as the Vanguard Information Technology ETF (VGT) and the First Trust DJ Internet Index Fund (FDN).
In the following parts of the series, we discuss the terms around Twitter's lockup, and why the stock dropped despite many insiders' pledge to not sell even after the lockup expiry.