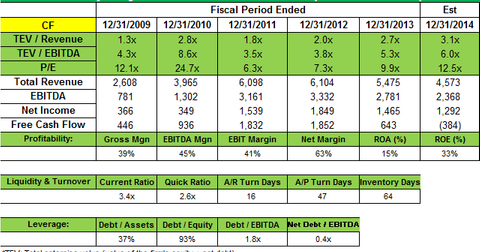 Dan Loeb's Third Point Partners buys a position in CF Industries
By Samantha Nielson

Updated
Third Point and CF Industries
Dan Loeb's Third Point Partners added new positions in Actavis PLC (ACT), CF Industries Holdings Inc. (CF), Verizon Communications Inc. (VZ), Roper Industries Inc. (ROP), and Citrix Systems Inc. (CTXS). Notable sales include Yahoo! Inc. (YHOO) and Abbott Laboratories (ABT).
Third Point initiated a new position in CF Industries (CF) last quarter that accounts for 3.70% in the fund's total 1Q portfolio. Market Realist reported in March that Soros Management, Third Point, ValueAct, and Renaissance Technologies had cut their positions in CF Industries in 4Q 2013.
Article continues below advertisement
CF Industries Holdings is one of the largest publicly traded nitrogen fertilizer producers. Its principal nitrogen fertilizer products are ammonia, granular urea, urea ammonium nitrate solution (or UAN), and ammonium nitrate (or AN). The company's other nitrogen products include urea liquor, diesel exhaust fluid (or DEF), and aqua ammonia, which it sells primarily to its industrial customers. In March, CF completed the sale of its phosphate mining and manufacturing business, which is located in Florida, to the Mosaic Company (MOS) for approximately $1.4 billion in cash. Its operations are reported in two business segments—the nitrogen segment and the phosphate segment.
The world's second-largest nitrogen fertilizer producer's 1Q 2014 results beat on earnings but missed on revenue. CF reported net earnings of $708.5 million in the first quarter of 2014 compared to net earnings of $406.5 million in 2013, an increase of $302.0 million, or 74%. However, the results included a $461.0 million after-tax gain on the sale of the phosphate business. Excluding this gain, earnings fell to $247.5 million, or $4.51 per diluted share. Net sales declined 15% to $1.13 billion. Nitrogen segment net sales in the first quarter of 2014 were $987.5 million, down 10% from $1.1 billion in the same period last year.
Article continues below advertisement
In the first quarter of 2014, CF said it experienced lower net sales and net earnings compared to the prior year quarter due to continued weakness in the global nitrogen fertilizer markets evidenced by lower average selling prices and the impact of higher natural gas prices. The decline in nitrogen average selling prices was attributed to a combination of increased supply, due primarily to higher exports from China and customers being cautious in their inventory buying, particularly for urea and UAN, for the spring application season. Natural gas costs increased compared to the prior year quarter due to the impact of extremely cold winter weather conditions in North America. These factors in the nitrogen segment partially offset a modest increase in volume, primarily due to strong shipments of ammonia, CF said in its 10Q filing.
CF Industries recently declared a $1.00-per-share dividend on its common stock, representing an annual yield of 1.7%. It has repurchased 3.2 million shares during the quarter at an average price of approximately $248 per share, as well as an additional 0.7 million shares subsequent to the quarter end through April 30 under the $3.0 billion program.
A March report on the Market Realist website noted that CF Industries' shares could perform well due to share repurchases (buybacks) and asset expansions. For more background, please read Must-know analysis: How CF Industries can reach $350 a share.
Article continues below advertisement
CF is constructing new ammonia and urea or UAN plants at its Donaldsonville, Louisiana, complex and new ammonia and urea plants at its Port Neal, Iowa, complex. In combination, these two new facilities will be able to produce 2.1 million tons of gross ammonia per year and upgraded products ranging from 2.0 million to 2.7 million tons of granular urea per year and up to 1.8 million tons of UAN 32% solution per year. All of these new facilities are scheduled to be on-stream by 2016.
There are several companies and ETFs that generate a significant portion of their earnings from nitrogen fertilizers. These include CF Industries Inc. (CF). Potash Corp. (POT), Terra Nitrogen Company LP (TNH), CVR Partners LP (UAN), and Agrium Inc. (AGU). Some of these are also part of the VanEck Vectors Agribusiness ETF (MOO).