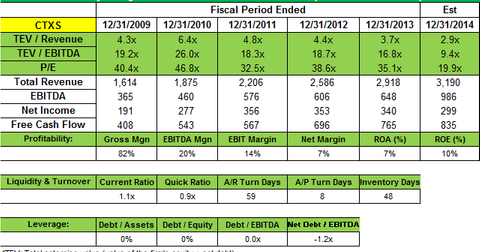 Dan Loeb and Third Point buy a 1Q14 position in Citrix Systems
By Samantha Nielson

Updated
Third Point and Citrix Systems
Dan Loeb's Third Point Partners added new positions in Actavis PLC (ACT), CF Industries Holdings Inc. (CF), Verizon Communications Inc. (VZ), Roper Industries Inc. (ROP), and Citrix Systems Inc. (CTXS). Notable sales include Yahoo! Inc. (YHOO) and Abbott Laboratories (ABT).
Third Point initiated a new position in Citrix Systems (CTXS) last quarter that accounts for 2.15% of the fund's total 1Q portfolio.
Article continues below advertisement
Citrix is one of the leading players in the virtualization, networking, and cloud infrastructure space. It helps IT and service providers to build, manage, and secure virtual and mobile workspaces that seamlessly deliver apps, desktops, data, and services to virtually anyone, on any device, over any network or cloud. Its Enterprise and Service Provider division comprises Mobile and Desktop and Networking and Cloud products. The company's SaaS division comprises Collaboration and Data products.
Citrix is seeking a new CEO, as the current CEO, Mark Templeton, announced plans to retire this year.
For the first quarter of fiscal year 2014, Citrix posted 12% revenue growth to $751 million, from $673 million in the first quarter of fiscal year 2013. However, net income was down to $56 million, or $0.30 per diluted share from $60 million, or $0.32 per diluted share, from 1Q 2013. The earnings included a restructuring charge of approximately $10 million for severance costs.
In 1Q 2014, Citrix announced a 2014 Restructuring Program to "better align resources to strategic initiatives." As a result, Citrix reduced its headcount by approximately 125 full-time positions in 1Q 2014, it said in its 10Q filing. Management said, "Our results were driven by balanced growth across all three of our primary businesses: mobile and desktop, cloud networking, and SaaS."
Article continues below advertisement
Product and license revenue increased 7%, while Software as a service revenue increased 14%. Product and license revenue was up due to increased sales of Citrix's cloud networking products of $19.8 million, led by NetScaler. But desktop and application virtualization products saw a decrease in sales of $7.4 million. SaaS revenue went up due to increased sales of Communications Cloud products of $13.7 million, led by GoToMeeting, and increased sales of Documents Cloud products of $5.1 million. Revenue from license updates and maintenance and Professional services also saw an increase. The company sees high competition for its products from companies such as VMware (VMW), F5 Networks (FFIV), and LogMeIn Inc. (LOGM).
At a recent Annual Synergy Conference, Citrix introduced its new products, such as Citrix Workspace Suite, new versions of Citrix XenApp and Citrix XenDesktop, NetScaler MobileStream technology, and Citrix ShareFile for storage, which will support multiple corporate or BYO devices per user, instant access to app, data, and services, and simplify how organizations manage and secure their end user computing environment.
The Citrix board authorized the company to repurchase up to an additional $1.5 billion of its common stock. As of March 31, 2014, approximately $429 million remained for repurchases from previous authorizations.
Citrix revised its profitability guidance for the second quarter of fiscal year 2014 and the full fiscal year 2014 following its previously announced offering of $1.4 billion principal amount of convertible senior notes due 2019 and ongoing accelerated share repurchases. GAAP diluted earnings per share targeted the range of $0.18 to $0.20 for 2Q 2014 and $1.60 to $1.65 for the fiscal year ending December 31, 2014.