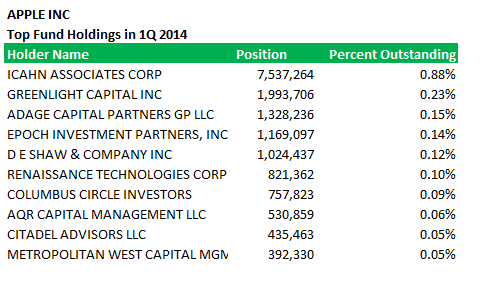 Carl Icahn's fund, Icahn Associates, ups its stake in Apple
By Samantha Nielson

Oct. 30 2019, Updated 11:32 a.m. ET
Icahn Associates and Apple
Icahn Associates added a new position in eBay (EBAY) and the quarter saw no stake disposals. Icahn raised the fund's holdings in Apple (AAPL) and Herbalife (HLF). Icahn's fund reduced its exposure to Netflix (NFLX) in 1Q 2014.
Activist investor Carl Icahn added to his existing position in Apple Inc. (AAPL) that accounts for 12.29% of his U.S. long portfolio, up from 8.72% in 4Q 2013.
Article continues below advertisement
Apple designs, manufactures, and markets mobile communication and media devices, personal computers, and portable digital music players and sells a variety of related software, services, peripherals, networking solutions, and third-party digital content and applications. Its business strategy leverages its unique ability to design and develop its own operating systems, hardware, application software, and services to provide its customers new products and solutions with superior ease-of-use, seamless integration, and innovative design. Its strategy also includes enhancing and expanding its own retail and online stores and its third-party distribution network, as it believes a high-quality buying experience with knowledgeable salespeople can enhance its ability to attract more customers and retain them.
Apple sees Beats acquisition rumors
Apple has seen rumors that it's in talks to acquire Beats Electronics LLC, a maker of headphones and a provider of music-streaming services, for $3.2 billion, which would be Apple's largest acquisition until now. Beats was founded by hip-hop artist Dr. Dre and record producer Jimmy Iovine. The deal has yet to be confirmed by Apple. Beats competes with popular streaming services like Pandora (P), Spotify, Deezer, Rhapsody, and Rdio and is expected to add to Apple's existing music products portfolio such as iPods and top music retailer iTunes store. Apple also launched its iTunes Radio service last year. Reports noted that digital music sales are declining because of streaming services and Apple is seeking exclusive content from music labels. According to Nielsen SoundScan, U.S. digital sales declined 13.3% in the first quarter of 2014.
Robust iPhone sales drive growth in 2Q but the iPad sees a decline

Article continues below advertisement
Apple beat estimates and posted 2Q 2014 revenue of $45.6 billion, up 7% year-over-year, and net profit of $10.2 billion, or $11.62 per diluted share. Gross margin improved to 39.3% compared to 37.5% in the same quarter the year before. The growth was driven by iPhone unit sales, which increased 17% to 43.7 million. Apple said the year-over-year growth in iPhone net sales and unit sales in the second quarter and first six months of 2014 resulted from strong customer acceptance of the iPhone 5s and 5c, continued demand for the company's entry-priced iPhone, and expanded distribution. iPad unit sales dropped 16% in the second quarter of 2014, primarily due to changes in iPad channel inventory, and also reflected a slight decline in iPad unit sell-through to end users. Apple's iOS devices have been seeing competition from the lower-cost Android devices.
IDC said earlier this month that worldwide tablet plus two-in-one shipments slipped to 50.4 million units in the first calendar quarter of 2014. Apple maintained its lead but market share fell to 32.5% from the previous quarter's share of 33.2%. Samsung (SSNLF) grew its worldwide share from 17.2% last quarter to 22.3% this quarter. Other players in the top five include ASUS (5%), Lenovo (4.1%), and Amazon (1.9%), IDC said in its release.
Greater China net sales rose 13%
Article continues below advertisement
International sales accounted for 66% of the quarter's revenue, especially in China, Hong Kong, Taiwan (Greater China), and Japan, with the segments reporting double-digit year-over-year growth, while net sales in the Rest of Asia Pacific segment declined year-over-year. Greater China net sales grew 13% to $9.2 billion. Growth in iTunes and App Store revenues has also been robust in China, more than doubling over the last year. Apple has benefited from its China Mobile deal, as Apple Insider noted that about half of the 2.8 million 4G subscribers on China Mobile's network are iPhone users.
Shares soared on a buyback increase announcement
Apple saw its shares soar after it expanded its share repurchase program to $90 billion from the $60 billion level announced last year. The company said it expects to use a total of over $130 billion of cash under the expanded program by the end of calendar 2015. The board also approved an increase of approximately 8% to the quarterly dividend and declared a dividend of $3.29 per common share. From August 2012 through March 2014, Apple said it has spent $66 billion in cash on its capital return program.