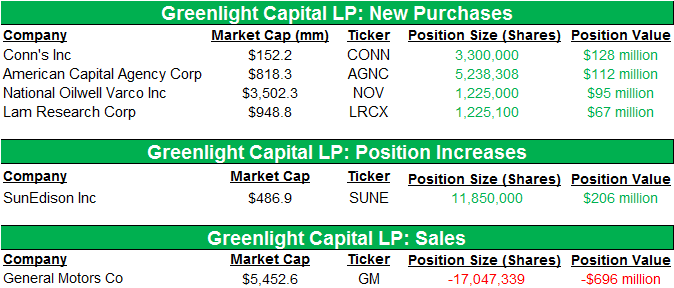 Assessing Greenlight Capital's 1st quarter 2014 positions
By Samantha Nielson

Oct. 30 2019, Updated 11:34 a.m. ET
Greenlight Capital's 13F filing
Greenlight Capital's recent 13F filing reveals new positions as well as disposals during the first quarter of 2014. In this series, we'll go through some of the main positions that Greenlight Capital, founded by David Einhorn, traded this past quarter. Einhorn's Greenlight Capital initiated new positions in Conn's Inc. (CONN), American Capital Agency Corporation (AGNC), National Oilwell Varco (NOV), and Lam Research Corporation (LRCX). Notable increased positions included SunEdison (SUNE) and General Motors (GM) was a top disposal.
Article continues below advertisement
Einhorn's 1Q 2014 investor letter noted that the fund was down 1.5% net of fees and expenses in the first quarter of 2014. It added, "from a profit and loss perspective it was a quiet quarter. Our longs were modestly profitable, our shorts lost a bit more than we made on our longs, and macro lost a little. The net result was a small loss in a market where some indices were up a little and others were down a little."
The fund said it was shorting a bunch of undisclosed "high-flying momentum stocks" and added, "there is a clear consensus that we are witnessing our second tech bubble in 15 years. What is uncertain is how much further the bubble can expand, and what might pop it." It further said, "The current bubble is an echo of the previous tech bubble, but with fewer large capitalization stocks and much less public enthusiasm."
Notice of correction: When this article was originally published, it listed market cap in millions. The first table has since been revised to show market cap in billions.