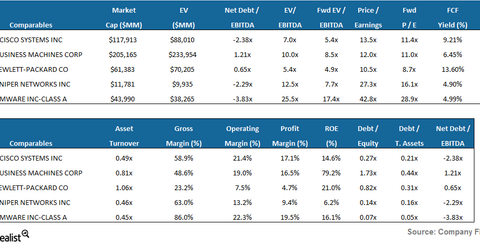 Measuring Cisco's market performance versus its peers
By Samantha Nielson

Apr. 21 2014, Published 4:00 p.m. ET
Cisco versus its peers
We compared Cisco with its main peers in the networking and SDN space such as Hewlett-Packard (HPQ), Juniper Networks (JNPR), International Business Machines (IBM), and VMware (VMW). In terms of multiples, Cisco is higher than its peers IBM and HP at 13.5x, but is below Juniper Networks and VMware, which has the highest P/E in the group at 42.8x. Cisco's gross, operating, and profit margins are almost in line with its peers except for HP, which is at the lower end. Cisco boasts of the highest dividend yield, while its free cash flow yield is also on the higher side at 9.21% as compared to its peers excluding IBM.
On the basis of Wall Street analyst consensus estimates, Cisco seems to be lagging behind its peers with a declining EPS.
Article continues below advertisement
Cisco expects SDN, security, services, and Internet of Everything to be its future growth catalysts. The core business has been facing some headwinds due to emerging market weakness, and the company has been struggling due to the shift in the technology landscape. Although competitive concerns remain with the consolidation in the SDN and security space, Cisco has managed to maintain market shares in its core businesses and expects to benefit from its new and refreshed product portfolio. The company has robust fundamentals, huge cash reserves, and is committed to enhance shareholder value with buybacks and dividends. In the first part of this series, we made assumptions based on Wall Street analyst consensus estimates and have come to the conclusion that Cisco is undervalued compared to its peers.