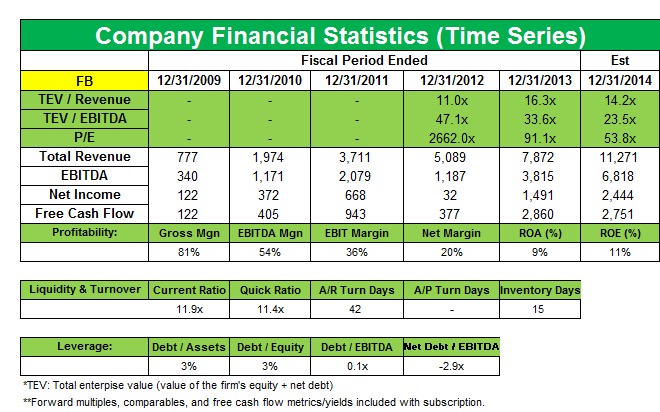 Why did AQR Capital Management increase its stake in Facebook?
By Samantha Nielson

Mar. 20 2014, Published 5:00 p.m. ET
AQR Capital and Facebook

AQR Capital initiated new positions in Vodafone Group plc (VOD), Gaming and Leisure Properties (GLPI), and Allegion plc (ALLE). Positions were increased in Facebook, Inc. (FB), Omnicom Group (OMC), and LSI Corporation (LSI). The firm upped its stake in Facebook, Inc. (FB) by 3,444,423 shares in 4Q from 477,636 shares in 3Q. Facebook accounts for a 0.64% position in the fund's fourth quarter portfolio. Facebook has been a hedge fund favorite the last two quarters with Lone Pine Capital, Viking Global, and D. E. Shaw among others holding positions in the social networking company.
Article continues below advertisement
Facebook shares rallied after the company posted revenue and earnings in 4Q 2013 that were above street estimates resting investor concerns that growth at the social networking company was slowing down. Facebook reported $2.59 billion in revenue, up 63% from the same time last year, and earnings of $0.31 a share. Net income increased to $523 million from $64 million in the same quarter a year ago. Revenue for the full year 2013 was $7.87 billion, an increase of 55% year-over-year.
Facebook said that 53% of its revenue now comes from mobile advertising, which generated $1.2 billion. Revenue from advertising was $2.34 billion, a 76% increase from the same quarter last year. Monthly active users (MAUs) were 1.23 billion as of December 31, 2013, an increase of 16% year-over-year. Mobile MAUs were 945 million as of December 31, 2013, an increase of 39% year-over-year. Facebook's mobile picture-sharing service Instagram also saw its user base doubling over the past year.
Article continues below advertisement
According to Instagram's website, the application has 150 million monthly active users. Facebook said on its earnings call that the strong growth in ads revenue in 2013 was driven by the accelerated ramp up of newsfeed ads, growth in users, engagement, and marketers using Facebook, and by the product investments. The company expects online video advertising and Instagram to be the future revenue growth drivers. It was recently reported that Facebook's Instagram service has signed a $100 million ad deal with advertising firm Omnicom.
Last summer, Facebook launched internet.org, a partnership with industry leaders to make affordable Internet services available to everyone in the world. The company said its focus this year is to achieve internet.org's mission by deepening the relationships with mobile operators around the world and working to develop new models for Internet access. The social networking giant's latest $19 billion acquisition of WhatsApp also fits into the larger goal of connecting more people to the Internet, especially in developing regions, Facebook founder and CEO Mark Zuckerberg said at the recent Mobile World Congress.
Article continues below advertisement
Whatsapp CEO Jan Koum also indicated at the Mobile World Congress that the application will add free voice-call services later this year. With voice calls, Whatsapp will compete with Skype, Viber, Japan's Line, South Korea's KakaoTalk, and China's WeChat. Techcrunch recently reported that Facebook is looking to acquire drone-making company Titan Aerospace for ~$60 million to bring Internet access to undeveloped regions.
Most analysts were positive about Facebook's acquisition of Whatsapp and said the deal made "strategic sense." However, Pivotal Research Group analyst Brian Wieser noted, "Facebook is buying WhatsApp for $19 billion. While we see strategic merit, the acquisition is difficult to justify on metrics we use to value Facebook. A separate re-assessment of ad revenues for the core business was leading us to raise expectations, but dilution due to WhatsApp partially offsets these changes." He added, "Supporting our more cautious view, concerns over costs of future acquisitions may weigh over the company in the near-term."
Continue to read about the Whatsapp deal in Must-know: Facebook acquires WhatsApp for $19 billion.