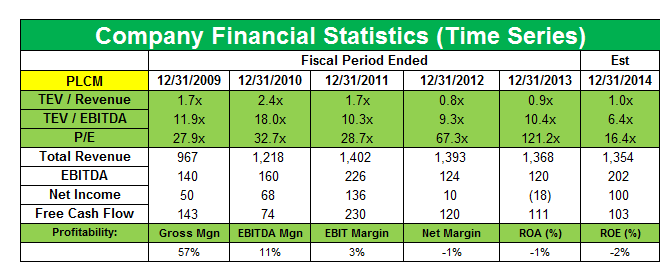 Why did Soros Fund Management acquire a stake in Polycom?
Soros Fund Management and Polycom
George Soros' Soros Fund Management disclosed a new position in Polycom Inc. (PLCM), according to a 13G filed with the SEC. Soros acquired 9,400,078 shares, or 6.96% of the company, on January 24, 2014. At the current stock price, the stake is worth ~$110 million.
Polycom shares were up after the company announced better-than-expected 4Q results on January 22. The San Jose–headquartered company said that revenue grew across all of its primary product categories: group systems, personal devices, and its overall unified communications platform. Polycom posted a 1.4% year-over-year decline in total revenue, to $348 million in 4Q 2013. GAAP net loss was $2 million or $0.01 per share compared with a net income of $1.9 million in the prior-year quarter.
Polycom stated on its earnings call that it has planned workforce cuts of approximately 6% and a reduction of its leased office space in a move to bring down expenses. The cuts aim at a better alignment of expenses to revenue for improving operating performance.
Share repurchases in 4Q 2013 totaled $400 million or 35.4 million shares, including $285 million or 27.4 million shares through a tender offered and $115 million through an accelerated share repurchase program.
Segment performance
Article continues below advertisement
UC Personal devices significantly outperformed the rest of the business by growing 33% year-over-year and 9% sequentially driven by growth in open SIP handsets and Lync-enabled devices. The segment has hardware and software offering real-time communication services such as video conferencing, speech recognition, and instant messaging.
UC group system's revenues were down 1% sequentially and down 8% year-over-year as it was adversely impacted by the reduction in revenue from the Cisco (CSCO) conference phone OEM deal. The UC Group Systems include immersive telepresence, group video, and group voice systems. Cisco and Polycom are rivals in the video conferencing equipment market. According to IDC in 3Q 2013, Cisco remains the leader in enterprise videoconferencing equipment, with a 44.7% share of the worldwide market. Polycom ranks second with a 23.9% share.
UC platform revenues were up 16% sequentially and flat year-over-year. The segment includes universal collaboration servers, virtualization management (distributed media optimization), resource management, recording and streaming, open API's, and remote access technologies that constitute the RealPresence Platform. The company also provides various services, including assessments, implementation, network consulting, usage and adoption, analytics and optimization, advanced project management services, and development consulting services for APIs.
Outlook
The company expects a more rapid winding down on the Cisco conference phone OEM arrangement, resulting in only minimal revenue in 1Q 2014 for the U.S. Polycom said it expects to continue to see strength in the UC Personal segment worldwide.
Article continues below advertisement
For 3Q 2013, IDC said overall videoconferencing equipment revenue increased 8.2% quarter-over-quarter but declined 9.7% year-over-year. Although there has been interest in video and collaboration technology and application, the lingering macroeconomic situation—including some softness in emerging markets, the recession in Europe, and the sequestration in the U.S.—produced some cautionary IT spending that has impacted year-over-year video equipment revenue growth so far in 2013, IDC said. The continued shift of video conferencing to software and smaller lower-cost systems has been impacting the video communications equipment market. The market has also seen the entry of smaller players such as Vidyo, FuzeBox, and Blue Jeans Network.
In December last year, Peter A. Leav was named the new CEO of Polycom. Leav is overseeing Polycom's transition from hardware to a provider of cloud computing, collaboration software and mobile video services. Polycom is also collaborating with Microsoft on the latter's Lync software in the personal unified communications (UC) products. These initiatives could benefit the stock in the long run despite the volatility and increasing competition in the video conferencing segment.
To learn more about Polycom's collaborator, Microsoft, see the Market Realist series Investing in Microsoft: A comprehensive primer and key analysis.