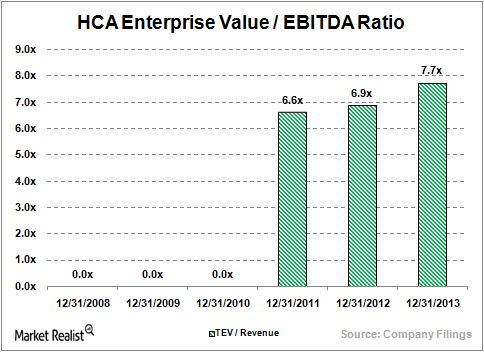 Why did Omega Advisors start a position in HCA Holdings?
By Samantha Nielson

Dec. 27 2013, Published 8:00 a.m. ET
Omega Advisors Inc. is a New York–based investment advisory firm founded in 1991 by Leon G. Cooperman. Omega has approximately $10 billion under management (as of November 30, 2013).
Abbreviated financial summaries and metrics for these securities are included below. Detailed analysis and recommendations require a subscription (more information at the bottom of the article).
Omega Advisors started new positions in Sprint Corp (S), Freeport-McMoRan Copper (FCX),  HCA Holdings Inc. (HCA), and Realogy Holdings Corp. (RLGY) and it sold Occidental Petroleum (OXY), Wells Fargo & Company (WFC), and Crocs Inc. (CROX).
Why buy HCA Holdings Inc. (HCA)?

Omega acquired a 1.24% position in HCA Holdings in 3Q 2013.
Article continues below advertisement
HCA reported strong results in the recent quarter. Its net income for 3Q 2013 increased to $365 million, or $0.79 per share, from $360 million, or $0.78 per share. Revenue rose 4.9%, to $8.46 billion from $8.06 billion. Third quarter revenue growth was driven by growth in volume and higher revenue per equivalent admission, as case mix, or acuity, increased 2% compared to the prior year. It said its clinical and operating initiatives continue to position its facilities to effectively compete in the changing healthcare environment. Patient volumes for the third quarter, as expressed in same-facility admissions, increased 0.7%, while same-facility adjusted admissions increased 1.1%.
In terms of guidance, it anticipates its adjusted EBITDA for 2013 to be near the upper end of its previously issued guidance range of $6.25 to $6.50 billion.
Subsequent to quarter end, on November 1, 2013, the company repurchased approximately $500 million of shares of its common stock from some of its sponsors, using draws under its revolving credit facilities.
On the Affordable Health Care Act, the company said that with comprehensive patient access points, state-of-the-art and well-capitalized facilities and clinical technologies, a proven and transparent track record of providing high-quality care and service, and the ability to leverage cost structure to provide better value for the consumer, HCA is well positioned to participate and provide quality healthcare services.
Article continues below advertisement
HCA Holdings, Inc., through its subsidiaries, provides healthcare services in the United States. The company owns, manages, or operates hospitals, freestanding surgery centers, diagnostic and imaging centers, radiation and oncology therapy centers, rehabilitation and physical therapy centers, and various other facilities.
According to hedgefundletters.com, Omega Advisors primarily invests in domestic public equity and dabbles in markets such as bonds and commodities. When the fund focuses on investing in value equities, it uses a combination of a top-down approach, to carefully choose the sector, and a long-short fundamental analysis. To create his portfolios, Leon G. Cooperman takes a bottom-up approach to form his portfolios with the S&P 500 index as the benchmark.
Cooperman was born in New York and as an undergraduate at Hunter College, he joined and was an active member of Alpha Epsilon Pi. After graduating, he became a Xerox quality control engineer in 1965. He later received his M.B.A. from Columbia Business School, graduating in 1967. After 25 years of service, Leon Cooperman retired in 1991 from his positions as general partner of Goldman, Sachs & Co. and as chairman and chief executive officer of Goldman Sachs Asset Management in order to set up Omega.