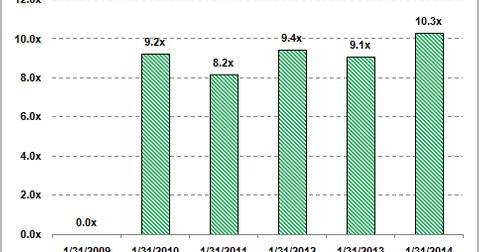 Glenview Capital Management starts new positions in AAP, AMT, DG, NXPI, sells NTAP, ROVI—13F Flash C
By Samantha Nielson

Updated
Glenview Capital Management is a private investment management firm with more than $7 billion of assets under management. The firm was founded in 2000 by Lawrence "Larry" Michael Robbins. It manages capital for qualified investors through a series of private investment funds. Glenview has offices in New York and London. The $7 billion is split between Glenview Funds, a short fund, and Little Arbor Funds, a multi-strategy fund. Robbins generates his returns making concentrated bets on large-cap stocks. Glenview focuses on delivering attractive absolute returns through deep fundamental research and individual security selection.
The firm started new positions in Advance Auto Parts Inc. (AAP), American Tower Corp. (AMT), Dollar General Corp. (DG), and NXP Semiconductors (NXPI) and it sold positions in NetApp (NTAP) and Rovi Corporation (ROVI).
Abbreviated financial summaries and metrics for these securities are included below. Detailed analysis and recommendations require a subscription (more information at the bottom of the article).
Why buy Dollar General Corp. (DG)?
Article continues below advertisement
Dollar General Corp. reported solid second quarter results in September with a net income increase of 15% to $245 million in 2Q 2013, compared to net income of $214 million in 2Q 2012, and earnings per diluted share (or EPS) of $0.75 in 2Q 2013 over EPS of $0.64 in 2Q 2012. Its same-store sales growth for 2Q 2013 accelerated to 5.1%. The retailer expects total sales to increase 10% to 11% for fiscal 2013. It added that there are six fewer selling days between Thanksgiving and Christmas and this will likely impact its sales to some extent in the fourth quarter. In 2Q 2013, the company opened 375 new stores, including 15 Dollar General Market and 21 Dollar General Plus formats, and reported robust sales for tobacco products, fresh food, candy, and snacks. Its peers Family Dollar (FDO) and Dollar Tree (DLTR) reported positive earnings in its recent quarterly results.
Due to economic uncertainty and low consumer confidence, deep-discount retailers like Dollar General might benefit more compared to big-box stores in the upcoming holiday season. Recently, analysts from Morgan Stanley forecasted that the 2013 holiday season would be the worst for retailers since 2008. Retailers have already stepped up efforts in terms of promotions and deep discounts to lure customers who are faced with tight household budgets. Analysts believe that these high level of promotions could erode margins. However, an October report from National Retail Federation (NRF) on holiday sales forecast indicated a 3.9% increase in sales over 2012, and that holiday sales will reach $602.1 billion this year. NRF expects consumer confidence to be driven by lower gas prices to a certain extent and predicted a good holiday and sales season. A report released last week by the U.S. Commerce Department also showed retail sales rose by 0.4% in October from the previous month.
Glenview Capital Management founder Lawrence "Larry" Michael Robbins graduated from the University of Pennsylvania and has a degree from the Wharton School of Engineering and the Moore School of Engineering. He has been known for his love for the healthcare sector. In a press release, Glenview stated that its investment in hospitals, which totals approximately $2.0 billion across five major U.S. hospital chains, reflects its affinity for the long-term growth and stability of the business, its recognition of the growth opportunities available through implementing expanded insurance coverage, its belief in the structural competitive advantages of for-profit hospital chains, and its excitement about the opportunities to reinvest in the industry's strong cash flows and growing debt capacity as profitability builds through time. Robbins is known to take a more activist approach to some of his large bets, and he publicly voices his concerns about what management is doing and demands change.