These Undervalued Stocks Should Be Part of Your Portfolio in 2021
After rising sharply in 2019 and 2020, U.S. stock markets look strong in 2021. While there are concerns about markets getting overheated and overvalued, there are pockets of undervaluation. These are some undervalued stocks that investors should buy in 2021 and hold for the long term.
Article continues below advertisement
First, there are several metrics to value a stock. Also, what might appear as undervalued to one investor could be overvalued for another. However, we can identify some undervalued stocks by looking at the growth prospects, macro environment, and valuation multiples.
Article continues below advertisement
Why some stocks are undervalued
There are many reasons why some stocks are undervalued. Stocks could be undervalued due to macro factors concerning the economy or the sector or micro factors that concern only a particular company. At times, markets get too pessimistic about a stock. They look at its short-term outlook and ignore the long-term fundamentals.
Legacy automakers like Ford and General Motors are a perfect example of sector-specific undervaluation. For many years, they have traded at tepid valuations. Investors didn't think that they could compete with pure-play electric car companies like Tesla.
Article continues below advertisement
A good company-specific example is Freeport-McMoRan. The company's earnings were impacted negatively in the short term due to the ramp up of its Grasberg mine. Now, as the mine ramps up operations, its earnings will get a boost. Incidentally, Ford, General Motors, and Freeport-McMoRan have already seen a valuation rerating.
Top undervalued stocks in 2021
The following stocks are undervalued and look like good buys in 2021.
Alibaba (BABA)
Ford Motors (F)
Berkshire Hathaway (BRK.B)
Article continues below advertisement
Alibaba looks like a good value stock
The Chinese e-commerce giant missed the tech rally in 2020. Chinese authorities stalled the Ant Financial IPO and launched an antitrust investigation into the tech companies that looked targeted at Alibaba. Now, things could be getting back on track for Alibaba and there might be an IPO for Ant Financial soon.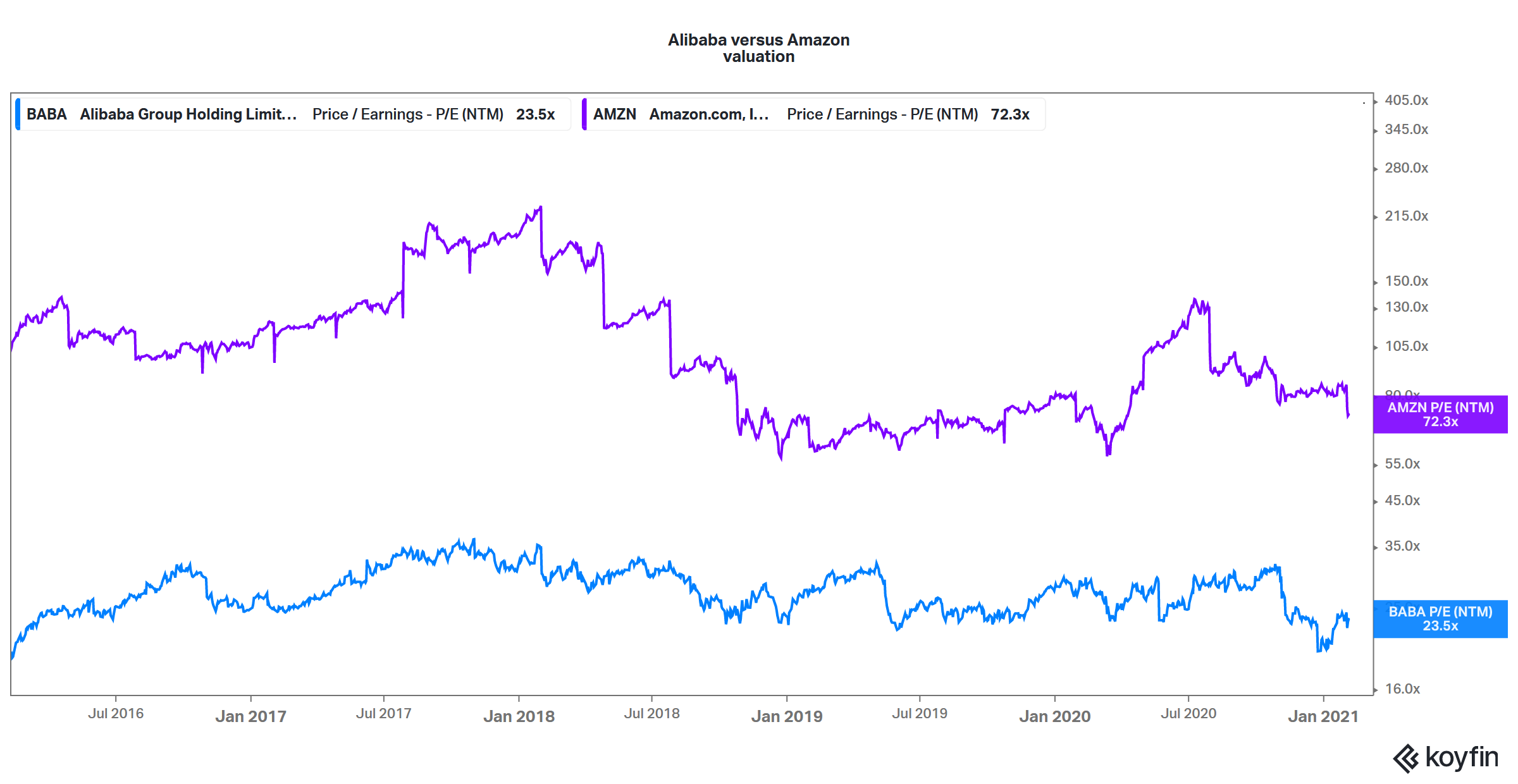 Article continues below advertisement
The company's cloud operations generated positive EBITDA margins in the December quarter — three months ahead of what it had guided. With a NTM (next-12-month) PE multiple of 23.5x, Alibaba looks undervalued. Its PE-to-growth multiple is also less than 1x, which shows undervaluation. It's trading at a massive discount to Amazon, which you can see in the graph above.
Ford Motors could see a rerating
While markets are valuing pure-play electric carmakers at a hefty premium, legacy automakers like Ford and GM are getting frugal multiples. In 2020, Ford started delivering the Mustang Mach-E electric model to U.S. customers. The electric F-150 deliveries are expected to commence this year. The company is working on a turnaround under CEO Jim Farley.
Article continues below advertisement
Ford's market capitalization is only about $45 billion, while it expects to post an adjusted free cash flow between $3.5 billion and $4.5 billion in 2021. At the top end of its guidance, Ford is valued at a 2021 market cap-to-adjusted free cash flow multiple of 10x, which looks undervalued.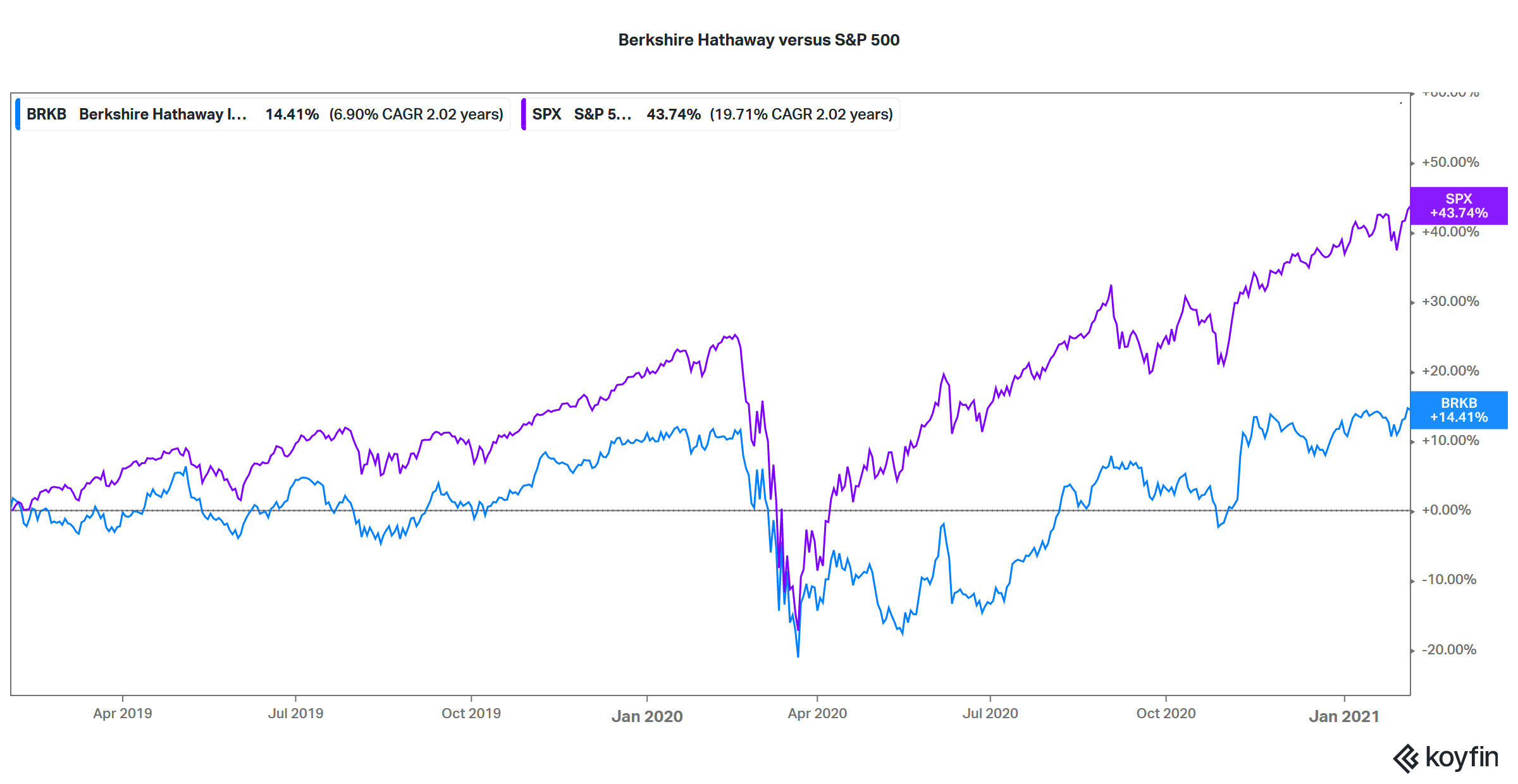 Article continues below advertisement
Berkshire Hathaway is the ultimate value stock
If you are looking at an all-season value stock, Warren Buffett's Berkshire Hathaway would fit the bill. The company has underperformed the S&P 500 badly over the last two years, which you can see in the graph above. However, the stock might play catch up with the index now.
How to invest in undervalued stocks and whether you should
The process of investing in undervalued stocks is similar to investing in any other stock. You need a funded broking account. Also, you need to be patient when buying undervalued stocks. Markets might take a long time in appreciating the value that they offer and the stock might continue to sag in the interim period. That said, it's advisable to have some exposure to undervalued value stocks in your portfolio.