Rumors Are Spreading That Hellmann's Mayonnaise Is Being Discontinued – Who Owns It?
Social media users have been flooding the internet recently with concerns over Hellmann's Mayonnaise being discontinued. With the condiment dating back as far as the early 1900s, it's understandable for people to be worried that their favorite sandwich spread could be disappearing. Who owns Hellmann's Mayonnaise and where is it going?
Article continues below advertisement
Article continues below advertisement
If you're like most people, Hellmann's is a staple product in your pantry or fridge. And we've got good news for you — you won't have to forgo that creamy sauce as it isn't being discontinued. While Hellmann's iconic mayo will no longer be sold in South Africa due to high import costs, U.S. retailers will continue to sell it.
Want to know more about Hellmann's Mayonnaise and who started it, then keep reading!
Who owns Hellmann's Mayonnaise?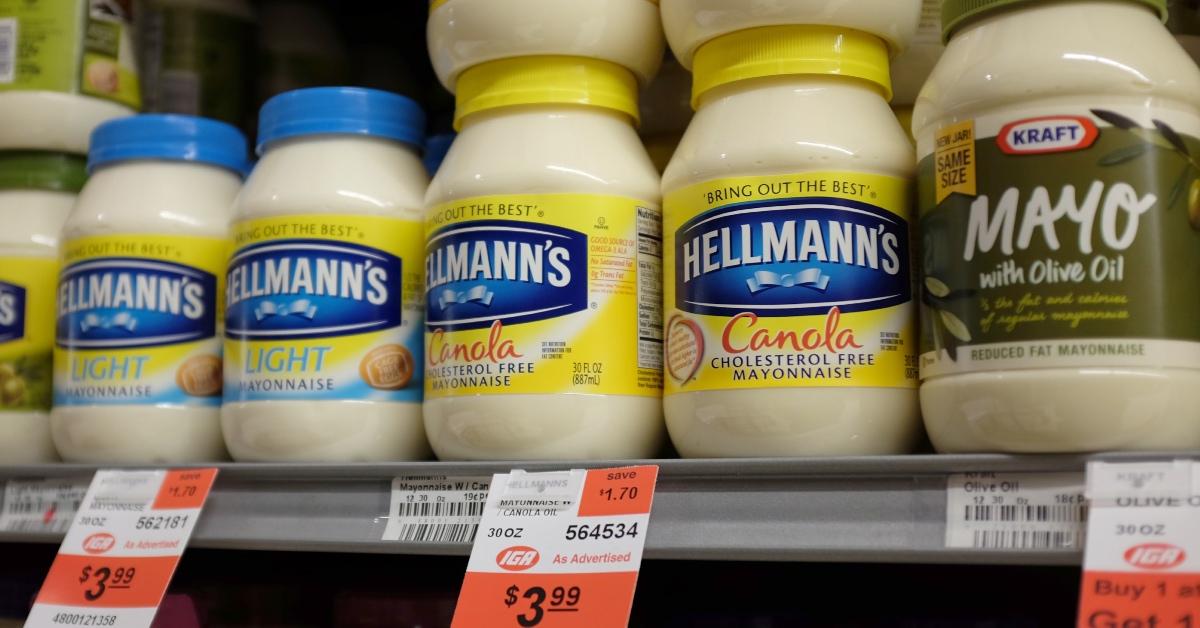 Hellmann's Mayonnaise, along with dozens of other popular brands, is owned by Unilever. Unilever was formed in 1929 and has grown to become a global consumer goods company with 400 brands under its belt. Some of the top brands Unilever currently owns include:
Ben & Jerry's
Dove
Knorr
Magnum
Axe
Smarty Pants Vitamins
Vaseline
Although Unilever is listed as the owner of Hellmann's Mayonnaise, it can't be credited for crafting the whipped condiment.
Article continues below advertisement
Let's see why Hellmann's Mayonnaise is very popular.
The taste and texture of Hellmann's Mayonnaise speaks for itself, which is why it is the leading mayo on the market today. Hellmann's Mayonnaise was created by Richard Hellman shortly after he moved to New York and met his wife Margaret. In 1913, the two opened their own deli on Columbus Avenue in Manhattan and that is where Hellmann's Mayonnaise was born.
Article continues below advertisement
Article continues below advertisement
After learning how to properly package it, Hellmann began selling his mayo out of jars. He later added a blue ribbon to it to signify that it was the gold standard of condiments. After growing his company, Richard Hellmann, Inc. to a million-dollar company, he sold it to Postum Foods, which was later renamed General Foods, in 1927, according to food history buff Andrew Smith.
After General Foods acquired Hellmann's company, it went on to expand its product line to include horseradish. Then, in 1932, General Foods reportedly "folded the Hellmann brand into Best Foods, Inc." Although the Hellmann brand switched hands a few more times as it was tied to Best Foods, it was eventually acquired by Unilever Global in 2000.
Article continues below advertisement
Unilever can be credited for releasing various versions of Hellmann's Mayonnaise including one made with extra virgin olive oil and another suitable for vegans.
Article continues below advertisement
Article continues below advertisement
Where is Hellman's mayonnaise made?
Hellmann's Mayonnaise has become the best-selling mayo in nearly 65 countries, according to Unilever's website. To put it into perspective, Unilever says "1,000 [Hellmanns] products [are] sold globally every minute." Now, although the company does have over 300 manufacturing facilities located around the world, it reportedly produces most of its Hellmann products at its Ontario factory.
How much does Unilever make each year?
Although Hellmann's Mayonnaise has helped boost Unilever's annual sales given how popular it is, the various brands it owns have also helped it to generate billions of dollars in revenue each year. In 2021, Unilever collected about $52.44 euros, which is equivalent to more than $57.6 billion.