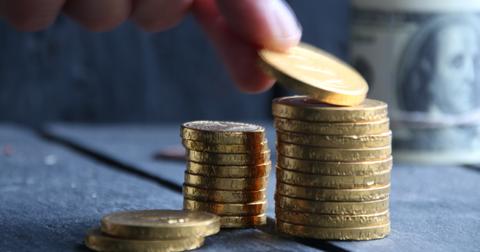 The Stocks With the Best Dividends—How to Choose?
By Ruchi Gupta

Updated
In uncertain economic times, investors tend to pay more attention to dividend stocks. But turbulent times can also interfere with companies' dividend payment programs, forcing them to slash or pause dividends. If you're interested in dividend investing, you may be wondering how to identify the stocks with the best dividends. Another common concern for dividend investors is whether the stocks with the highest dividend yields are the best choice.
BREAKING: Royal Dutch Shell cuts its dividend for the first time since the end of the Second World War. And it's a huge dividend cut, re-setting it to 16 cents per share, down from 47 cents per share | #OOTT $RDSB pic.twitter.com/fJnNWFEnNJ

— Javier Blas (@JavierBlas) April 30, 2020
BP cuts its dividend for the first time in a decade, following Shell's similar move in April. Dividends can and are being cut, throwing the theory of buying stocks instead of bonds for reliable income into question. https://t.co/d0qUqT3Fnq pic.twitter.com/VhdY0V4SeF

— Lisa Abramowicz (@lisaabramowicz1) August 4, 2020
What's a dividend, to start?
A dividend is a payment that a company makes to its shareholders. To pay or not pay dividends is entirely a management decision. A company's management can choose to increase, reduce, or suspend dividend payments at any time, depending on the company's financial circumstances or other issues. However, some companies have earned respect as "dividend aristocrats" for their outstanding dividend history.
Companies typically pay dividends in cash drawn from their profits. However, a company can also pay dividends as additional shares instead of cash. Stocks in public companies that pay regular dividends, "dividend stocks," provide a steady stream of income. Dividend stocks are often for well-established companies with a long profit track record.
Selecting the stocks with the best dividends
Not all dividend stocks are made equal. That being the case, you need to be selective when looking for the best stocks with dividends. The best dividend stocks often have certain characteristics you can look out for. Specifically, you want a stock that can keep paying dividends for a long time, and even better, a stock that can increase its dividend over time.
Companies often pay dividends from their earnings. Therefore, the best dividend stocks are usually for companies that have demonstrated a long history of consistent profitability. A profitable company will be able to both pay dividends today and invest in growing the business for future dividends.
Disney $DIS to suspend dividend payments for the first half of 2020

— Dividend Growth Investor (@DividendGrowth) May 5, 2020
Companies can borrow to fund their rapid growth by taking quick advantage of opportunities that arise. While carrying debt isn't bad, you would want to avoid heavily indebted companies when looking for the best dividend stocks to buy. In times of economic downturn, a company with a huge debt load may have to cut or suspend dividends as debt repayments squeeze its already weak earnings. A dividend cut or pause can be disappointing to investors seeking a steady income stream.
Are the stocks with the highest dividend yield the best?
Dividend yield is an important metric to take into account when looking for the best dividend stocks to buy. You can calculate a stock's dividend yield by dividing its annual dividend by its current price. The question is, should you go for stocks with the highest dividend yield?
When it comes to choosing good dividend stocks, a high dividend yield is better than the highest yield. While it may be tempting to go for the highest dividend yield, stocks with yields of about 4 percent are considered safer dividend bets. Remember that a stock's dividend yield may soar because its price is falling, a sign that the company's performance is deteriorating and a red flag for investors seeking the best dividend stock.