These Most Shorted Stocks Could be the Next on WallStreetBets' Radar
By Mohit Oberoi, CFA

Jan. 29 2021, Published 9:05 a.m. ET
There has been a humongous rally in stocks like GameStop (GME) and AMC Theatres (AMC) this year. There are some commonalities between the stocks. First, both are being pumped by the infamous Reddit group WallStreetBets (WSB). They are also the most shorted stocks with a high short interest ratio. 
Article continues below advertisement
What are some of the other heavily shorted stocks that could be next on WSB's radar as retail investors take on the big hedge funds?
Article continues below advertisement
To begin with, you should understand short selling. This is when someone sells a stock they don't own. If one believes that an asset will fall, they can short it and benefit if the asset price falls. The payoffs are diametrically opposite to buying an asset where you profit when the price rises.
What is short interest?
Short interest is simply the total number of shares that have been sold short. Since the absolute number does not add much value and is not useful in comparison, we look at the short-interest ratio, which is simply the short interest divided by the average daily traded volume. It is also known as the days-to-cover ratio, because it reflects the number of days short-sellers would need to clear their positions based on the average traded volumes. 
Article continues below advertisement
What is considered a high short interest?
There is no quantitative definition describing what would be a high short interest ratio. Generally, a days-to-cover ratio of over 10 is seen as high. We can also look at short interest as a percentage of total available shares (or the float) and a ratio of over 10 percent is seen as high by traders.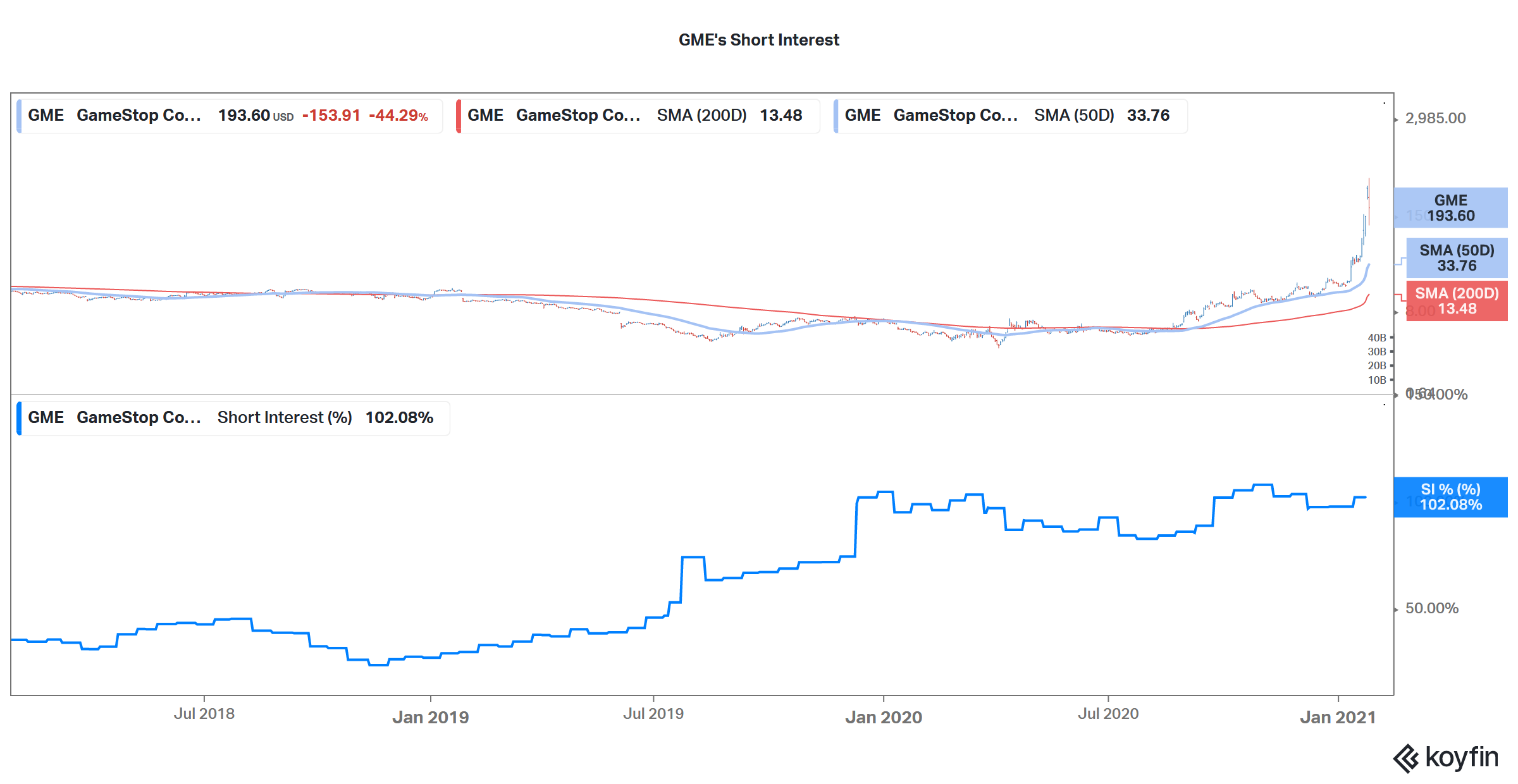 Article continues below advertisement
Some of the stocks like GameStop have a short interest exceeding the total outstanding shares. This means that more shares have been short sold than are outstanding. You need not be a financial wizard to understand that it is an extremely high short interest.
How to find the stocks with the highest short interest on the stock exchange:
Stock exchanges file short interest data every two weeks. For Nasdaq-listed stocks, you can get it on the Nasdaq's website only. For instance, Tesla's short interest ratio was 1.3x as of Jan. 15 which is the most recent data point.
Article continues below advertisement
For stocks that are not listed on Nasdaq, you would need a different source like MarketBeat. There are data providers like S3 that provide the short interest data in real-time while the data provided by exchanges has a a lag and is therefore of little value. However, you would need to subscribe to get the data.
Article continues below advertisement
Which stocks have the highest short interest ratio?
An Investors Business Daily report lists GameStop, Bed Bath and Beyond, Ligand Pharmaceuticals, Macerich, Tanger Factory Outlet Centers, AMC Networks, iRobot, Children's Place, B&G Foods, and Macy's as the most shorted stocks. Their short interest to total share outstanding ratio varies between 102 percent (for GameStop) to 35 percent for Macy's.
Are stocks with high stock interest a buy or too risky?
The short interest ratio by itself does not tell us much about a stock. If anything, many traders see it as a contra-indicator and would buy a stock with high short interest betting on a short squeeze. In a short squeeze, as the price of asset jumps, those who are short scramble to cover their position. This leads to more buying, pushing the asset price even higher.
Article continues below advertisement
That said, stocks with high short interest are generally more volatile than those that have a lower short interest. It would therefore be fair to say that heavily shorted stocks are riskier. But then, those who take the highest risk in markets end up earning the highest returns too, at least in theory if not in practice.