Michael Burry Joins the GameStop Fray, May Pull Another 'Big Short'
GameStop (GME) stock has stirred a frenzy. It gained 93 percent on Jan. 26 and was up again in premarket trading today. The stock has risen almost 1,700 percent over the last year. Michael Burry, best known for his bets against the collateralized debt obligation market during the Great Recession, has also expressed his opinion on GME stock. Will Burry follow in Citron Research's footsteps and go short on GME stock?
Article continues below advertisement
In 2020, Burry revealed that he's short on Tesla stock. That year, the EV stock's short-sellers lost around $40 billion.
What's happening with GME stock?
GME stock has been volatile in 2021. Some short-sellers, such as Citron Research's Andrew Left, are bearish. Left wrote a note on the stock and followed up with a video highlighting five reasons he expects the stock to crash. However, there were some weak points to his thesis.
Article continues below advertisement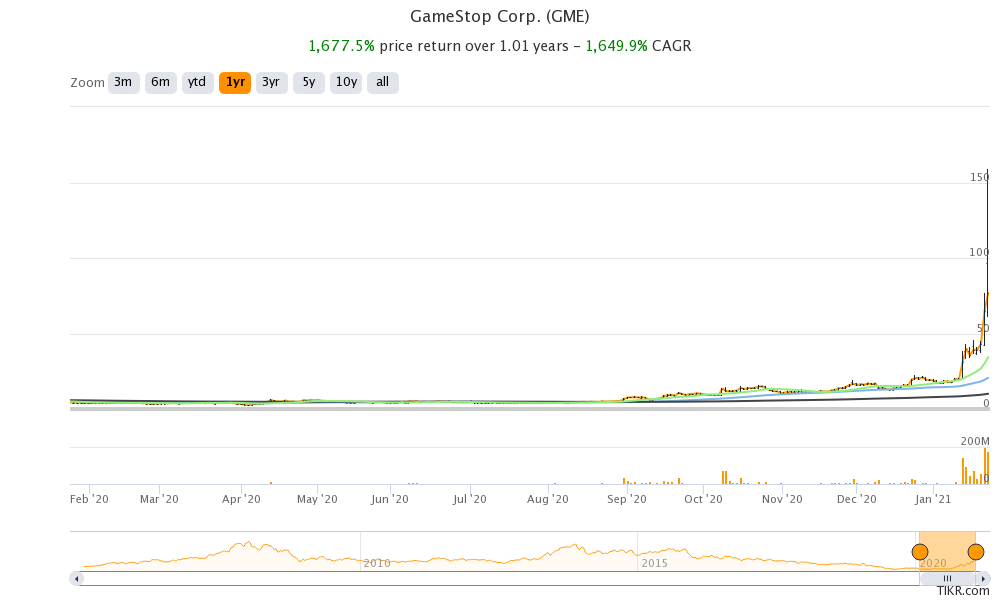 GameStop Reddit WallStreetBets
On the other side of the spectrum is the "mob" of retail traders. A Reddit group named WallStreetBets seemed to be leading that charge against short-sellers. Even Chamath Palihapitiya, famous for his SPAC (special purpose acquisition company) and PIPE (private investment in public equity) ventures, has revealed that he's long on GME stock.
Article continues below advertisement
The "Big Short" Michael Burry
Michael Burry wrote about his win during the Great Recession in his bestselling book, The Big Short: Inside the Doomsday Machine. His book was later adapted for the big screen as The Big Short. In 2019, he warned that passive investing, which attracts trillions of dollars of inflow, could trigger the next stock market crash. And in the first quarter of 2020, passive funds ended up pressuring markets to crash.
Article continues below advertisement
Burry has also revealed that he's long on water stocks. The area is drawing increased attention with the pivot to addressing climate change around the world.
Burry's Scion Asset Management was long on GME stock in Q3 2020
GME stock could be another success story for Burry. His Scion Asset Management 13F filings reveal that he was long on GameStop stock in the third quarter of 2020, and it was one of his top five holdings. Scion had 1.7 million GameStop shares at the end of the third quarter, valued at around $17 million. If Burry hasn't sold these shares, they'd be worth $250 million now.
Article continues below advertisement
Is Burry short on GME stock now?
We'll have to wait until next month's 13F from Scion to see if Burry's still long on GME stock or has covered his positions. That said, his Twitter activity suggests he's turning bearish on the stock. In a now-deleted tweet, he called upon the SEC to investigate the rally in GME stock. Many others, including Jim Cramer, are apprehensive about GME stock's steep climb.
Is Burry right or wrong on GME stock?
GameStop looks like a turnaround story with Chewy's founder Ryan Cohen on board. Instead of focusing on GME's next-12-month numbers, investors should consider the company's focus on profitability and online sales, which are long-term value drivers. That said, the stock's recent rally looks more like euphoria. We'll have to wait and see if Burry can pull another "Big Short" with GME.