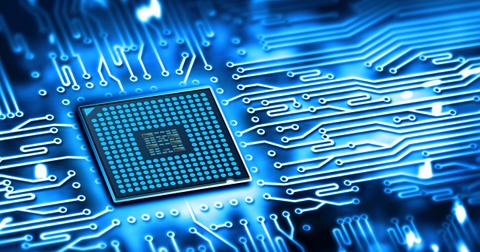 Marvell's Q3 Earnings: Mixed Bag amid Trade Uncertainty
By Sophia Nicholson

Updated
Marvell Technology (MRVL) reported mixed earnings results for the third quarter of fiscal 2020 (which ended on September 30) yesterday. It posted better-than-expected earnings in the quarter, but its revenue fell short of Wall Street estimates. The semiconductor giant also lowered its earnings guidance for the fourth quarter, but its revenue outlook was ahead of analysts' estimates.
Marvell stock initially fell over 3% in after-hours trading, but it climbed about 2.9% in extended trading yesterday. It ended up with a gain of about 3.14% in after-hours trading. It's also rising in premarket trading today.
Article continues below advertisement
Marvell's third-quarter earnings performance
Marvell's adjusted EPS of $0.17 were in line with analysts' estimates in the third quarter. The company has been crushing Wall Street estimates for the past three quarters.
Its EPS were also in its expected range of $0.15–$0.19. Though they fell 48.5% YoY (year-over-year) from $0.33 due to a lower top line and margin contraction, they were marginally higher than the preceding quarter's $0.16.
Both the company's gross and operating margins also shrank by 110 basis points and 890 basis points, respectively, YoY in the third quarter. Its adjusted gross and operating margins stood at 63.5% and 20.8%.
Marvell's third-quarter revenue
Marvell's revenue reached $662.5 million in the third quarter, lagging analysts' estimate of $664.5 million but exceeding the company's own guidance of $660 million. Its third-quarter revenue plummeted by 22.2% YoY in the quarter. It fell YoY for the second time amid the current downtrend in the chip cycle. A trading ban on China's Huawei also disrupted its sales. The ban came as a result of the ongoing US-China trade war, and it forced Marvell to stop shipments to the key customer.
Article continues below advertisement
Nevertheless, the company's third-quarter revenue improved from the previous quarter after declining sequentially for the past three consecutive quarters. The company's storage business improved from the previous quarter. Further, its networking business, which includes the sale of Ethernet and Wi-Fi products, reported better-than-expected results. Networking represented 50% of its total revenue in the third quarter, while storage represented 43%. Other products accounted for 7% of its third-quarter revenue.
The chip giant is also making heavy investments in 5G and is set to launch its first 5G products in the fourth quarter. During the third quarter, it shipped a significant amount of 5G products to help with 5G deployments in Korea. It expects its initial deployments in Korea to contribute to its 5G revenue in the quarters to come. By fiscal 2021, Marvell expects 5G adoption in other geographies such as Japan and the US.
Article continues below advertisement
Acquisitions and divestitures
In September, the company completed its acquisition of multigig Ethernet company Aquantia. It expects Aquantia to generate approximately $100 million in annualized revenue in fiscal 2021. On November 5, Marvell completed the acquisition of Avera Semiconductor. Avera is the Application Specific Integrated Circuit business of GlobalFoundries. Marvell expects a 25% improvement in its networking revenue in the fourth quarter owing to the additions of Avera and Aquantia.
During Marvell's fiscal 2020 third-quarter earnings call, CEO Matt Murphy referred to Avera and Aquantia and stated, "These acquisitions broaden our technology portfolio for infrastructure customers and expand our addressable market by approximately $4 billion."
Additionally, Marvell expects to complete the $1.76 billion divestiture of its Wi-Fi connectivity business to NXP Semiconductor (NXPI) in mid-December. NXP, which had planned to buy Marvell's wireless connectivity business in May, has received all of the regulatory approvals.
Fiscal 2020 earnings and revenue guidance
For the fourth quarter of fiscal 2020, Marvell expects revenue of $750 million plus or minus 3%. However, analysts expect much lower revenue of $715.6 million for the quarter. The company's fourth-quarter guidance takes into consideration the trade ban on specific Chinese customers resulting from the ongoing trade war. Analysts expect its fourth-quarter revenue to fall 3.9% YoY and its fiscal 2020 revenue to fall 5.62% YoY. However, analysts expect its revenue to rise 15.1% YoY in fiscal 2021.
The company also expects to see adjusted EPS in the range of $0.15–$0.19 in the fourth quarter, lower than analysts' expectation of $0.19. Analysts expect Marvell's fiscal 2020 earnings to fall 42.4% but to improve 52.7% in fiscal 2021.
Article continues below advertisement
The company also expects its non-GAAP (generally accepted accounting principles) gross margin to be 62% in the fourth quarter. Analysts expect a gross margin of 63% in the quarter. However, the company expects its gross margin to return to more than 63% after the completion of the sale of its Wi-Fi business and the integration of Aquantia and Avera into the Marvell supply chain.
Trade war uncertainty
The markets were hoping a trade deal between the US and China after US President Donald Trump announced Phase 1 of the deal on October 11. However, in the past few days, that result has been looking more and more uncertain.
On November 29, Trump raised trade war fears after he signed two bills in support of the Hong Kong protesters. Investors became more cautious after Trump threatened on December 2 to put tariffs on steel and aluminum imports from Brazil and Argentina, as reported by CNBC. Later, Trump also threatened tariffs of up to 100% on $2.4 billion worth of French imports. He also hasn't yet clarified whether he will go ahead with the tariff hike on Chinese goods in mid-December.
On Tuesday, Trump told reporters, "In some ways, I like the idea of waiting until after the election for the China deal," per CNBC. This means Trump is in favor of concluding the trade deal with China after the 2020 presidential election.
Meanwhile, according to a Bloomberg report, the US and China are coming closer to a trade deal. The reports state that despite tensions over Hong Kong and Xinjiang, the two countries are ready to make a truce.
Article continues below advertisement
We believe any trade truce between the US and China would also improve the trade relations between the US and Huawei. Notably, more than 130 companies, including chip makers, have applied for license approvals to sell goods to Huawei. As a result, not only Marvell but all sensitive chip stocks would undoubtedly gain from a trade deal.
Marvell's stock price movement
Marvell stock dropped 2.52% yesterday after Trump's comments related to the US-China trade deal. At Tuesday's closing price of $25.16, Marvell's market cap stood at around $16.8 billion. Its stock was trading 11.3% lower than its 52-week high of $28.38 and 75.5% higher than its 52-week low of $14.34.
Marvell stock has gained around 55.9% YTD (year-to-date). In comparison, the S&P 500 has gained just 23.4%, while the VanEck Vectors Semiconductor ETF (SMH) has risen 48.2% YTD. Peers Qualcomm (QCOM), Intel (INTC), Advanced Micro Devices (AMD), NVIDIA (NVDA), Broadcom (AVGO), and Micron (MU) are up 44.5%, 21.8%, 110.7%, 55.9%, 21.6%, and 42.6%, respectively, YTD.