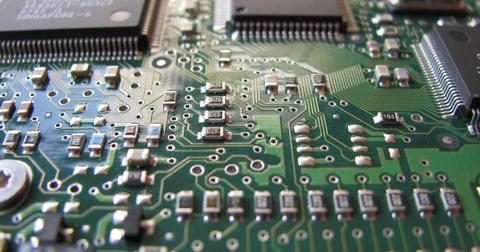 Semiconductors: The Web of Interlinked Ecosystem
By Umar Khan

Updated
Five decades ago, semiconductors were just a prototype. Now, Statista estimates the semiconductor industry to grow up to $831.5 billion by 2024. Since its inception in 1960, the semiconductor industry has grown, adapting to the needs of every era's electronic consumables. Semiconductors chips power almost all electronic devices, such as PCs, smartphones, wearables, and servers.
Playing the spark in the tech world, they mapped their way into classic hardware associated with electronic technology. The industry gave us numbers and is an absolute compatibility performer with new electronic upgrades. However, it was never an independent game changer.
Article continues below advertisement
Semiconductors today
The semiconductors' exponential growth in the last few years is promising. But the over-optimistic view of demand surge has stacked inventories of memory chips. This pushed memory prices into a major downturn. The overflow of DRAM (dynamic random access memory) and NAND (Not AND) volumes around the supply chain may pull the DRAM price down by 40% in 2019, reported The Register. Also, the website expects DRAM oversupply to continue through Q2 2020.
In a press release, Ben Lee, a senior principal research analyst at Gartner, said, "A weaker pricing environment for memory and some other chips types combined with the U.S.-China trade dispute and lower growth in major applications, including smartphones, servers, and PCs, is driving the global semiconductor market to its lowest growth since 2009."
Gartner revised down its 2019 global semiconductor revenue forecast by 6.2 percentage points. This is from a 3.4% YoY (year-over-year) decline to 9.6% YoY decline. It now projects the semiconductor industry's revenue to reach $429 billion in 2019.
Article continues below advertisement
Semiconductor industry bottoms in the first half
The 10-point decline in semiconductor revenue is a blow to the top semiconductor manufacturers. However, the worst off was SK Hynix (HXSCF) with a 34.7% YoY drop in chip sales in the first half. It was followed by Samsung's (SSNLF) revenue dipping by 33.4%. Also, Micron Technology (MU) fell by 29.2%, touching a new rock bottom for any major product category, stated IHS Markit.
The casualty was not limited to the memory segment. In addition, other product segments were hit by the US-China trade war. Logic ICs (integrated chips) dipped by 4.8%, microcomponents by 4.2%, and analog ICs by 6.1%, according to IHS Markit's first-half data. Also, the report showed that discrete chips revenue fell by 1.9%. Also, sensors and actuators fell by 2%. On the whole, the chain reaction is taking down the chip market to the extremes. Still, the analysts say it's a good time to work with semiconductors.
The future of semiconductors: IoT
Known for its volatility, the semiconductor industry is going through the down paddle of its chip cycle. However, analysts expect it to bounce back within the next few quarters. But for the industry to revive and grow after this bust, we need more than making the semiconductor look vital for the Techchronic world.
Now, see an ecosystem that connects anything and everything to a wireless network. A simple embedded device communicating by sending data and information to another system connected to the same network. IoTs (Internet-of-things) is one such answer. The industry is decoding itself with time and innovation. It's making space in the automotive, medical devices, health care, retail, IT, manufacturing, consumer and home industries. Also, per Gartner, total spending on IoT tech reached $235 billion in 2016. It expects the number of connected devices to grow to 20 billion by 2020.
Article continues below advertisement
5G: A powerhouse of the connected world
For the enhancement of the network connectivity for IoT, the frame for the next phase of communication is 5G. With improved workability on unique radio frequencies and faster speed, 5G is one of the decade's fundamental upgrades. 5G tech requires the transmission of high-frequency millimeter waves. This is where semiconductors will tandem with IoT and 5G. Also, the chip industry will supply 5G chipset to IoT devices and components for the 5G communications infrastructure.
Major telecom carriers like T-Mobile and AT&T are investing heavily in the 5G network. This is creating an opportunity for connectivity chip suppliers. They will profit by manufacturing and supplying a multitude of microchips for 5G devices and networks.
AI is the next phase in the tech world
People have always dreamed about the idea of AI (Artificial Intelligence) and they still do. According to  Accenture Semiconductor Technology Vision 2019, "The semiconductor industry is the most bullish about adopting artificial intelligence…"
Accenture strategy global lead semiconductor practice Syed Alam said, "AI will be a major growth driver for the semiconductor industry in the light of high manufacturing cost and the growing complexity of chip development. To capture this opportunity, chipmakers should leverage AI technologies and partnerships to increase efficiency across their operations."
The future is embracing technologies like machine learning, natural language processing, voice command, and autonomous machines. This changing technology landscape is in favor of chip makers.
Article continues below advertisement
Food for thought   
The semiconductor industry needs to incorporate many changes. They include innovations in the fabrication process, an alternative to Moore's law, and new materials for chip production. The top game players in the semiconductor industry need to understand that even though they have plotted a road map for the future of semiconductors. The industry growth will proportionately depend on the scalability of their chips. A scalable chip is something that can support any form factor from a smartwatch to a component in a space rocket.
However, the tech can't be conceptualized without semiconductors. Hence, the semiconductor industry always has the ever-growing need for scaling and computing. In the words of Rambus chief scientist for memory and interface division Craig Hampel, "while Moore's Law will end, the secular and lasting trend of exponential computing capacity will likely not."