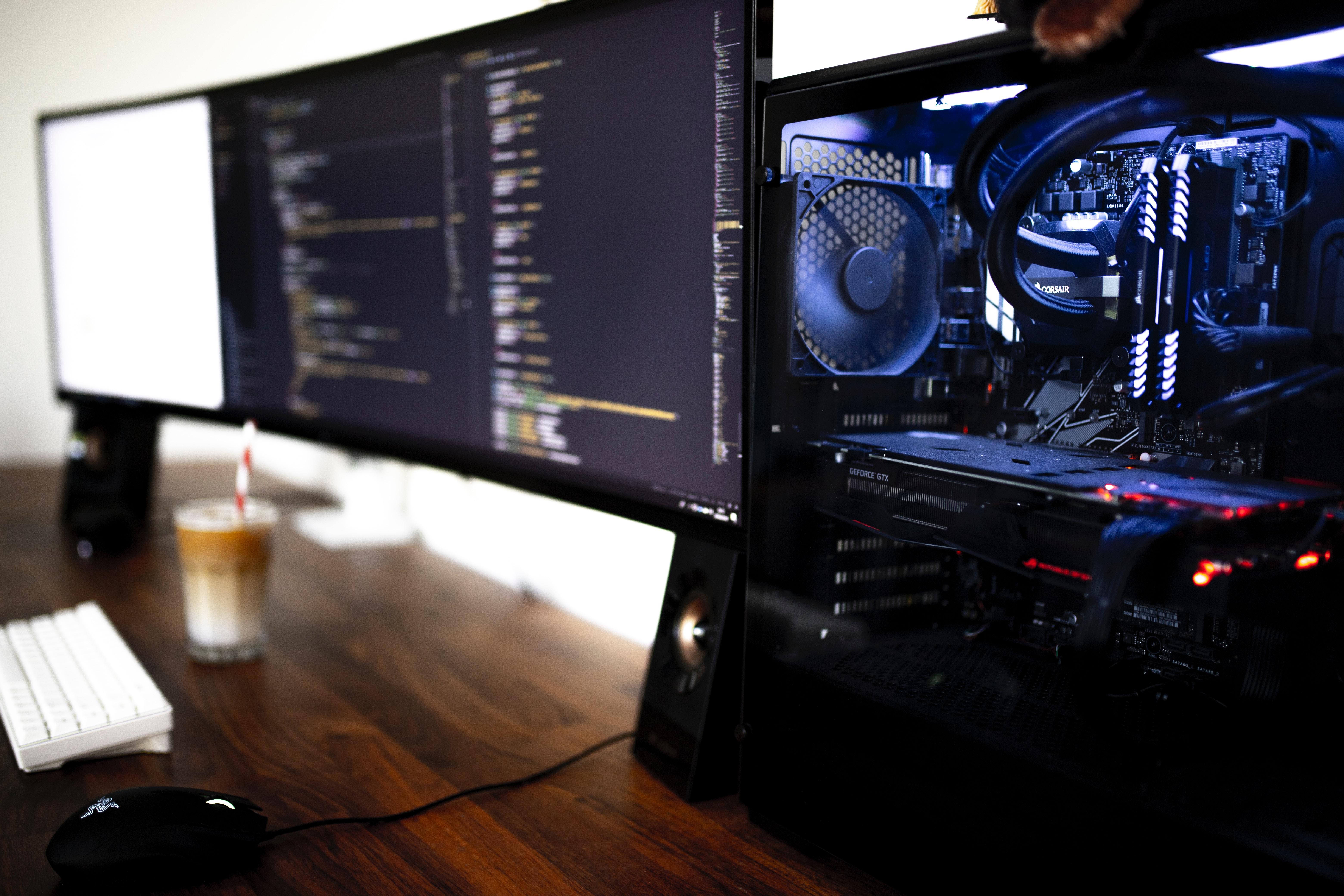 Nvidia's Latest: The Road to Recovery
By Umar Khan

Nov. 21 2019, Published 10:56 a.m. ET
The last two decades for Nvidia (NVDA) have been a growth story, thanks to the strong demand for gaming and AI. However, the firm has rattled investors and analysts in the last 12 months. On the upside, Nvidia has bounced back. After bottoming out at $124.46 on December 24, 2018, the stock spiked to a 52-week high of $213.10 on November 18. Let's have a look at the company's performance.
Article continues below advertisement
The nightmare of 2018
Although Nvidia has shown robust growth, it has encountered its share of speed bumps. The stock went from an all-time high of $289.36 on October 1, 2018, to $148.42 on December 12, 2018, a decline of 48.8%. A 50% drift in stock price is enough to make investors pessimistic about the stock. However, this was not the case with Nvidia. Let's take a quick look at stock's recent history.
By 2012, Nvidia became a well-established organization. It had a wide range of product lines and was a pioneer in most of them. The GPU segment's performance was widely represented in parallel computing, making it big in the designing and gaming arena.
According to the company's third-quarter financials, its revenues rose from $1.05 billion in fiscal 2014 to $1.31 billion in fiscal 2016. Still, its YoY (year-over-year) revenue didn't increase by a significant margin. This was justified as the gaming industry matured.
Understanding the scenario, Nvidia started developing components in machine learning, artificial intelligence, autonomous cars, and crypto mining over the next three years. This expansion resulted in a 21% rise in revenue on a YoY basis, reaching $3.2 billion in the third quarter of fiscal 2018. However, the previous year's fourth-quarter changes in the industry's ecosystem opened unshielded fronts for Nvidia.
Article continues below advertisement
Flying darts to Nvidia's shield
The first dart to pierce Nvidia's shield was the crypto bust. Although crypto was not Nvidia's game, the rapid rise in GPU usage brought Nvidia to this arena, making it suffer after the crypto craze settled back to earth.
The next in line was some misguided tech with a bloated price. In the second half of 2018, Nvidia launched the upgraded version of the Turing-based GeForce RTX. This new tech was loaded with a real-time ray-tracing feature.
However, the ray-tracing technology was too far ahead of its time to give the market any real leverage. As the upgraded graphics didn't significantly improve performance on the existing systems, gamers weren't sufficiently convinced to pay the premium price for the GPU. This pushed Nvidia's Gaming revenue down by 45% YoY by the fourth quarter of fiscal 2019.
The third dart was Nvidia's competition not only from the startups and established players but also from its consumers. As reported by TechCrunch in December 2018, Facebook, Google, and Apple are all working on or already have made their own chips.
Article continues below advertisement
Let's not overlook the elephant in the room—the US-China trade war, which has also impacted Nvidia's Datacenter segment. The Chinese market purchased its anticipated inventory in advance and has been using the stockpiled components. On a sequential basis, this reduced its Datacenter revenue by 14% in the fourth quarter of fiscal 2019.
Nvidia: Road to recovery
Although the second half of fiscal 2019 rattled Nvidia and its investors, the second half of fiscal 2020 brought the chipmaker back to the road to recovery. Nvidia's sequential growth was a great relief to investors.
In the second quarter of fiscal 2020, the firm reported revenue of $2.58 billion, a 16% increase from the previous quarter. This increased its net income by 40% sequentially. Nvidia's market segments also showed promising performance. The Gaming segment rose 24% sequentially, contributing $1.31 billion to its revenues.
Article continues below advertisement
Improving from 55% down in the first quarter, the Tegra Processor Business revenue in the following quarter rose by a massive 140%. Datacenter revenue increased 3% as hyperscale revenue recovered thanks to expanding AI workloads. In the first half of fiscal 2020, Nvidia signed several AI cockpit and autonomous vehicle agreements. This helped Nvidia Automotive record all-time high revenue with a YoY increase of 30%.
Nvidia's Q3 earnings speak
After Nvidia's third-quarter earnings release on November 15, the stock saw mixed reactions by investors and analysts. Although Nvidia's performance exceeded analysts' estimates, it has also disappointed them on its fiscal Q4 guidance outline.
Nvidia's revenue of $3.01 billion rose 17% sequentially, rising comfortably above the consensus estimates of $2.91 billion and the management's stated number of $2.9 billion. The profits were equally strong, with a 45% increase in net income. The firm also reported a 44% increase in EPS over the previous quarter.
Article continues below advertisement
The Datacenter platform showed a sequential rise of 11%. In its Q4 guidance, Nvidia noted, "Strong sequential growth is expected in Data Center." The Gaming sector also showed an increase in revenue, primarily from the sale of its GeForce desktop and notebook GPUs, with an increase of 26% sequentially.
Key events in the third quarter
In the third quarter, Nvidia also made some lucrative deals. With an intent to expand the usage of the ray-tracing feature, the GPU giant partnered with Microsoft (MSFT) for the Minecraft video game. Nvidia signed another collaboration with Microsoft to work on Microsoft's Azure Data Box Edge, which has Nvidia's T4 GPU. The fabless firm also entered into a partnership with VMware to power AI workloads.
Operating in a product-based industry with a reputation for launching products on a timely basis, Nvidia introduced several more upgraded versions. It launched the SUPER version of GeForce GTX.
Next in line came the RTX Broadcast Engine. It uses the AI attributes of GeForce RTX, enabling virtual green screen, filters, and AR (augmented reality) effects in live streaming. Nvidia later announced the entry of two new variants of the SHIELD TV streaming media players.
Article continues below advertisement
Looking at the revenue generated by OEMs (original equipment manufacturers), it seems like the trade war winds have calmed a bit, contributing to a sequential increase of 29%. Professional Visualization revenue also rose 6% YoY to its all-time high of $324 million, crossing the consensus estimate of $315.4 million.
Nvidia: What's ahead for Q4?
Nvidia gave its guidance for the fourth quarter of fiscal 2020, and it seems to be a bit conservative. The management expects its revenue to grow by 34% YoY, reaching $2.95 billion. In its press release, the firm expects strong sequential growth in Datacenter, which had been a focus for many analysts.
Nvidia's $2.95 billion guidance with respect to analysts' expectations of $3.06 billion came in a little light. Nvidia also gave its guidance for adjusted EPS of $1.65, representing growth of 106% YoY. As analysts had been anticipating adjusted EPS of $1.70, the firm's profit guidance also fell a bit short of expectations.
It looks like Nvidia's conservative guidelines led to a cautious approach. In the past, Nvidia's management had to temper its overoptimistic guidance for Q4 of fiscal 2019. Not to put its reputation and stock prices on the line again, this time the firm went with a lighter estimate than the market's expectations.
In the last few years, Nvidia has given us some volatile results. However, its recent quarters have been promising. The constant sequential increase in its Gaming revenue, GPU business, and Datacenter should satisfy most investors. Looking at its sequential performance, Wall Street analysts expect the company to return to its YoY growth model.