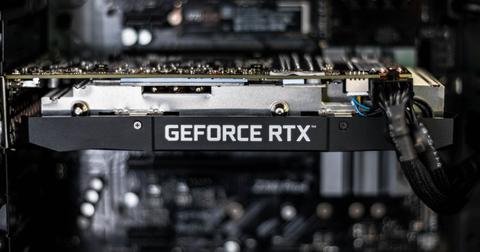 NVIDIA: The Way It Is Meant To Be Played
By Umar Khan

Updated
The world is moving towards the next technology phase of AI or artificial intelligence. NVIDIA (NVDA) is the epicenter of AI computing. The journey of NVIDIA to date is one of a kind. Known to be the pioneers of GPUs (graphics processing unit), the microprocessor giant was founded by president and CEO Jen-Hsun "Jensen" Huang in 1993. Also, vice president of engineering Chris Malachowsky and chief technology officer Curtis Priem helped, too. The co-founders expected that the next step up in the computing world would require faster processing, bulk calculations, complex logic, and more sensory domination.
The trio believed that future computational devices would need to be on par in terms of performance and compatibility. So, believing in their hypothesis, they created NVIDIA, which went on to become a prodigy fabless firm. 
Article continues below advertisement
The fabless firm's origins
However, as a start-up, NVIDIA was not very clinical in terms of its business plan. They had a concept and believed in it. Remembering his first days at NVIDIA's 2018 GTC (GPU Technology Conference), Huang said, "I didn't know how to write a business plan and never did finish one," per IEEE Spectrum. However, going with his gut, the corporation started with designing microprocessors.
NVIDIA's conceptual idea was to power full-motion video and stereo sound in personal computers. However, NVIDIA, being a fabless firm, outlined the design but needed a chipset manufacturer of half micron capacity. In 1994, to fill the gap, the firm made a deal with European-based wafer fabricator SGS-Thomson Microelectronics. Also, the firm brought Diamond Multimedia Systems on board. Now, the company would have a way to put the chips in a multimedia accelerator.
This strategic partnership gave way to NVIDIA's first single-chip GUI (graphical user interface) accelerator, the NV1, in 1995. The microprocessor integrated wavetable synthesis, GUI acceleration, 3-D rendering, full-motion-video acceleration, and a precision game port all into a single chip. The chip gave a display of its potential to process high-end output. Also, it made PCs compete with video gaming systems.
Article continues below advertisement
NVIDIA marks its presence in PC gaming
The launch of NV1 was a success. It helped the firm get funding from Sequoia Capital and Sierra Ventures, both venture capital firms. Impressed by NV1's performance, video game manufacturer Sega of America partnered with NVIDIA. Sega wanted to upgrade its video games from its 32-bit Saturn system to personal computers using NVIDIA's NV1 multimedia accelerator.
By mid-1996, the graphics market started expanding. There were close to 30 hardware vendors supplying 3-D chips. It became an accepted notion that 3-D would now be a standard feature in personal computers. Also, by this time, NVIDIA was working with the game developer community to give direction for the establishment of 3-D in the gaming world.
The first spell worked. Now, it was time to up the game. So, NVIDIA focused on delivering leading-edge graphics for the desktop market.
NVIDIA's game of the late '90s
In 1997, NVIDIA launched RIVA 128 (real-time interactive video animation). This was the world's first 128-bit 3D processor. The processor was able to integrate both 3D accelerations in addition to traditional 2D and video acceleration. Also, RIVA 128 was an OEM (original equipment manufacturer)-accepted component. Thus, millions of these chips got shipped in its first four months of production.
By 1998, NVIDIA started getting recognized among top players in the high-performance 3-D graphics market. Per Reference for Business, analysts ranked the firm second, holding almost 24% of the market share by the end of 1997.
Article continues below advertisement
In 1998, NVIDIA introduced two more products, upgrading the RIVA 128 to RIVA 128ZX and RIVA TNT. The ZX variant was then the industry's fastest 3D processor. So, the TNT became the first multi-texture 3-D processor. Also, TNT was considered as a major add-on. This is because it allowed the chip designers to calculate the pixels, shading, apply color, lighting, filtering, and other visual effects.
Lawsuits slowed the company down
It was about time for NVIDIA to go public. But it did not go that easy. The company was bombarded with lawsuits. During 1998, S3, 3dfx Interactive, and Silicon Graphics accused the GPU designer of patent infringement for multi-texturing technology. Hence, to avoid any hustle, the company delayed its IPO.
In the same year, NVIDIA won several accolades. The FSA (Fabless Semiconductor Association) named NVIDIA the "Most Respected Private Fabless Semiconductor Company" for the second consecutive year. Also, the firm won PC Magazine's Editor's Choice Award for "the most impressive implementation of combined 2-D and 3-D performance we've seen." So, now that NVIDIA was green on market sentiment, they were all set to go public.
Article continues below advertisement
NVIDIA goes public
NVIDIA went public in January 1999. Per Reference for Business, growth in the graphics industry and acceptance of the RIVA series added to the huge revenue boost. Thus, NVIDIA's revenue rose more than tenfold to $158.2 million. This was from only $13.3 million the previous year, ending on January 31, 1999. During the same period, its net income rose threefold to $4.1 million from $1.3 million.
NVIDIA was on a constant quest to upgrade its tech as per the market need. So, in 1999, the firm added another product to its array. This time it was a 64-bit variant of VANTA. This chip was designed to cover the graphic demands of the low-end PC market. Also, by mid-1999, NVIDIA rolled an upgraded version of TNT, the TNT2. The gaming world thought that it was 30% faster than the previous version. This was determined when it was tested on the Viper 770 display board.
NVIDIA partners with competitors
Additionally, NVIDIA settled its differences and made alliances with its competitors. The firm sorted its lawsuit with Silicon Graphics and entered into a cross-license patent partnership. Also, the firm worked with Acer Labs to get integrated core logic graphics and 3-D products for low-end PCs.
In August 1999, NVIDIA launched GeForce 256 and called it the world's first GPU. The single-chip processor could perform the entire graphics operation. This shifted the graphic workload from a CPU (central processing unit) to a GPU. Also, this workload sharing allowed software developers to code more complex scenarios. For 1999, the GPU designer reported revenue of $374.5 million, a two-fold increase from the previous year. And net income accounted for $41 million, making it a profitable year.
Article continues below advertisement
Innovation from 2001 to 2010
There was no looking back for NVIDIA in the 21st century. Walking towards the path of future computing, the firm explored many applications of its GPU technology.
NVIDIA became the fastest semiconductor company to reach $1 billion in revenue. It was added to the S&P 500 index in 2001.
The firm bought the assets of 3dfx, a pioneer in graphics technology in 2000.
NVIDIA unveiled CUDA, a revolutionary architecture for general-purpose GPU computing, in 2006.
Also, the form helped NASA reconstruct the terrain of Mars in 2004.
The fabless firm worked with Google to unleash Android on its Tegra processor in 2009.
NVIDIA and Siemens Healthcare created the world's first 3-D ultrasound in 2009.
Also, NVIDIA Tesla GPU powered the world's fastest supercomputer, China's Tianhe-1A, in 2010.
NVIDIA makes AI a reality from 2011 to the present
The current decade is one of the most remarkable for NVIDIA. The firm branched out into different sectors and made AI a reality.
The last three decades in the chip industry has been revolutionary. And, NVIDIA changed the world of graphic visuals and AI computing. Huang, at GTC 2018, said, "no business plan could have predicted any of the past 25 years."