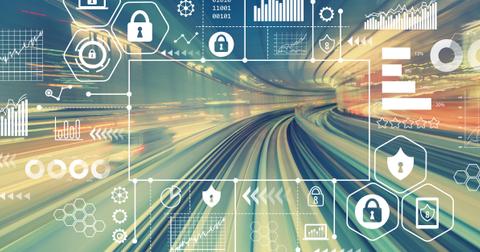 Why Is PANW Stock Gaining in After-Hours Trading?
By Adam Rogers

Updated
Shares of leading cybersecurity company Palo Alto Networks (PANW) have gained close to 4% in after-hours trading today. Palo Alto Networks announced its fourth quarter of fiscal 2019 results on September 4 after the market closed.
The company reported sales of $805.8 million, a year-over-year increase of 22%. Plus, its adjusted earnings per share rose 15% to $1.47 in the fourth quarter of fiscal 2019. PANW reported sales of $658.1 million and EPS of $1.28 in the fourth quarter of fiscal 2018.
Article continues below advertisement
Analysts expected the company to post sales of $802.42 million and EPS of $1.42 in the quarter, which ended in July. Notably, the stock first lost 9% in after-hours trading before regaining the lost ground and moving higher. So, why did PANW stock fall initially despite beating Wall Street estimates?
Palo Alto Networks announced the acquisition of Zingbox
In our view, it's possible that PANW stock fell in after-hours trading due to the acquisition announced by the firm. PANW agreed to acquire Zingbox, which is an IoT (Internet-of-Things) security company. Valued at $75 million, this acquisition should close in the first quarter of fiscal 2020.
The number of connected devices could grow at an exponential rate over the next few years. This increase in connected devices should result in increasing demand for cyber solutions. According to PANW's press release, "Current IoT point products mostly focus on device profiling and inventory, not on detecting or stopping sophisticated attacks." As a result, the need to detect increasingly complex malicious attacks continues to increase.
Zingbox provides a cloud-based security service with AI (artificial intelligence) and machine learning technology. Plus, the company focuses on device and threat identification capabilities. This acquisition should help PANW gain traction in IoT security and expand its revenue base.
Article continues below advertisement
Is PANW undervalued?
Shares of Palo Alto Networks have underperformed the broader indexes in 2019, and its stock has gained 7% year-to-date. Despite the stock's underwhelming performance this year, PANW has returned an impressive 115% in the last five years.
The growth metrics for PANW remain intact. Its sales in fiscal 2019 rose 28% to $2.9 billion, and its earnings rose over 36%. Analysts expect its earnings to grow at an annual rate of 25% in the next five years.
PANW stock is trading at a forward PE multiple of 29x, indicating that the stock is reasonably valued and should move higher going forward. In June, we identified PANW stock as attractive and maintain that view in light of its solid 2019 results. The recent acquisition of Zingbox should hardly dent PANW's cash reserves of $3 billion.
Analysts tracking Palo Alto Networks have a 12-month average price target of $263, indicating an upside potential of 30% from its current price.
Market Realist analyst Aditya Raghunath holds no position in Palo Alto Networks stock