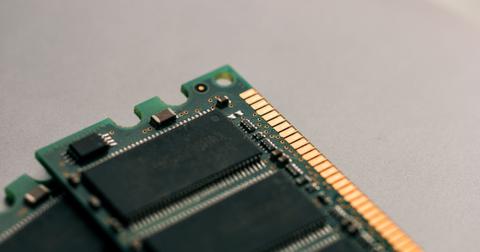 Micron Maintains Strong Financial Position in Fiscal 2019  
By Puja Tayal

Updated
Micron Technology (MU) is a cyclical stock that witnesses windfall gains in an upturn and losses in a downturn. The computer memory market has been in a downturn for around a year now. However, Micron's financial position is holding strong.
The company reported positive FCF (free cash flow), a strong balance sheet, and double-digit ROI (return on investment) in fiscal 2019. When things go south, investors should look at a company's financial position to understand its capability to withstand headwinds.
Article continues below advertisement
Micron ends fiscal 2019 with positive cash flow
Micron produced an OCF (operating cash flow) of $2.2 billion, or 46% of its revenue, in Q4 2019. The OCF is the cash a company earns from its daily operations. In Micron's case, it's by selling memory chips. The company's high cash flow ratio of 46% shows its improved profitability, which was achieved by transitioning to cost-effective nodes.
However, the $2.2 billion OCF was down 57% YoY (year-over-year) from its peak of $5.16 billion last year. The one-year downturn reduced its annual OCF from $17.4 billion in fiscal 2018 to $13.2 billion in fiscal 2019.
A company uses its OCF to fund its capital expenditure, to repay debt, build its capital reserve, invest in business opportunities, and give returns to shareholders. The allocation of this capital is at management's discretion.
Micron reduces capital spending 
Micron operates in a capital intensive segment of the semiconductor industry. Most equipment suppliers like Applied Materials (AMAT) and Lam Research (LRCX) earn around 40% and 80% of their revenue from memory chipmakers, respectively.
In the last few years, Micron accelerated its transition to advanced material-intensive nodes which are expensive. In fiscal 2015 and 2016, it increased its capex (capital expenditure) by 35% each year to $4.2 billion and $5.8 billion, respectively. The company used the capital to transition to 3D NAND (negative AND), which made it a cost-leader in the NAND space.
Article continues below advertisement
Micron reduces manufacturing costs
At the fiscal Q4 2019 earnings call, Micron CEO Sanjay Mehrotra reiterated that the firm is not spending money on technology transitions and capacity expansion. Advanced technology increases its bit growth, which refers to the amount of memory produced. With every passing generation, reduction in cost-per-bit is slowing. Hence, the company is looking to reduce costs in assembly and packaging.
Micron reduced its fiscal 2020 capex to $7.5 billion from fiscal 2019's $9.1 billion. Sanjay Mehrotra stated that Micron will reduce its spending on front-end equipment by over 30% but increase it on back-end manufacturing. He added that capex reduction will help Micron maintain positive cash flows amidst macroeconomic uncertainty and weaker industry profits.
Article continues below advertisement
Micron stock buyback in fiscal 2019
Micron might probably halt its stock buyback for the next few months until its FCF returns to growth. However, Micron's chief financial officer David Zinsner said, "We remain committed to returning at least 50% of our annual free cash flow to shareholders in the form of share repurchases in the future."
Article continues below advertisement
Micron maintains a healthy balance sheet in fiscal 2019
During the fiscal 2017 and 2018 upturn, Micron earned record cash flows which were used to repay debt and increase its cash reserve. At the end of fiscal 2018, its total debt stood at $4.6 billion. Its cash reserve was at $7.4 billion. It stopped repaying debt in Q2 2020.
Instead, it raised new debt to redeem convertible notes. This, along with stock buyback, reduced its average diluted share count by 80 million shares, or 7% of outstanding shares, in fiscal 2019. The new debt increased Micron's total debt to $5.9 billion at the end of fiscal 2019.
Article continues below advertisement
Micron beats Western Digital on the efficiency ratio
So far, we saw that Micron improved its financial position during the fiscal 2017 and 2018 upturn. It did so by spending on technology transition, which helped it reduce cost and increase cash flows. It spent the higher cash flows on repaying debt and lowering its outstanding shares. Its ROIC (return on invested capital) improved from 0.44% to 43%. Also, its ROE (return on equity) increased from -2.3% to 55.5% between fiscal 2016 and 2018.
ROIC is calculated by dividing the net income by the total investment. The company's capital structure influences the ROIC. This is because it subtracts its cost of capital from its investment gains. In fiscal 2019, Micron's debt rose and net income fell. This reduced its ROIC to 26.4%. Even though the company's ROIC fell during the year, it was far better than Western Digital, whose ROIC went into negative. Micron gives relatively better returns thanks to its capital allocation strategy.
Apart from reducing debt, Micron reduced its outstanding share count by 7% in fiscal 2019. This helped reduce the impact of falling profit margins on its earnings per share as there were fewer shares. Hence, its ROE of 31.5% was higher than ROIC of 26.4% in fiscal 2019.
Note to investors
Micron is not a long-term investment given its cyclicality. Investors should buy in the downturn and sell in the upturn. The industry is currently in a downturn. However, the risk with downturn is that it eats up a company's profits. In turn, this raises doubts over its ability to see the light of the upturn.
In Micron's case, its strong financial position gives it the ability to withstand the current downturn without falling in red. Hence, it is relatively a better buy than its rivals because of its higher returns.