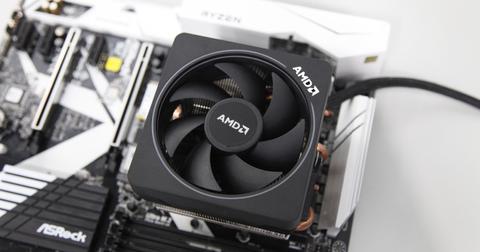 Does AMD's Navi Mark the End of the Radeon VII?
By Puja Tayal

Updated
Advanced Micro Devices (AMD) has given investors handsome capital gains in the last two years. The company is also presenting tough competition for NVIDIA (NVDA) in the GPU (graphics processing unit) space. Although NVIDIA was the first to introduce new technology, AMD is catching up fast. AMD's latest 7nm (nanometer) Navi-based Radeon RX 5700 XT competes with NVIDIA's GeForce RTX 2070 Super.
TechSpot suggests the RX 5700 XT is better value for money, as it offers similar gaming performance as the RTX 2070 Super for $100 less. AMD, head to head with NVIDIA in the midrange segment, has more products lined up on the 7nm node. Rumors have been circulating about its higher-end GPUs.
Article continues below advertisement
Rumor or truth?
AMD entered the high-end GPU segment by launching the industry's first 7nm GPU, the Radeon VII, this year for $699. Although the Radeon VII was on the latest 7nm process node, it used existing Vega GPU architecture. Some reports claim AMD will soon discontinue production of the Radeon VII.
According to French website CowcotLand, AMD has confirmed that the Radeon VII has reached its EOL (end-of-life). AMD's GPU partner, Puget Systems, confirmed this report in an article by Puget's senior lab technician, Matt Bach. In the comments section, he wrote, "Radeon VII is 100% EOL, we confirmed that directly with AMD before we started this round of GPU testing. Leftover supply does not mean it is still being manufactured."
When the Radeon VII reaches its EOL, the existing channel inventory will likely meet demand. And it doesn't mean AMD will stop selling the Radeon VII or that the Navi will replace the Vega-based Radeon VII.
Tom's Hardware contacted AMD seeking clarification on the above report. In response, the chip supplier wrote, "We expect Radeon VII availability will continue to meet demand for the foreseeable future, delivering exceptional high-end 4K gaming and content creation experiences. You can find Radeon VII graphics cards on AMD.com." Although AMD's comment is ambiguous, it didn't deny the report, suggesting the rumor could be true. Moreover, the company has various reasons to discontinue the Radeon VII.
Article continues below advertisement
Is the Navi behind the Radeon VII's EOL?
The Radeon VII was never a part of AMD's GPU roadmap. Its launch came as a surprise. Many analysts believe the Radeon VII launch was driven by AMD wanting to be the first to launch a 7nm GPU. The Radeon VII, priced at $699, was AMD's entry in the high-end GPU market. However, the GPU was never popular in the gaming community for several reasons.
When a new-generation product comes out, the previous-generation product phases out. In July, AMD launched the Navi-based Radeon RX 5700 XT built on next-generation RDNA (Radeon DNA) architecture. RDNA delivers significantly better performance than previous-generation GCN (Graphics Core Next) architecture. The Radeon RX 5700 XT's performance is nearly equivalent to the Radeon VII's and almost half the price, rendering the Radeon VII irrelevant fo some.
Financial feasibility of the Radeon VII
Given its high material costs, the Radeon VII is also not financially viable for AMD. It houses expensive HBM2 (high-bandwidth memory), which NVIDIA uses for data center GPUs. On the other hand, the Radeon RX 5700 XT houses cheaper GDDR6 (graphics double data rate) memory, allowing AMD to price it at $400 against the $700 Radeon VII. A 70% cost difference makes a 3.8% average performance lag almost negligible.
However, AMD's attempt at high-margin GPUs didn't fail. The Radeon VII is preferred by professionals for heavy workloads such as computing, content creation, and rendering. Discontinued Radeon VII production would leave AMD with no wide-margin offering. However, during AMD's second-quarter earnings call, CEO Lisa Su said, "we have a rich 7-nanometer portfolio beyond the products that we have currently announced in the upcoming quarters."
Investors should keep an eye on new product launches, especially higher-end offerings. Such launches could boost AMD stock by a high-single-digit or low-teen percentage.