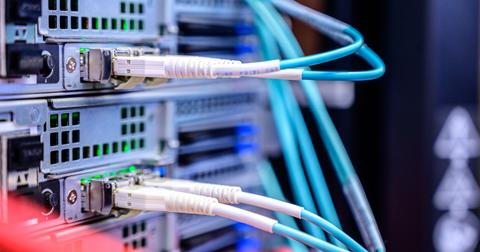 Broadcom: Second-Half Semiconductor Demand Bottoms
By Puja Tayal

Updated
Broadcom (AVGO) stock fell as much as 1.9% in after-hours trading yesterday after crossing $300 in the regular trading session. It fell as Broadcom reported mixed fiscal 2019 third-quarter earnings results. Its revenue missed analysts' estimate by a slight margin, but its EPS beat the estimate. It retained its full-year revenue and profit guidance, stating that semiconductor demand bottomed out in the third quarter with no signs of recovery until next year. Surprisingly, this statement didn't create panic among semiconductor investors even though Broadcom is a leader in communication chips.
In April, investors were betting on a second-half demand recovery, which sent semiconductor stocks to their 52-week highs. But an escalation in the US-China trade war in May dampened these hopes. Semiconductor investors are pricing trade war updates into stocks that have high exposure to China. Broadcom earns 50% of its revenue from China, so its earnings didn't have much impact on other chip stocks.
About Broadcom
Over the years, Broadcom has created a broad and diversified portfolio of connectivity and networking semiconductors through acquisitions. It makes chips for wireless, broadband, networking, enterprise storage, and industrial applications. Over the last three years, it's shifted its focus to infrastructure software by acquiring Brocade, CA Technologies, and now Symantec (SYMC) Enterprise Security.
Broadcom has transitioned from being a communication chip provider to a technology infrastructure provider. Broadcom is building its software licensing portfolio to generate recurring revenue. By adding Symantec's enterprise business, it's looking to broaden its offerings and garner more revenue from existing customers. Its latest earnings show that its venture into the enterprise software space is turning out better than expected.
Broadcom earnings highlights
In the third quarter of fiscal 2019, Broadcom's revenue was sequentially unchanged but up 8.9% YoY (year-over-year) at $5.52 billion. Its revenue missed analysts' estimate of $5.55 billion. Its YoY revenue growth reflects the addition of CA Technologies' revenue in the current quarter. However, its sequential revenue growth was flat as a 19% decline in Infrastructure Software revenue offset a 6% increase in Semiconductor Solutions revenue.
Broadcom's non-generally accepted accounting principles gross margin contracted 1 basis point sequentially but rose 370 basis points YoY to 71%. Its operating expenses fell 1.5% sequentially to $1.01 billion as it realized cost synergies from its CA acquisition. Its operating margin contracted 70 basis points sequentially but expanded 280 basis points YoY to 52.8%. Its lower margin reduced its EPS 1% sequentially to $5.16, which beat analysts' estimate of $5.14.
Fiscal 2019 guidance
Broadcom expects its fourth quarter to be a replica of its third quarter. It expects seasonal demand from wireless and networking customers to drive its Semiconductor Solutions revenue up 6%–7% sequentially. It expects its Infrastructure Software revenue to fall in the mid-single digits as it renews the contracts of large enterprise customers.
Broadcom has retained its full-year fiscal 2019 guidance for revenue at $22.5 billion and its operating margin guidance at 52.5%. It lowered this guidance in its previous quarter's earnings to reflect the impact of the US-China trade war and the US ban on Huawei. On Broadcom's fiscal 2019 third-quarter earnings call, CEO Hock Tan stated that he didn't expect "further deterioration" in semiconductor demand in the fourth quarter of fiscal 2019, which ends on November 4. This could be because the next round of tariffs is due on December 15.
Tan stated that he assumes Broadcom will "continue to operate in a very low growth, uncertain macro environment for the foreseeable future." No further deterioration is better than more deterioration. But this didn't please investors or analysts, as they were expecting some recovery in demand.
Analysts expect Broadcom's fiscal 2019 revenue to rise to $22.62 billion. They believe Broadcom is reporting a cautious outlook amid macro uncertainty.