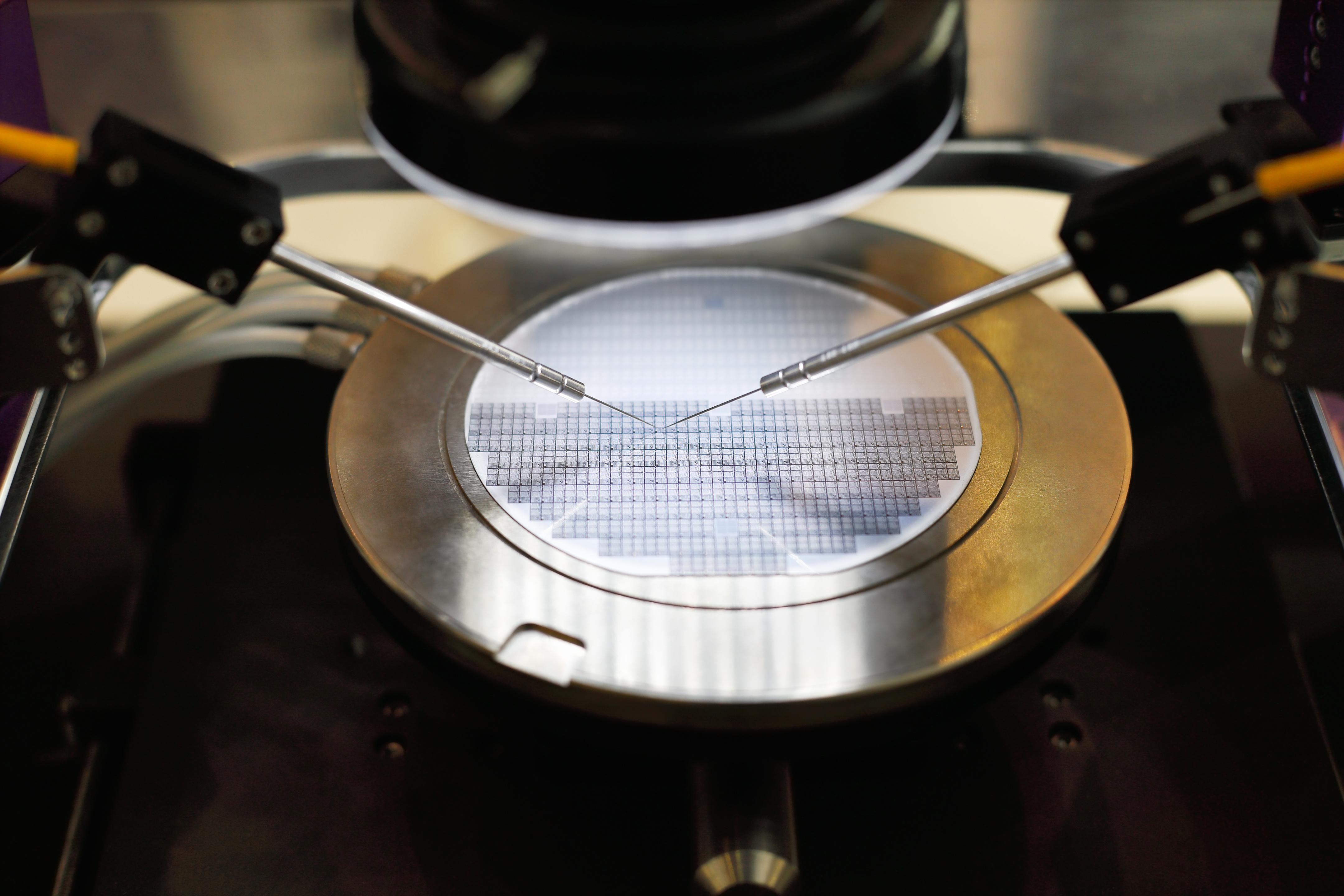 TSMC's and Samsung's Rivalry Fuels Rumors
By Puja Tayal

Jul. 19 2019, Updated 9:30 a.m. ET
Taiwan Semiconductor Manufacturing (TSM), the world's largest contract chipmaker, competes with Samsung Foundry (SSNLF) and Global Foundries. Last year, TSMC achieved a technology milestone by introducing the industry's first 7nm (nanometer) manufacturing process node. A nanometer is one-billionth of a meter. In manufacturing technology, every node shrink increases transistor density on a chip, thereby increasing its performance and power efficiency. The ever-growing need for better performance at lower power is encouraging chip companies to transition to smaller nodes. TSMC has won over customers from competitors because of its lead in the 7nm node. Advanced Micro Devices moved its 7nm production to TSMC from Global Foundries. There are several rumors that Samsung is offering heavy discounts on its 7nm node to win customers from TSMC in 2020. Let's look at each rumor.
Article continues below advertisement
Rumor: Qualcomm switches to Samsung for Snapdragon 865 
The Elec, citing industry sources, reports that Qualcomm (QCOM) switched from TSMC to Samsung for its next-generation Snapdragon 865 chipset. Sources state that Samsung will start mass production of these chipsets on its extreme ultraviolet 7nm process next February. In the past, Qualcomm manufactured its Snapdragon 820 and 835 chipsets at Samsung and later switched to TSMC for Snapdragon 845 and 855. Qualcomm has not yet commented on this rumor.
Rumor: NVIDIA switches to Samsung for 7nm GPUs
Another rumor floating around suggests NVIDIA (NVDA) is switching to Samsung for its next-generation 7nm GPUs (graphics processing units). TSMC stock fell on this rumor. On July 7, NVIDIA executive vice president of operations Debora Shoquist denied the rumor, clarifying that TSMC and Samsung will jointly manufacture NVIDIA's next-generation GPUs. It is unclear whether both foundries will produce the entire GPU portfolio or different GPUs.
Article continues below advertisement
Rumor: Intel looks to Samsung for additional 14nm capacity
Intel (INTC) is rumored to be looking to transfer some of its 14nm manufacturing load to a third-party foundry to tackle its CPU supply shortage. SE Daily has stated that Intel is in final talks with Samsung for 14nm capacity. Although it is not clear which chips will be outsourced, they won't be CPUs (central processing units). Intel, which has outsourced its modem chip manufacturing, might outsource manufacturing of low-margin adjacency products.
One question raised by this rumor is why Samsung and not TSMC? TSMC disregarded the US ban on Huawei and continued to manufacture various chips for the Chinese giant. SE Daily stated that Intel did not choose TSMC over fears the Taiwanese foundry could face a trade ban if the trade war escalates. As AMD has a larger exposure to TSMC, a trade ban could be fatal for AMD.
Article continues below advertisement
Rumor: The return of crypto orders for TSMC
The cryptocurrency trend from Q4 2017 to Q2 2018 brought windfall gains for TSMC, as it manufactured crypto mining chips. However, all crypto orders vanished when the crypto bubble burst in Q3 2018, leaving stacks of unused cards in the market. Cryptocurrency prices have started to rise again, fueling rumors that crypto trends could return.
DigiTimes reports that TSMC received a $300 million order from China's Bitmain Technologies to manufacture ASICs (application-specific integrated circuits). It is not clear whether these ASICs are for cryptocurrency mining or AI.
DigiTimes stated that market observers believe the rumor is false. Firstly, Chinese suppliers are absorbing their large inventories. Secondly, the market is still flooded with second-hand mining chips put up for sale by mining farms that suffered huge losses after the crypto bubble burst. Thirdly, Bitmain is unlikely to have sufficient cash to place an order of that volume after suffering huge losses from the crypto bubble burst.
Article continues below advertisement
Some sources believe Bitmain is spreading the rumor to take advantage of rising Bitcoin prices and regain investor confidence. More investor confidence could let Bitmain renew its IPO bid, which it suspended last year after the crypto bubble burst. These factors combined suggest the crypto trend is not returning anytime soon.
The what, why, and how of rumors
The above rumors show the market's perception of the possible outcomes of TSMC's and Samsung's 7nm competition. Rumors are common and important in the business and investment world. For instance, new product launches of Apple, AMD, and NVIDIA often come with rumors and leaked slides and emails.
Article continues below advertisement
How can rumors impact a stock's price?
A company's stock price is determined by investors' sentiment on the company's growth prospects, and rumors tend to drive investors' sentiment. For instance, TSMC stock fell 1.3% and Samsung stock rose 0.7% on the rumor NVIDIA is switching from TSMC to Samsung Foundry. The stocks reacted to the rumor because TSMC losing NVIDIA, an important customer, would significantly impact TSMC's future revenue.
Most of the time, parties involved accept or decline rumors when they impact stock prices. NVIDIA denied the above rumor a month later to give investors clarity.
Some traders are driven by speculation. When a rumor comes true., those who took their stock position based on the speculation stand to benefit. For instance, there were rumors AMD would unveil its 7nm products at Computex 2019. Some traders bought AMD stock ahead of the event, and AMD stock rose over 10% after its 7nm products were revealed. These traders benefited from that jump. Whereas investors should watch rumors, they should take them with a grain of salt as long as they are unconfirmed.