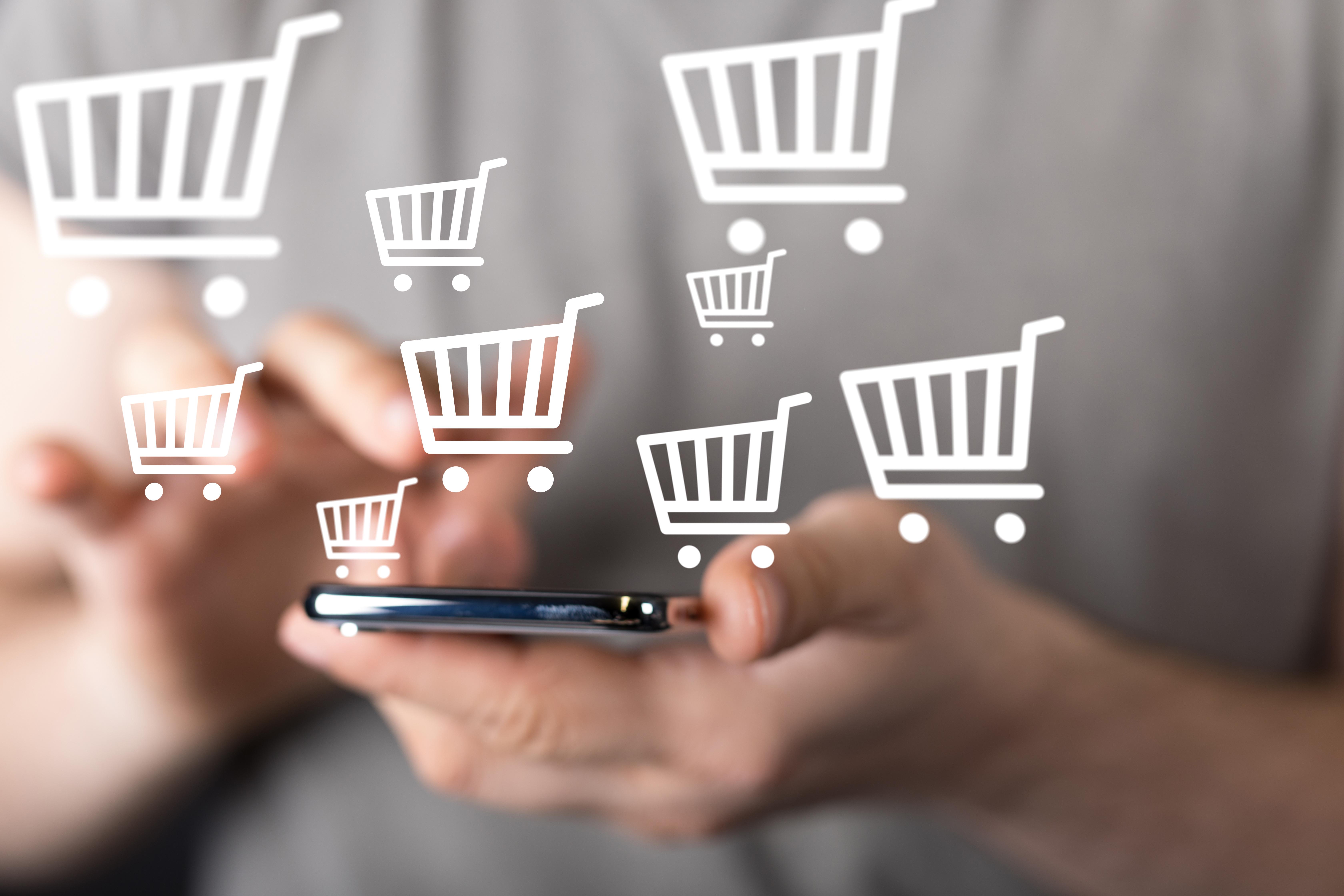 The Shopify-Amazon e-Commerce War Is Heating Up
By Ruchi Gupta

Jul. 27 2019, Updated 8:03 a.m. ET
Last month, Shopify (SHOP) opened up a major new battlefront with Amazon (AMZN), intensifying their e-commerce war. The company announced a plan to set up fulfillment centers across the US. Through those fulfillment centers, it will store, package, and deliver packages on behalf of its merchants.
Shopify's goal is to become more valuable to merchants and capture a larger piece of the global e-commerce pie. eMarketer estimates that the global e-commerce market will top $3.5 trillion this year and grow to $6.5 trillion by 2023.
Shopify stock popped on the news of its venturing into providing merchant fulfillment services. Analysts think Shopify stock has more upside potential. A number of analysts lifted their price targets for Shopify after the company announced its fulfillment center venture.
Barclays raised its price target for Shopify to $310 from $225, according to CNBC. Rosenblatt boosted its price target for Shopify by a whopping $100 to $395 from $295. Canaccord raised its price target for Shopify to $360 from $270, and Baird lifted its price target for Shopify to $360 from $269.
Article continues below advertisement
KeyBanc raised its price target for Shopify and made several positive comments, according to a Bloomberg report. For example, KeyBanc analysts are of the view that Shopify will triple its e-commerce market share in five years. They also think Shopify's gross sales may soon rival Amazon's now that it's providing fulfillment services. KeyBanc lifted its price target for Shopify to $350 from $300 and reiterated its "buy" rating on the stock. KeyBanc noted that discussions with Shopify sellers revealed huge excitement about the company's move to provide fulfillment services.
Shopify moves to challenge Amazon in the fulfillment business
Shopify used its Investor Day last month to announce that it would invest $1.0 billion in setting up a network of fulfillment centers across the US. With that move, Shopify is venturing into a segment of e-commerce that Amazon has long sought to dominate. Amazon operates a network of warehouses from which it handles fulfillment functions for its merchants. That way, Amazon ensures that product storage and packaging meet its quality requirements. It also ensures that customers receive their orders at the right time.
Article continues below advertisement
The provision of fulfillment services has been an important avenue for Amazon in its efforts to make extra money as the e-commerce war intensifies. Amazon charges merchants a fee for its fulfillment service. Its third-party services, which include its fulfillment business, generated $11.1 billion in revenue in the first quarter—an increase of 20% YoY (year-over-year).
Demand for fulfillment services is so strong that Amazon is expanding its fulfillment capacity. The company is automating its warehouses to be able to handle functions such as packaging more quickly. It's also ordered more cargo jets to expand its air delivery service to be able to deliver packages faster. The company is also paying some workers to leave their jobs and set up their own courier companies. It then contracts these companies to help it deliver packages to customers.
As consumers embrace online grocery shopping, online sellers are under pressure to provide express delivery services. The goal is to ensure that customers can receive their orders in the shortest time possible. Express delivery is particularly important when the cargo is fresh farm produce, which explains why companies such as Amazon are expanding their fulfillment capacities. In China, Alibaba and JD.com are using drones and rolling robots to speed up their deliveries.
Article continues below advertisement
Fulfillment business is expensive
Shopify says its fulfillment service will ensure the timely delivery of orders, improve the customer experience, and cut costs for merchants. Shopify is also looking to open a new revenue stream by providing fulfillment services. Shopify's revenue rose 50% YoY to $320.5 million in the first quarter. The company is expecting its second-quarter revenue to come in the range of $345 million–$350 million.
Running a fulfillment business can be expensive. Amazon spent more than $34 billion on its fulfillment operations in 2018, up from $25 billion in 2017. Shopify's venture into the fulfillment business sees it pitting itself against the 800-pound gorilla that is Amazon. Amazon has been in the fulfillment business for years and has deep pockets. The company finished the first quarter with $23.5 billion in its cash reserve compared to Shopify's $2.0 billion.
Article continues below advertisement
Taking merchants from Amazon
Shopify launched in 2004, ten years after Amazon launched in 1994. But Shopify isn't afraid of confronting a more experienced rival with deep pockets.
Even with Amazon's ten-year head start, Shopify is rapidly gaining ground. It's emerged as an important alternative online marketplace for Amazon sellers. According to a report from Feedvisor, 19% of Amazon sellers have also set up shops on Shopify. eBay is the top alternative marketplace for Amazon sellers. About 56% of Amazon sellers have listings on eBay as well. Walmart hosts around 49% of Amazon sellers. By adding a fulfillment service, Shopify could become an even more important alternative marketplace.
Shopify also stands to benefit from actions by Amazon that alienate small merchants. A May report by Bloomberg said that Amazon was reconfiguring the way it sourced the inventory it sells by itself. The report stated that Amazon had decided to drop small suppliers in favor of purchasing inventory directly from big brands. As a popular alternative marketplace for Amazon sellers, Shopify seems well positioned to benefit from Amazon's supplier purge.
Article continues below advertisement
Shopify adds support for more languages
In addition to providing fulfillment services, Shopify has also recently unveiled a slew of new products and services. Shopify is doing this as it seeks to be more indispensable to small businesses looking to succeed online. The company has added support for more languages on its online selling platform. Last month, Shopify added support for 11 new languages, including Chinese, Danish, Dutch, Finnish, Hindi, and Korean. The goal here is to ensure that language doesn't become a barrier for merchants looking to reach overseas customers.
Shortly after Shopify added support for these additional languages, Alibaba rolled out an English version of its Tmall Global marketplace. Tmall Global, launched in 2014, is the gateway Alibaba has provided for international brands looking to sell in China. Alibaba plans to make Tmall Global available in more languages, including Spanish and Japanese. Shopify and Alibaba are counting on broader language support to lure more sellers to their marketplaces.
Alibaba is one of Shopify's international competitors. Alibaba currently dominates the e-commerce market in China. It will capture a 56% share of China's e-commerce market this year, above JD's 16.7%, according to eMarketer estimates.
Given Shopify's recent introduction of support for both traditional and simplified Chinese languages, China seems to be one of the markets Shopify is eyeing.
Shopify diversifies into business-to-business e-commerce
To accelerate its growth and business diversification, Shopify is combining organic efforts with acquisitions. Shopify has bought nine businesses so far, according to Crunchbase data. One of its recent acquisitions is Handshake, a US startup that connects businesses dealing in the wholesale trade in goods. Business-to-business e-commerce, the market Handshake serves, is growing rapidly. The business-to-business e-commerce market in the US alone was worth $1.1 trillion in 2018, according to Forrester estimates.
The online business-to-business market is on track to hit $1.8 trillion by 2023, making it one of the most hotly contested segments as the e-commerce war heats up around the world.