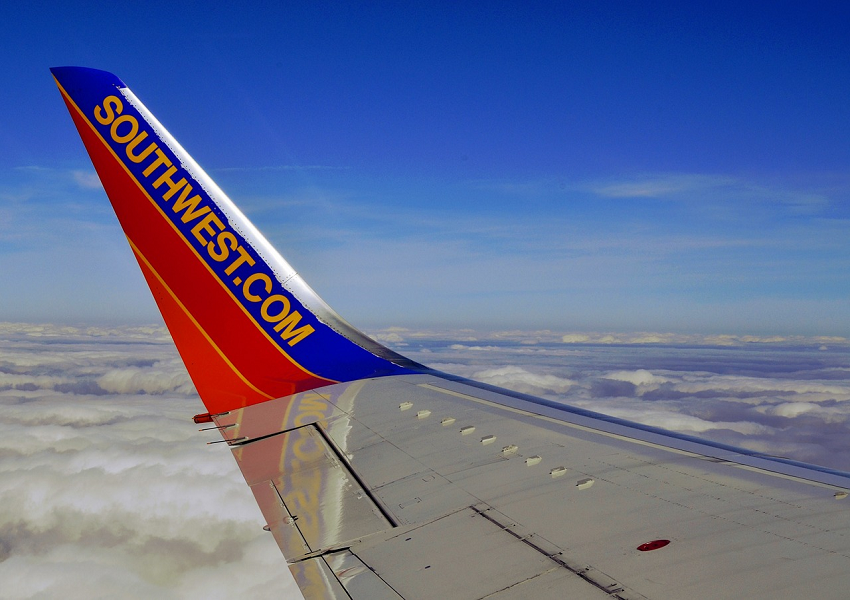 Southwest Airlines: How Much Did MAX Grounding Affect Q2 EPS?
By Anirudha Bhagat

Jul. 23 2019, Published 1:13 p.m. ET
Earnings growth to slow down
Southwest Airlines (LUV) plans to report its fiscal 2019 second-quarter results on July 25. Analysts estimate that the earnings growth rate could slow down in the quarter. They anticipate the company to report EPS of $1.34, signifying a YoY increase of 6.6%. In fiscal 2018, the airline recorded 21% YoY growth in its bottom-line results.
Analysts believe that higher operating costs due to the prolonged grounding of Boeing's (BA) 737 MAX will negatively impact Southwest Airlines' bottom-line results. Notably, 737 MAX aircraft have been grounded worldwide since mid-March following two fatal accidents within five months.
Article continues below advertisement
Southwest Airlines currently has 34 MAX airplanes, the grounding of which is causing approximately 100 daily flight cancellations. The company is suffering capacity constraints due to the grounding of Boeing's troubled jets. It is expected that the company would have faced approximately 9,000 flight cancellations in the second quarter due to MAX grounding.
In an investor update on July 19, the airline said that it expects capacity to decline 3.5% YoY in the second quarter. The company's latest projection was higher than its previous expectation of a decrease in the range of 2%–3%.
Due to contracted capacity, Southwest Airlines anticipates its non-fuel costs to increase significantly during the second quarter. The company now expects its ex-fuel operating expenses to grow in the 11.5%–12.5% range, higher than the earlier guidance range of 10.5%–12.5%.
Additionally, Southwest Airlines forecasts that the grounding of its most fuel-efficient planes will result in a decline in fuel efficiency. For the quarter, the company anticipates fuel efficiency to fall in between 1% and 2%. Earlier, it had predicted fuel efficiency to be flat or down 1% YoY in the second quarter.
Article continues below advertisement
What could support Southwest Airlines' revenue growth?
Analysts forecast healthy travel demand and higher ticket fares to support Southwest Airlines' revenue growth in the second quarter. For the quarter, they project revenues to grow 3.4% YoY to $5.93 billion.
During its July 19 investor update, the company revealed experiencing robust demand and healthy passenger yield in the quarter. Therefore, it raised its unit revenue growth guidance range for the second quarter to the 6.5%–7.5% from 5.5%–7.5% projected earlier.
Additionally, the company's top-line results would also benefit from ticket fare hikes. According to a JPMorgan Chase report published on June 13, Southwest Airlines has raised its ticket fares twice in the second quarter.
Peers' performance
A few major US airlines have already reported their second-quarter results. On July 16, United Airlines (UAL) reported better-than-expected second-quarter results. The company's Q2 earnings of $4.21 per share increased 30% YoY and beat analysts' expectations of $4.09. The company's second-quarter revenues of $11.4 billion came in ahead of analysts' estimate of $11.36 billion. Quarterly revenues also recorded YoY growth of 5.8%.
Article continues below advertisement
On July 11, Delta Air Lines (DAL) registered its eighth consecutive quarter of positive earnings surprise. Its second-quarter EPS grew 33% YoY to $2.35 and surpassed analysts' consensus estimate of $2.28. Delta's quarterly revenue of $12.54 billion exceeded analysts' estimate of $12.50 billion and marked 8.7% YoY improvement.
American Airlines (AAL) will report its second-quarter results on July 25. Wall Street's revenues and earnings projections depict YoY growth of 2.7% and 10.1%, respectively. Southwest is one of the top performers among US airlines. Back-to-back quarters of better-than-expected financial results are driving the stock higher.
The stock has gained 13.4% this year. Southwest has outperformed the US Global Jets ETF (JETS), which has risen 12.4%. The ETF's portfolio consists of passenger and cargo airlines, airplane makers, and airport and terminal services providing stocks. Southwest stock has outpaced other major US air carriers' returns. United Airlines, American Airlines, and Alaska Air Group (ALK) have risen 12.1%, 2.4%, and 3.3%, respectively.