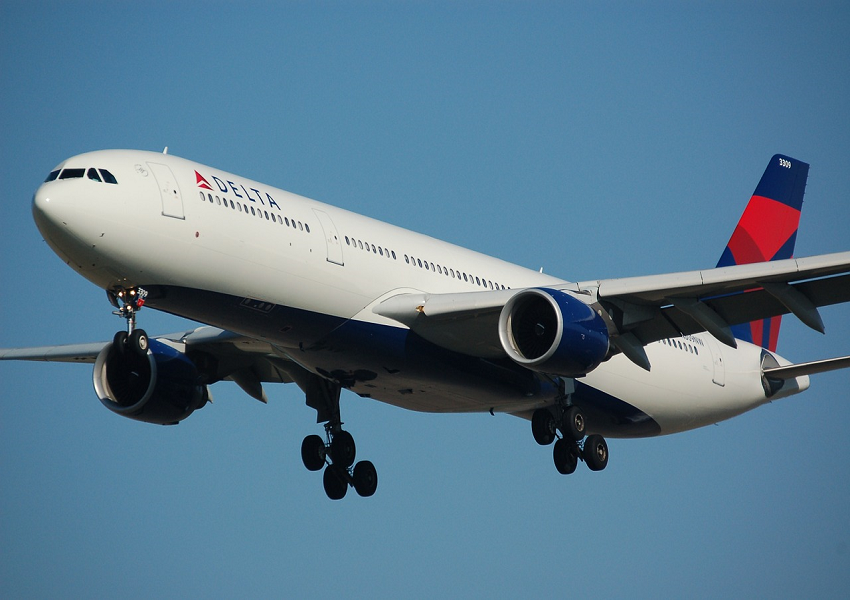 Delta Airlines Stock Gained Due to Upbeat Q2 Outlook
By Anirudha Bhagat

Jul. 3 2019, Updated 8:46 a.m. ET
Upbeat second-quarter revenue outlook
Delta Air Lines (DAL) shares gained 1.3% on July 2 after the company raised its second-quarter guidance. The airline cited strong passenger demand as the main reason behind the upbeat guidance.
Delta expects its second-quarter revenues to increase 8%–8.5% YoY (year-over-year)—compared to the company's earlier guidance range of 6%–8% growth. At the upper end of the updated guidance range, Delta is expected to report revenues of ~$12.5 billion. Analysts expect the company to report revenues of $12.5 billion.
Delta projects its unit revenues measures or total revenue per available seat mile to increase at the upper end of its previous guidance range of 1.5%–3.5%. The company expects its unit revenues for the second quarter to be 17.37 cents—compared to 16.78 cents in the second quarter of 2018.
Article continues below advertisement
In an investor update released on July 2, Delta stated that it continued to witness healthy demand for its products and services throughout the second quarter. During the second quarter, the company carried a record of ~54 million passengers. Delta registered traffic growth of 6.3% in the quarter ending in June, while its capacity increased 4.7%. However, Delta reported a YoY decline of 12.3% in its cargo ton-miles.
Bottom-line expectations
Delta expects its cost control measures, higher revenues, and the completion factor to lead to an expansion in its second-quarter pre-tax margin and EPS. Delta expects the first-quarter pre-tax margin to be 15%–16%—compared to its previous guidance of 14%–16%. The EPS is expected to be $2.25–$2.35—compared to its earlier guidance of $2.05–$2.35. Analysts expect the company to report an EPS of $2.23.
Article continues below advertisement
Delta's cost control measures, fleet transformation, and One Delta initiatives will likely help it efficiently manage non-fuel expenses. Delta expects its non-fuel unit cost to increase 1%–2% in the second quarter, which translates to 10.10 cents–10.20 cents. The fuel cost is expected to fall to $2.07–$2.12 per gallon instead of $2.10–$2.20 per gallon projected earlier.
Renewed credit card deal
Delta likely benefited from the renewed credit card partnership with American Express (AXP). On April 2, Delta announced that it renewed its 23-year long credit card collaboration with American Express for another 11 years.
Delta noted a one-point benefit to its first-quarter unit revenues from the renewed agreement between the two companies. We expect the partnership to continue to benefit Delta in the second quarter.
Article continues below advertisement
For the last few years, American Express has become one of Delta's key strategic partners. American Express has diversified Delta's revenue streams. When the partnership was renewed, Delta stated that the credit card partnership helped it generate an additional $3.4 billion in revenues in 2018. The company expects that the renewal could double its annual revenues from the partnership to $7 billion by 2023.
Stock performance
Delta stock has returned 17.3% YTD (year-to-date). The stock has outperformed the Dow Jones and the iShares Transportation Average ETF (IYT), which have risen 14.8% and 13.6%, respectively. IYT invests in US transportation stocks listed in the Dow Jones. IYT has allocated 19% of its funds in the passenger airline industry.
Delta stock has fared much better than other airlines. Southwest Airlines (LUV), American Airlines (AAL), and United Airlines (UAL) have gained 10.6%, 0.2%, and 6.1%, respectively, YTD.
Article continues below advertisement
Despite the market-beating performance, Delta stock still trades at a healthy PE ratio of 9.8x, which is significantly lower than the industry average of 11.9x. Delta trades at a massive discount to its peers. Southwest Airlines, American Airlines, and United Airlines have PE ratios of 12.2x, 10.7x, and 10.5x, respectively.
Analysts' bullish recommendations
Analysts' ratings suggest that Delta could be an intriguing choice for investors. The stock has a consensus "buy" recommendation from the analysts polled by Reuters. Approximately 71% of the analysts covering Delta provided a bullish recommendation, while 29% recommended a "hold."
Delta's better-than-expected results for seven consecutive quarters drove the bullish sentiment. The company's top and bottom line have marked a significant year-over-year improvement in the last seven quarters.
The healthy passenger travel demand environment and higher revenues from non-ticket sources and premium products have been driving Delta's total revenues. The company's bottom-line results are benefiting from higher revenues and cost-control initiatives.
Despite a 17% return so far in 2019, analysts still expect massive upside potential in the stock over the next year. Analysts' consensus target price on the stock has risen 15.9% since the company's impressive first-quarter results to $67.06 from $58.09 on April 10. Analysts' forward target price of $67.06 on Delta shows that the stock has an upside potential of ~12% from its current market price of $58.54.