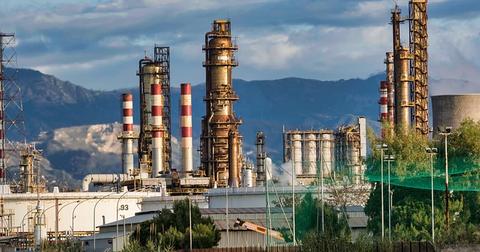 Are MPC, VLO, PSX, and HFC Trading at Attractive Dividend Yields?
By Maitali Ramkumar

Updated
Second-quarter dividend payments
Refining stocks' dividend yields have grown in the past year. In most cases, this growth has been led by falls in their stock prices and rises in their dividends. In the second quarter, most refining stocks slumped, boosting their yields. Before we review the yield trend, let's look at refining companies' second-quarter dividend payments.
Marathon Petroleum's (MPC) dividend payment increased 15% YoY (year-over-year) to $0.53 per share in the second quarter. Valero Energy's (VLO) and Phillips 66's (PSX) dividend payments rose 13% YoY each to $0.9 per share each in the second quarter. Holly Frontier's (HFC) dividend payment stood steady YoY at $0.33 per share in the quarter.
Article continues below advertisement
Dividend yields rise
Marathon Petroleum's dividend yield rose the most compared to its peers. It rose from 2.3% in the third quarter of 2018 to its latest level of 3.8% due to a fall in its stock price and a rise in its dividend in the period. MPC plans to return wealth to shareholders via dividends and share buybacks. The company is expected to pay a dividend of $2.12 per share in 2019 (annualizing the dividend it paid in the first half), representing a 15% annual growth rate for the year. MPC aims to grow its dividend by 10% annually. MPC also aims to return more than half of its discretionary free cash flows to shareholders.
Similarly, Valero's dividend yield has risen from 2.7% in the third quarter of 2018 to its current level of 4.2%. In the first quarter, the company paid $375 million in dividends, more than the $345 million it spent in the first quarter of 2018. Valero repurchased $36 million worth of shares in the first quarter. Along with higher shareholder returns, Valero focuses on investment in growth projects. The company plans to create an integrated and growth-oriented downstream model. For more information, read Valero's Earnings Are Poised to Rise with Its Growth Activities.
HollyFrontier's and Phillips 66's dividend yields have risen to their current levels of 2.9% and 3.8%, respectively. In the first quarter, Phillips 66's cash outflows for dividends and share repurchases stood at ~$364 million and ~$344 million, respectively. Since May 2012, Phillips 66's dividends have grown at a 25% compound annual growth rate. The company has also reduced its initial outstanding shares by 31% via repurchases. Further, in the first quarter, HollyFrontier provided shareholder returns of $57 million via dividends and $78 million via stock repurchases.