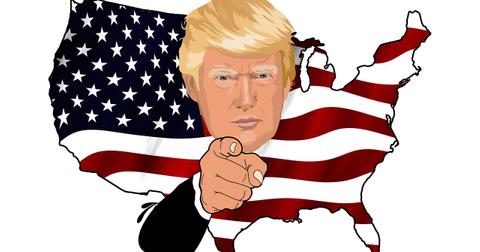 Why Gundlach Thinks Trump Might Not Run for Reelection
By Anuradha Garg

Jun. 21 2019, Published 6:36 a.m. ET
Gundlach on Trump's reelection
During an interview with FOX Business on June 19, Jeffrey Gundlach talked about the upcoming US presidential elections in 2020. He predicted that there is a possibility that Trump may not even run for the presidential elections in 2020. He said, "I am not even sure he's going to really run."
Article continues below advertisement
Gundlach: Little for Trump to run on
Gundlach accurately predicted Donald Trump's victory in the 2016 elections. While talking to Fox, he mentioned that the president's second term will be determined by the success of the US economy. He added, "If the economy goes into recession and he can't pullout by removing the tariffs, there's very little for him to run on."
Trump has been obsessed with the stock market performance, which he thinks is one of the benchmarks of his performance. As we highlighted in Is Trump Benchmarking Himself against the Dow Jones, he places much importance on the health of the Dow Jones Industrial Average Index (DIA) for validation of his performance.
On June 18, President Donald Trump officially launched his 2020 reelection campaign in Florida. When Donald Trump was elected as the US President in 2016, we saw a sharp rally in some stocks, especially in the metals and mining space. Trump's pro-growth policies and trillion-dollar infrastructure plans were expected to lift US metal consumption. However, the trade conflict, especially between the US and China, has been the key highlight of Trump's current term.
Many US companies have been opposed to the trade conflict. Last year, companies including Apple (AAPL), Amazon (AMZN), Alphabet (GOOG), and Walmart (WMT) opposed the tariffs on Chinese goods. US markets have also come under pressure whenever Trump has sought to turn up the heat in the trade war.
The other possibility
Gundlach also mentioned that as long as the economy doesn't falter, Trump will win the reelection. Trump is doing everything in his control to not put the economy into recession, apart from agreeing to a trade deal of course. He has been asking the Fed to lower the interest rates for a while and in July, he might get his wish, but whether that is sufficient to save the economy remains to be seen.
You can read Why Jeffrey Gundlach Thinks the Stock Market Has Peaked for more on his views about the economy, stock market, recession, and his favorite hedge.