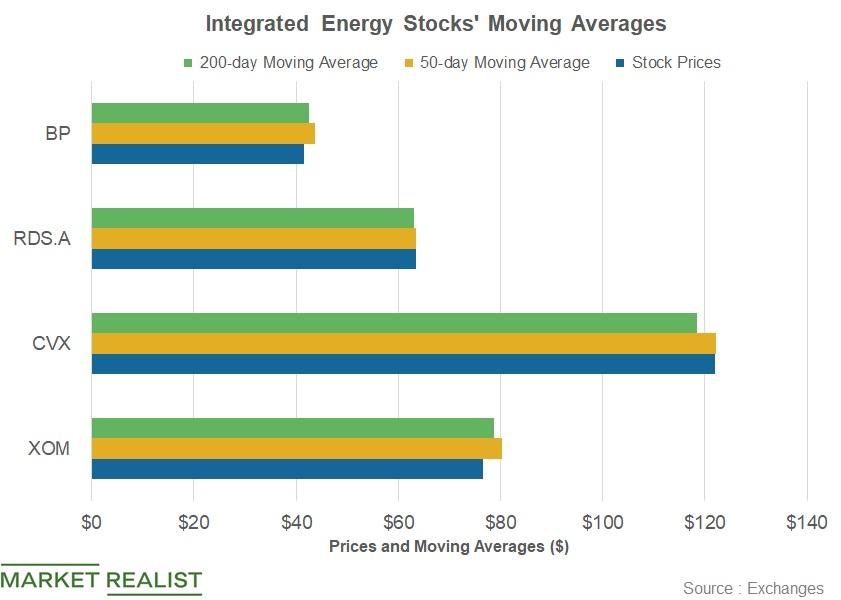 XOM, CVX, Shell, BP: What Moving Averages Indicate
By Maitali Ramkumar

May. 14 2019, Published 11:15 a.m. ET
Integrated energy stocks' trend in the second quarter
In the second quarter so far, integrated energy stocks ExxonMobil (XOM), Chevron (CVX), Royal Dutch Shell (RDS.A), and BP (BP) have put up a mixed performance due to volatile oil prices.
Plus, the recent first-quarter earnings also affected integrated energy stocks. Only ExxonMobil missed Wall Street analysts' earnings estimate. For more on this, read XOM, CVX, RDS.A, and BP: Beats and Misses in Q1.
Article continues below advertisement
Moving average trends in the second quarter
ExxonMobil's 50-day moving average (or DMA) has risen in the current quarter led by the rise in its stock price in the previous quarter, which has resulted in ExxonMobil's 50 DMA crossing over its 200 DMA. ExxonMobil's 50 DMA, which stood 1.9% below its 200 DMA on April 1, now stands 2.0% above its 200 DMA.
Similarly, Shell and BP's 50 DMAs have risen, crossing over their 200 DMAs. Shell's 50 DMA crossed over its 200 DMA in May. Currently, Shell and BP's 50 DMAs stand 0.5% and 2.8% above their 200 DMAs, respectively.
Further, Chevron's 50 DMA has risen, resulting in the widening of the gap between its 50 DMA and 200 DMA. Chevron's 50 DMA, which stood 0.9% above its 200 DMA on April 1, now stands 3.2% above its 200 DMA.
Overall
The crossover of the 50 DMA above the 200 DMA is considered to be a technically bullish sign. Thus, ExxonMobil, Shell, and BP have entered bullish technical terrain. Plus, Chevron stock, which was already in a technically bullish zone, strengthened its position. The wider the gap between DMAs, the more difficult it is for the stock's 50 DMA to break below its 200 DMA, a favorable sign.