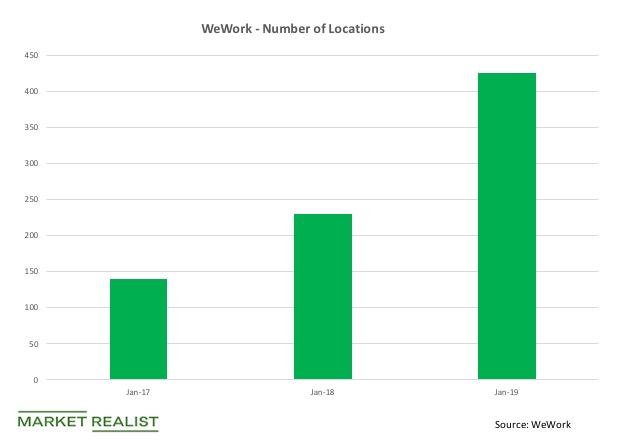 Why WeWork's Current Business Model Creates Additional Risks
By Mike Sonnenberg

May. 27 2019, Published 9:19 a.m. ET
The current business model
Currently, WeWork leases properties on a long-term basis, turns them into attractive office spaces, and leases the desks and private offices in those spaces to corporates, freelancers, and startups on a short-term basis.
This model results in fixed long-term costs and uncertain short-term revenue. Though it claims to be recession-proof, the fact that this nine-year-old startup hasn't seen one makes it hard to believe.
Even Standard & Poor's feels that WeWork is making $3.1 billion of commercial mortgage debt riskier.
Article continues below advertisement
The elephant in the room 
With over 7.5 million square feet leased in New York City and 45 million leased globally, WeWork has become the biggest tenant in a number of cities, including its home, New York, Washington D.C., and Central London. While the company hasn't disclosed its latest data, in April 2018, it had $18 billion in future lease commitments for the properties it had leased. As it has grown over twice as much since then, it's safe to assume that its future lease payments must have also grown substantially.
WeWork can close its locations if they are not profitable, and each location falls under a special-purpose vehicle classification, so there would be no recourse to the parent company if a closure were to happen. However, such property closures would only make growth harder and WeWork's brand value softer.
While WeWork's current business model gives it the flexibility to grow quickly by not having to buy properties, it also carries with it inherent financial and reputational risk.