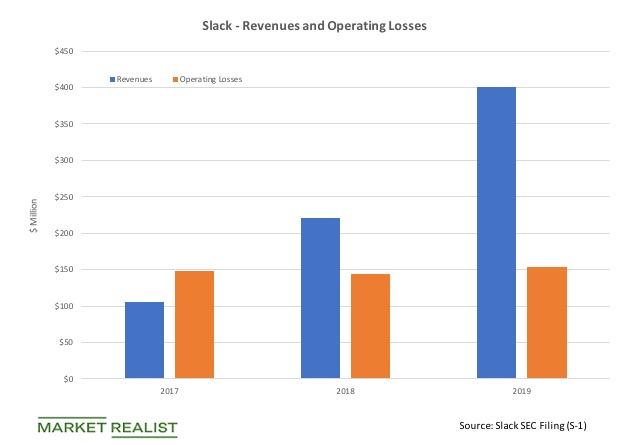 Why Slack Is Ditching an IPO and Going for a Direct Offering
By Mike Sonnenberg

May. 3 2019, Published 11:28 a.m. ET
Slack
More than 600,000 organizations around the world use Slack for internal communication. Slack is a messaging and collaboration tool for teams. In its filing with the Securities and Exchange Commission, Slack mentioned that it had over 88,000 paying customers, meaning that over 500,000 others weren't paying anything for using its service.
Slack reported $400.6 million in revenue in fiscal 2019, which ended on January 31, 2019. Its revenue growth came in at 82% in the year. Although the company continued to see losses (with a $154 million operating loss in fiscal 2019), its operating losses as a percentage of its revenue fell to 38.5% in fiscal 2019 from 65.2% in the previous year.
Article continues below advertisement
Slack to go public without an IPO
Like Spotify (SPOT), Slack is going public through a direct offer, or a DPO (direct public offering). In a DPO, companies price and market their shares themselves, cutting out the investment banks who act as underwriters in IPOs. By doing this, companies create a secondary public market for their shares without paying exorbitant fees to underwriters, but it comes at the cost of the large investors underwriters bring on board in IPOs.
Valuation
Slack has raised over $1.2 billion since its launch in 2009. During its last funding round in August 2018, it raised $427 million at a valuation of $7.1 billion.
But wait! There's chatter in the market that Slack is valued at $17 billion in private transactions. Is it worth the price?
Does the valuation make sense?
The $17 billion price tag values Slack at over 40 times its fiscal 2019 sales, even higher than Amazon's 34x—and Amazon enjoys a much better market position. Slack's domain is flooded with competition from Microsoft, Google, and Cisco, among others.
To justify its valuation, Slack needs to substantially increase its share of paying customers as well as its overall customer base. Given its increasing competition and slowing revenue growth, the ten-year-old startup looks to be in for an uphill battle.