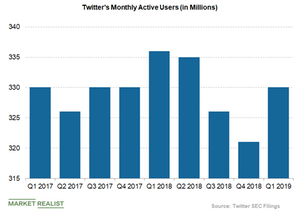 Why Is Twitter Unlocking Some Users' Accounts?
By Sophia Nicholson

May. 16 2019, Published 3:12 p.m. ET
Twitter unlocks accounts
Twitter (TWTR) is unlocking some accounts that had been locked in May 2018 when Europe's new privacy laws (or GDPR) came into effect. GDPR policies forced the company to remove hazardous as well as fake accounts to safeguard the platform from misinformation. Twitter was also asked to bar users that were under the age of 13, according to the company rules, as content on the platform was deemed unsuitable for their age. In the process, many users who weren't miners were blocked.
After one year of lockout, the company has started giving the locked-out users control of their accounts. However, these users will only get back their usernames and date of birth, while all their tweets, feeds, direct messages, and profile information will have been deleted.
Article continues below advertisement
Social media companies' privacy policies
Social media companies like Twitter, Facebook (FB), and Alphabet's (GOOGL) Google have been accused of spreading violent posts and fake news and for failing to protect the personal data of their users. Recently, Facebook, Instagram, YouTube, and Twitter have been criticized for the streaming of the live terrorist attack in New Zealand, which took away the lives of around 49 people, that occurred on their platforms.
As a result, the user base growth has been falling amid data-privacy concerns. In Q1 2019, Twitter's MAUs stood at 330 million at the end of the first quarter, up from the preceding quarter's MAUs of 321 million. In comparison, Snap (SNAP) added 4 million DAUs from the prior quarter to reach 190 million DAUs in Q1 2019. Facebook's daily active users (or DAUs) and monthly active users (or MAUs) both grew 8% YoY to 2.38 billion in the first quarter.