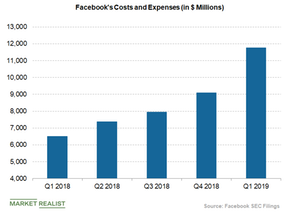 Why Did Facebook Ban Alex Jones and Other Celebrities?
By Sophia Nicholson

May. 6 2019, Published 3:35 p.m. ET
Facebook bans popular political personalities
Facebook (FB) has banned Alex Jones and other famous US political personalities including commentators Milo Yiannopoulos, Laura Loomer, and Paul Joseph Watson for violating the company's security policies, posting objectionable and abusive content, and promoting violence and hate on the platform. Facebook is also banning American white supremacist Paul Nehlen and Nation of Islam leader Louis Farrakhan.
Also, the company will remove all the accounts, pages, and groups and events associated with these banned celebrities on both its core social network and its photo-sharing app Instagram.
Article continues below advertisement
Other social media companies are also removing accounts
Like Facebook, other social media companies including Apple, Google parent Alphabet (GOOGL), and Twitter (TWTR) are also removing accounts and pages of individuals that are promoting violence or hate on their platforms amid efforts to safeguard its users.
Last year, Facebook had banned Alex Jones and his website, Infowars, only for 30 days, whereas Twitter had permanently removed Alex Jones and Infowars from its platform. Apple, Alphabet's YouTube, and Spotify (SPOT) have also permanently banned Jones after suspending him earlier for long periods last year.
Facebook is under pressure from lawmakers
Lawmakers have criticized Facebook for mishandling users' data in the Cambridge Analytica scandal. Facebook is also blamed for allowing the spread of fake news and terrorism on its platform. Most recently, the Federal Trade Commission has been considering penalizing Facebook with billions of dollars for mishandling users' data and not complying with privacy policies.
In Q1 2019, Facebook set aside $3 billion for fines, which the company might have to pay to US regulators as the outcome of the ongoing federal probe. A charge of $3 billion has added to the company's costs, which were up ~80.4% YoY to $11.7 billion in Q1 2019.