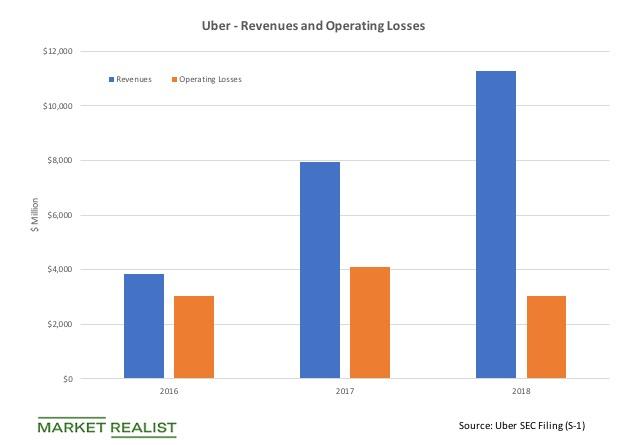 Uber Prepares for Its IPO: Will You Ride or Give It a Pass?
By Mike Sonnenberg

May. 3 2019, Published 11:28 a.m. ET
It's showtime!
Right now, Uber is conducting road shows around the United States and other parts of the world to market its upcoming IPO. Uber has already met potential institutional investors in London and New York.
The Uber caravan will soon travel to its home, San Francisco, and other cities, including Boston.
Article continues below advertisement
The Lyft effect?
Uber expects to raise ~$10 billion through its IPO with a valuation of $91 billion, which is at the higher end of its price range of $44–$50 per share. At the lower end of the range, it will come in at $80 billion, close to its last private valuation of $76 billion in January 2019. Uber has chosen the NYSE as a home for its shares and Morgan Stanley (MS) and Goldman Sachs (GS) as its lead underwriters for the IPO. PayPal (PYPL) has declared that it will be investing $500 million in the IPO.
Earlier expectations valued Uber much higher, at $120 billion. If Uber indeed manages to reach that number and stay there for 90 consecutive days, its CEO, Dara Khosrowshahi, will be awarded 1.75 million stock options at a conversion price that's well below the stock's price at that valuation.
After rival Lyft's (LYFT) IPO in late March, there was some rationalization in the company's expectations. LYFT was listed at $87.24 and lost its sheen soon after. It closed at $59.8, a 31.5% fall from its IPO, on April 30.
A glance at the numbers
In 2018, Uber reported revenue of $11.3 billion ($7.9 billion in 2017) with operating losses of $3.0 billion ($4.0 billion in 2017). At those revenues, Uber's price-to-sales multiple comes in at 7.4x, at the higher end of the range and twice as high as Amazon's (AMZN) price-to-sales multiple as of March 31, 2019. Uber often compares itself to Amazon. The company reported net income of $1 billion mainly on account of the divestiture of its business in Russia and Southeast Asia. It burned $1.5 billion in operations during the year.
Since Uber has already exited some markets, its 2019 revenue growth is expected to be slower than it's been in the past.