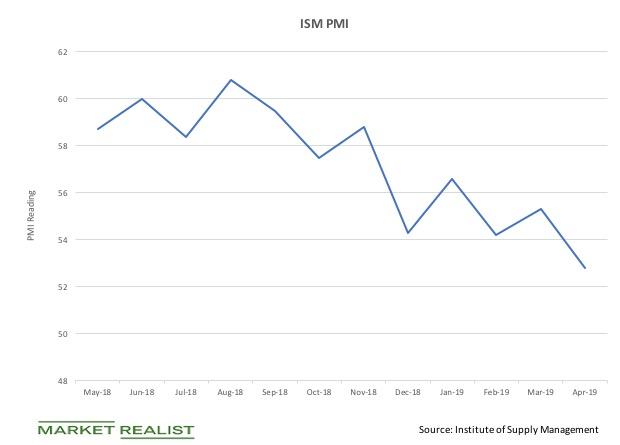 How to Make Sense of Manufacturing PMI as an Economic Indicator
By Mike Sonnenberg

Dec. 11 2019, Updated 12:38 p.m. ET
Manufacturing activity
Although manufacturing accounts for just 16% of global GDP, down from 18% in the late 90s, manufacturing activity remains a key leading indicator for cues about the health of the economy. The reason is simple. Manufacturing activity corresponds to what's happening on the ground. The PMI compiled by the Institute of Supply Management (or ISM) in the US (SPY) and by IHS Markit (INFO) in and outside the US is the most widely used measure to gauge manufacturing activity.
Article continues below advertisement
How is it calculated?
PMI is based on a survey sent to decision makers of hundreds of companies in various manufacturing industries (FXR). The survey records responses related to new orders, deliveries, inventories, output, and employment to gauge the health of the manufacturing sector. Participants are expected to give their take on whether each of the measures is improving, steady, or declining.
Based on the responses, an index is computed for each of the sub-areas. Further, an average of all the sub-indexes is taken to compute the headline or composite PMI. Different providers assign different weights to the above five sub-areas. ISM assigns equal weights, while IHS Markit overweighs new orders and the output, while underweighting deliveries and inventories. 
How to make sense of it
A reading of 50 means there is no change in manufacturing activity. Anything above 50 means that the manufacturing activity is improving. Anything below 50 indicates declining activity. For example, PMI came in at 52.4 this month, pointing to growing manufacturing output.
There is a catch though. If the PMI is above 50 but still lower than the previous reading, it indicates a falling growth rate. The April PMI was at a 22-month low.
Data to watch
Both the Institute of Supply Management (or ISM) and HIS Markit release PMI data, generally on the first of every month. We recently published April's numbers here.