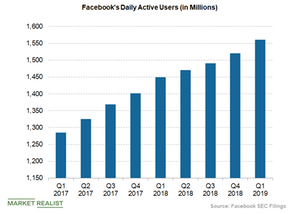 How Facebook Is Using Digital Currency for Payments
By Sophia Nicholson

May. 6 2019, Published 3:35 p.m. ET
Facebook to use cryptocurrency for payments
According to the Wall Street Journal, social media giant Facebook (FB) is planning to offer a cryptocurrency-based payment method to its billions of users worldwide. Facebook is reportedly in talks with various financial firms including Visa (V) and Mastercard (MA) as well as other e-commerce companies to support its payment plan called Project Libra.
Article continues below advertisement
Facebook's Project Libra
According to Bloomberg, Facebook's project will use a digital currency similar to bitcoin that will allow Facebook's WhatsApp users to send money to one another through its messaging service. Facebook's plans might also include financially rewarding its users that interact with ads or other features of Facebook. Facebook's digital currency-based payment plan might weaken the usage of credit cards, which have high processing fees.
Facebook has been exploring options in blockchain technology to build efficient data tracking as well as security systems to safeguard its users' data. Meanwhile, Facebook's user base growth has been depleting amid data-privacy concerns and issues related to fake accounts and spreading of misinformation across its platforms.
In Q1 2019, Facebook's daily users and monthly users each grew 8% YoY to 2.38 billion in the first quarter. While daily active users (or DAUs) grew nearly 2.6% quarter-over-quarter, monthly active users (or MAUs) rose 3.4% quarter-over-quarter in Q1 2019. In comparison, Twitter's (TWTR) MAUs stand at 330 million at the end of the first quarter, up from the preceding quarter's MAUs of 321 million. Snap (SNAP) added 4 million DAUs from the prior quarter to reach 190 million DAUs in Q1 2019.