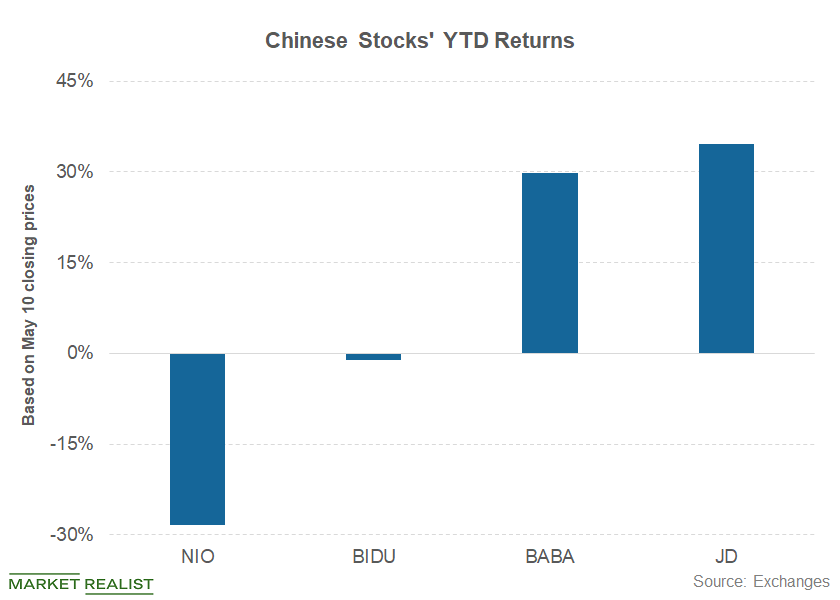 Chinese Checkers: How Will Xi Jinping React to Trump's Tariffs?
By Mohit Oberoi, CFA

May. 13 2019, Published 8:05 a.m. ET
Xi Jinping
President Trump has increased tariffs on $200 billion worth of Chinese goods to 25% after threatening to do so last weekend. The United States is now contemplating a 25% tariff on another $300 billion of Chinese products.
Article continues below advertisement
Tariffs
Last year, China almost instantaneously imposed tit-for-tat tariffs after the United States imposed tariffs on Chinese goods. However, this time, while the country has vowed that it would retaliate against US tariffs, at the time of writing this post, we haven't seen any retaliatory action from China. President Trump and Chinese President Xi Jinping have built their image as strong leaders. Xi Jinping has strengthened his position in the Communist party and is seen as the most powerful leader since Mao Zedong.
To be sure, given the massive trade surplus that's in China's favor, the country might find itself handicapped in imposing tariffs of equal magnitude, which puts China's response to President Trump's tariffs into somewhat uncharted territory. Some observers argue that China could put non-tariff barriers on US goods or make it tough for US companies to do business in China. China is a major market for US companies like Apple (AAPL).
China
Meanwhile, if China retaliates against US tariffs, it could lead to an even tougher stance from President Trump. Given China's fragile economic recovery, the country might not want to see an escalation in the trade war. However, not retaliating at all would also not be politically possible for Chinese President Xi Jinping, and it could weaken his position within the party.
Chinese stocks have also pared some of their 2019 gains. Alibaba (BABA), Baidu (BIDU), and JD.com (JD) have respectively lost 4.1%, 5.7%, and 6.9% this month. NVIDIA (NVDA), a US company, has lost 6.7%, while Advanced Micro Devices (AMD) has gained in May.