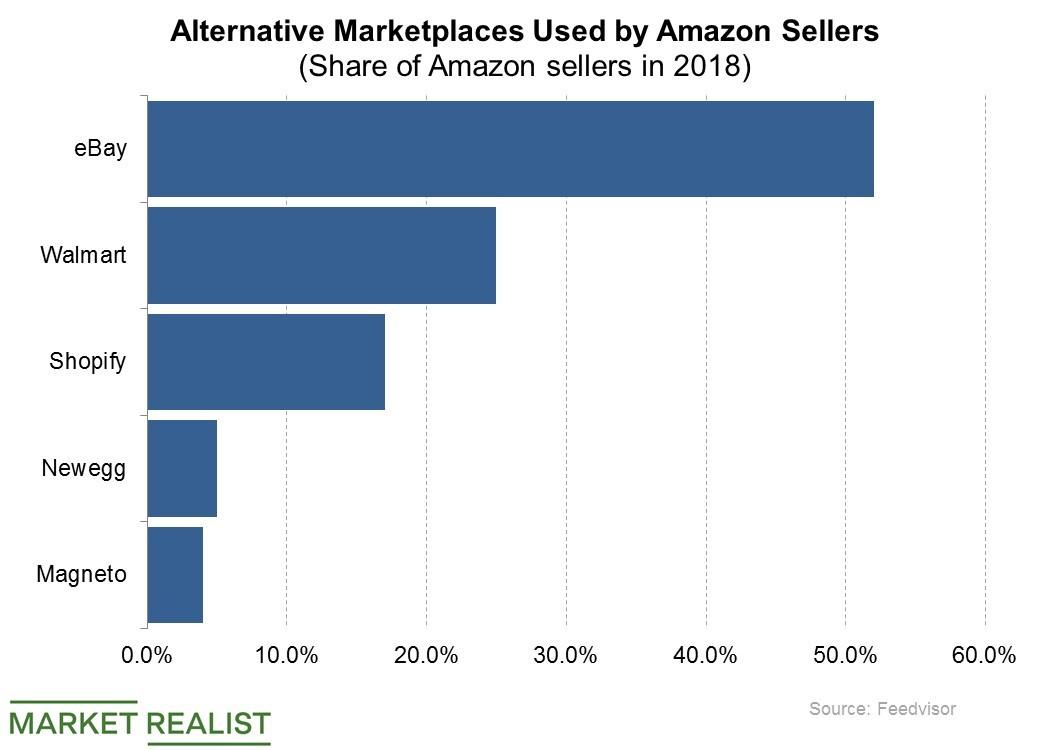 Amazon Deliberately Slows Competition with Sellers
By Ruchi Gupta

Apr. 8 2019, Updated 3:06 p.m. ET
Fear of competition from Amazon
In an apparent attempt to make its marketplace more attractive to third-party sellers, Amazon (AMZN) is ditching the practice of placing its own private-label products in the more prominent promotional spots on its website, according to a report from CNBC that cites interviews with Amazon sellers and consultants.
In addition to running a marketplace where merchants pay to sell and advertise their items, Amazon also runs a number of brands of private-label products that compete with the merchants on its marketplace for customers. But this has lately become a contentious issue, with regulators showing interest in scrutinizing Amazon's dual role as marketplace operator and retailer, and merchants citing competition with Amazon on its marketplace as their greatest threat. According to a report from Feedvisor, 40% of Amazon marketplace sellers are worried about competing with the e-commerce giant, making it the seller's top concern.
Article continues below advertisement
Sellers looking to expand outside Amazon
Fearing competition from Amazon, a large number of Amazon sellers are exploring their options, like increasing their listings on other marketplaces. As of 2018, some 36% of Amazon sellers planned to increase their listings on Walmart's (WMT) marketplace. About 27% of the sellers planned to increase listings on eBay (EBAY), 26% planned to increase listings on Shopify (SHOP), and 7.0% planned to increase listings on AliExpress, Alibaba's (BABA) international retail marketplace. As of last year, more than 50% of Amazon sellers had a presence on eBay's marketplace, as shown in the chart above.
Calming sellers and appeasing regulators
For Amazon, cutting back on aggressively promoting its own products on its marketplace could help it reduce friction with its third-party sellers and safeguard the competitiveness of its marketplace. At the same time, the move could help Amazon avert regulatory troubles.