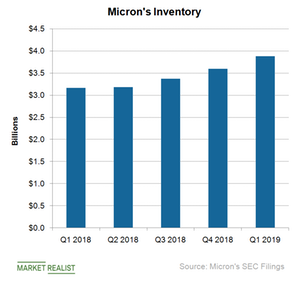 Micron Expects Memory and Chip Demand to Recover in H2 2019
By Puja Tayal

Nov. 20 2020, Updated 4:01 p.m. ET
Micron optimistic about second half of 2019
Previously, we saw that Micron's (MU) customers stocked up memory inventory for the holiday season, but the inventory was not absorbed due to weak end-demand. Slowing end-demand and rising channel inventory are pulling down Micron's revenue in the first half of 2019.
However, Micron, like other chip makers, believes that the inventory situation will normalize and end-demand will pick up by the second half of calendar 2019. Western Digital (WDC), Broadcom (AVGO), and NVIDIA (NVDA) gave a similar outlook.
Article continues below advertisement
Micron caters to four major markets: PC and graphics, mobile, data center, and embedded. At J.P. Morgan's 17th annual Tech/Auto Forum Conference, Micron's chief business officer, Sumit Sadana, stated that he expects the adoption of 5G (fifth generation) in 2019 will encourage consumers to upgrade their phones and drive demand in the mobile space.
He added that new product cycles and holiday season demand in mobile and graphics will help Micron's customers absorb excess inventory and return to a normal buying pattern. On the PC front, Micron's demand is weak, as its key customer Intel (INTC) faces PC CPU (central processing unit) supply shortage. He expects Intel's supply shortage will ease by the fourth quarter and demand will return to the normal pattern.
Strong second-half outlook makes current inventory levels bearable
The high memory inventory held by customers is also increasing the inventory of memory chipmakers as all of their output is not getting sold. Investors should not worry about memory chipmakers' rising inventory levels as long as memory demand revives in the second half of 2019.
The wafer likely will not become obsolete, so memory chipmakers can use this inventory to cater to the growing demand in the second half. The only concern is the cost of holding this inventory. On that, Micron's CFO David Zinsner, at the J.P. Morgan Conference, stated that the cost structure of the products going into inventory is under control, which means that the inventory charge will not increase the product cost to a level where it becomes unprofitable to sell the product.
He added that once customers absorb excess inventory, the memory shipments will normalize and match up with end-product shipments. In light of recent developments, analysts lowered their 2019 calendar year revenue estimate for Micron from $29.9 billion to $24.8 billion. Next, we will look at Micron's profits.
Check out all the data we have added to our quote pages. Now you can get a valuation snapshot, earnings and revenue estimates, and historical data as well as dividend info. Take a look!