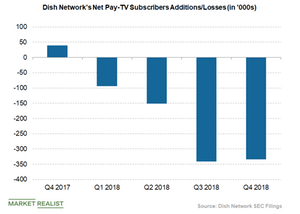 How Did the Carriage Fee Blackout Issue Affect Dish Subscribers?
Dish Network losing subscribers 
During the fourth quarter, Dish Network (DISH) lost 334,000 net pay-TV subscribers in comparison to a gain of 39,000 subscribers in the year-ago period. More than half of the subscribers lost in the quarter were due to the ongoing carriage dispute. The company was facing a conflict with AT&T's (T) HBO and Cinemax channels, as well as broadcaster Univision.
While Dish has settled the disagreement with Univision, the company has to negotiate a contract with the HBO channel soon, as HBO is releasing the next season of the Game of Thrones series in April. Therefore, if the blackout issue with HBO continues, it could further add to the subscriber losses for Dish.
Article continues below advertisement
Pay-TV subscribers
Apart from carriage disputes, Dish has been losing its pay-TV subscribers due to cord-cutting. Pay-TV companies such as AT&T, Comcast (CMCSA), and Charter Communications (CHTR) have also been facing a decline in their US pay-TV subscriber base due to cord cutting.
Dish's pay-TV subscriber base has been declining for the past four quarters, as a large percentage of the young urban population has started shifting to cheaper video streaming services provided by Netflix (NFLX), Hulu, Amazon (AMZN) Prime Video, and Alphabet's (GOOGL) YouTube.
Amid the growing popularity of over-the-top (or OTT) streaming services, AT&T's WarnerMedia and Walt Disney (DIS) are also planning to debut their video streaming services in late 2019, which might further dent Dish Network. Rival Comcast's NBCUniversal is also planning to launch its streaming services by early 2020.