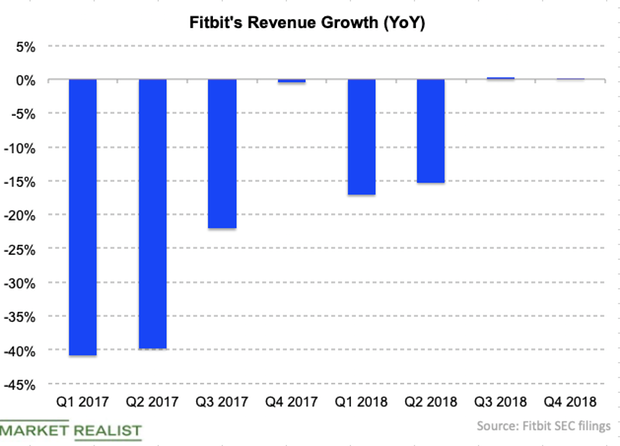 Fitbit's Latest Venture into Smartwatches
By Sanmit Amin

Mar. 7 2019, Published 2:41 p.m. ET
Fitbit posted its first year-over-year shipment growth since 2016
Fitbit's (FIT) second smartwatch, the Versa, launched in February last year and has been the key to the company's mini-revival. It's clear that the wearable company is trying to pivot its strategy around smartwatches now, which is the only bright spot in an otherwise shrinking wearable market (WEAR).
Versa was a key turning point for the company, which posted its first year-over-year growth in devices shipped since 2016 during the fourth quarter of 2018. The company sold 5.6 million devices during the quarter, a 3.7% year-over-year increase.
Article continues below advertisement
The Versa Lite is meant for price-sensitive consumers
Fitbit generated $571.2 million in revenue during the quarter, a minute improvement from the $570.8 million it made in Q4 of 2017. This was the first time the company was able to string together two straight quarters of year-over-year growth in more than two years—although the growth rate was minute.
Now the company is launching the Versa Lite, a cheaper version of the Versa. The Versa Lite model costs $160, compared to the Versa's $200. However, while the Versa Lite is available in several colors, its lower price point comes at the cost of several features.
Fitbit's first smartwatch, the Ionic, cost $300 and received mediocre reviews. Fitbit hopes its cheaper version of the Versa will keep it on a growth path.
According to Strategy Analytics, Fitbit sold 5.5 million smartwatches (presumably, mostly the Versa) in 2018, compared to 0.5 million shipments in 2017.