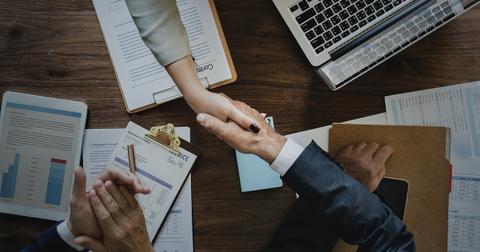 Why Warren Buffett, Jeff Bezos, and Jamie Dimon Are Teaming Up
By Jitendra Parashar

Feb. 21 2019, Published 3:35 p.m. ET
The broader market
In the late afternoon today, the US stock market was trading on a negative note after beginning the day mixed. Investors seem to still be cautious ahead of any possible big announcements on the US-China trade deal. At 2:57 PM ET, the S&P 500 Index (SPY), NASDAQ Composite Index (QQQ), and Dow Jones Industrial Average (DIA) were all down 0.7%.
Article continues below advertisement
Warren Buffett, Jeff Bezos, and Jamie Dimon
According to a recent CNBC report, Jeff Bezos's Amazon (AMZN), Warren Buffett's Berkshire Hathaway (BRK-B), and Jamie Dimon's JPMorgan Chase (JPM) are about to team up.
The report cited newly released court documents and claimed, "The three companies created the still-unnamed, not-for-profit joint venture in January 2018." By teaming up for this project, all three billionaire-led organizations aim to "lower health-care costs for the three companies and their more than 1.1 million employees."
The new joint venture plans "to work with existing players such as insurers, providers and pharmacy benefit managers rather than uprooting them."
The first announcement regarding Amazon, Berkshire Hathaway, and JPMorgan Chase came out in June.
Berkshire Hathaway sold Apple shares
On February 14, Buffett's Berkshire Hathaway filed its latest 13F with the SEC to disclose changes in its holdings in the fourth quarter of 2018. According to these filings, Buffett's investment firm sold about 2.89 million Apple shares in the quarter that ended in December 2018, reducing its total investment in the company by 1.1%. In the previous quarter, Berkshire Hathaway bought about 522,902 more shares of AAPL. Check out On Apple, Warren Buffett May Ignore the Noise—but Not the Facts to learn more.
As of February 20, Apple stock has risen 9.1% while NVIDIA (NVDA), Advanced Micro Devices (AMD), Oracle (ORCL), and Microsoft (MSFT) have risen 18.8%, 29.7%, 14.7%, and 5.5%, respectively.