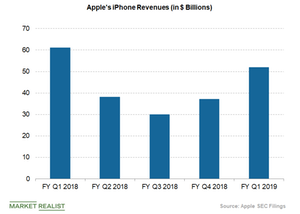 How Samsung Is Threatening Apple with Foldable Phones
By Sophia Nicholson

Feb. 25 2019, Updated 5:55 p.m. ET
Samsung's foldable phones
On February 20, South-Korea-based electronics giant Samsung (SSNLF) officially unveiled its new foldable 5G smartphone, called the Galaxy Fold, which is creating worries for its close rival Apple (AAPL) and other Chinese competitors such as Huawei, OPPO, and Xiaomi in the smartphone market. The Galaxy Fold has a handset size of 4.6 inches and can become the size of a 7.3-inch tablet when it is unfolded. Samsung has partnered with Verizon (VZ), which is expected to become the first carrier to offer its service to the 5G smartphone. It comes at a price of nearly $2,000 and is scheduled to go on sale on April 26.
Article continues below advertisement
Samsung to dent Apple's market
Samsung's Galaxy Fold has a big foldable screen, and it is expected to be the first smartphone with a 5G connection to offer better network speed and an improved viewing experience. Galaxy Fold's two exclusive and unique features will not only attract consumers' lost interest and revive its sales but will also take away the market from Apple, which has plans to release its foldable iPhones in 2020.
Samsung's Galaxy Fold will reportedly become the most expensive smartphone, as it costs double the price of the top models of Apple iPhones and Samsung smartphones. Apple iPhones are struggling in China (MCHI) (FXI), and its revenues have declined 15% year-over-year in the most recent first quarter of fiscal 2019.
In addition to its foldable phone, Samsung is beating Apple with other models and accessories too. Samsung's Galaxy S10 model, which is priced at $900, competes with Apple's iPhone XS, which costs $999. Also, Samsung's wireless headphones, called Galaxy Buds, which have a wireless charging feature, are beating Apple's model. Apple has planned to put the wireless charging feature in its AirPods but has not released it yet.