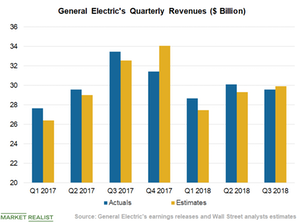 Will Restructuring Initiatives Bring GE Back to Growth Trajectory?
By Anirudha Bhagat

Jan. 3 2019, Updated 2:35 p.m. ET
Underperforming businesses
General Electric's (GE) Power, Transportation, and Lighting divisions have been struggling for years. The company's Power segment is struggling to cope with changing industry dynamics as the growing demand for renewables and energy efficiency has eroded the demand for fossil-fuel-based power plants.
Further, train budgetary cuts in several countries and intense competition are hurting the transportation businesses' revenues and margins. GE's lighting division's sales are hurt by intensified competition from local and regional players in every market it is operating in.
The underperformance of the businesses mentioned above has been weighing on GE's overall revenues and profitability growth. The company's third-quarter revenue performance was more disappointing than the performances of most of its competitors in the industrial sector (IYJ).
Article continues below advertisement
The industrial conglomerate's third-quarter total revenues declined 4% YoY to $29.6 billion and missed analysts' consensus expectation of $29.9 billion. On the other hand, its main competitors, United Technologies (UTX), Honeywell International (HON), and Crane Company (CR) all reported better-than-expected revenues and marked improvements YoY.
Restructuring initiatives
GE has been evaluating sales and spin-off options for the last few years to optimize its business, strengthen the balance sheet, and shore up cash. In June 2018, the company announced a massive restructuring plan under which it will divest and spin off certain assets to focus on only three sectors: power, renewable energy, and aviation.
GE has decided to divest its lighting division, exit the oil and gas business, and spin off its healthcare segment into a standalone company. Following the strategy, the company sold its energy efficiency business unit, Current, to private equity firm American Industrial Partners, in November 2018.
Article continues below advertisement
Moreover, GE in November announced entering a series of agreements with Baker Hughes (BHGE) including a stake sale in the latter that will raise about $4 billion for the former. Additionally, in the same month, GE's lending arm GE Capital announced the sale of $1.5 billion worth of its healthcare equipment finance portfolio to TIAA Bank. Further, in December, GE filed for an IPO for its healthcare unit confidentially.
Further, GE has entered into a spin-merger agreement with Wabtec for its Transportation segment. According to the deal, GE will receive a $2.9 billion upfront cash payment, and GE and its shareholders will own a 50.1% stake in the combined company.
Although the restructuring initiatives are at a very nascent stage, the pace at which the newly appointed CEO Larry Culp has been implementing them has helped the stock gain investor and analyst confidence over the last one month. Vertical Research analyst Jeffrey Sprague has upgraded his rating on the stock for the first time in ten years to "buy" from "hold" and also raised the target price by $1.00 to $11.00.